Holidays! Whether your customers are planning UK staycations or keeping their fingers crossed for overseas getaways, odds are that many Brits will be keen to get away this summer.
After all, it's been a bit of a (warning: understatement alert) tricky year so far, hasn't it? So what better way to kick back and relax than by heading off on holiday somewhere, whether it's a hotel stay (with many hotels reopening from July 4th), a property rental, a camping trip... Anyone else drooling at the prospect?
---
READ MORE:
---
Whilst some aspects of travel aren't entirely clear at the moment (we're looking at you, air bridges), the staycation is currently enjoying a serious moment. In fact, when Boris Johnson gave travel around England the green light last month, one staycation was booked every 11 seconds - meaning it's probably safe to say that as a nation, we're hungry for a holiday.
(In fact, recent research found that over half - 54% - of Brits are keen to make the most of a staycation this summer, with around one-in-five considering a European jaunt instead.)
So what better time than now to involve your brand in the Great British getaway, with the help of travel merchandise?
Whether you run a hotel and are looking for products to delight your guests on arrival or are simply looking to align your business with holidays and relaxation this summer, we can help.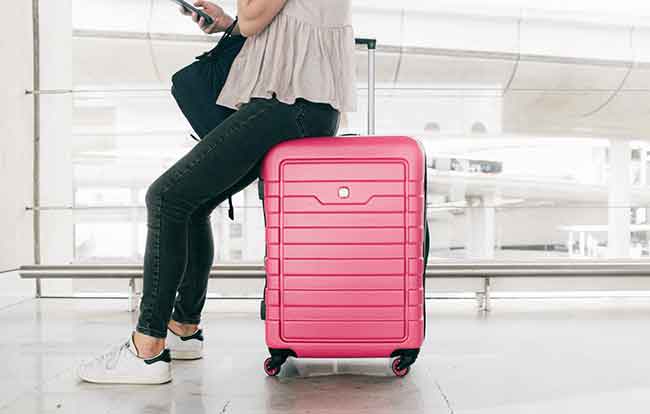 Similarly, if you run a tourism-facing business or a travel agency, we've got the ideal promotional items for you to give your customers - ideal for reminding them to come back to you when they want to book again!
Total Merchandise has got everything you could possibly need for a travel-themed marketing campaign this summer. Read on to discover some of our favourite promotional travel items and don't hesitate to contact us if you need a hand with finding the perfect branded giveaways for your campaign; call a member of our friendly and experienced Sales team on 01376 509092 or email info@totalmerchandise.co.uk.
Promotional Motoring Items For UK Staycations
Whilst cries of 'are we there yet?' are a staple of most long-haul British expeditions, we'd like to suggest a few other ideas that could become just as key to the 'Brits on tour' experience.
We have a wide range of promotional products that can make long-distance drives or train journeys that bit more tolerable for people and families who are preparing to head off on a UK-based staycation, with items suitable for drivers, passengers and back-seat fidgeters.
Our best selling Cocoon Earphones are ideal for keeping kids entertained on long journeys. Whether they're listening to a podcast or watching a video on an iPad or laptop, these classic headphones are printed with your branding to the protective case, promising logo awareness with every use. (And on a different yet related note: our range of branded powerbanks offers a great way to ensure those very same devices can stay charged up for the duration of any journey!)
Crucial to any staycation - whether it's used for a mid-journey lunchbreak or for a day trip once you're there - is a good picnic hamper. Our best selling Large Fold Away Cooler Bags fit the bill perfectly. With your logo clearly printed on to this branded cooler bag, your customers will be deliciously reminded of your business every time they enjoy a picnic.
Finally! Our Soft Feel Handheld Fans are must-haves for long car journeys - because let's face it, sometimes air-con or open windows simply just aren't enough. Branded with your logo in up to four colours, this is a promotional giveaway that will seriously refresh your customers - and your marketing campaign!
Check-In To Travel Products For Overseas Trips
If overseas travel can become a fuss-free option for Brits over the coming months, odds are that investing in travel merchandise that could be used on aeroplanes could make a great move for your travel agency business.
We have a wide range of promotional flight products that are ideal for making in-air trips as fuss-free as possible for your customers, whilst also ensuring your brand is on display for every step of the journey.
From the moment they pack their suitcases (hello, Digital Luggage Scales) to the second they step off the plane, we've got your customers covered.
Our promotional passport covers are a highly effective and long-lasting branded giveaway that your clients can turn to every time they're planning a trip overseas; similarly, our range of branded luggage tags is ideal for helping to protect their suitcases in style.
We also have a range of travel-friendly sets that will make packing that bit easier. Our Airline Approved Alu Bottle Set is available for dispatch in just five working days and features your logo printed strikingly onto the easy-use storage pouch.
Our Flight Travel Sets are another solid option. Ideal for helping your customers relax during flights, these impressive high-perceived value sets comprise an inflatable neck pillow, eye mask, travel socks and earplugs. These travel essentials are presented in a neat case that's strikingly branded in one colour with your logo
Add A Lifestyle Touch With Branded Beauty Products
Whether you work for a travel agency or run a boutique hotel, offering your customers a little touch of luxury is a great way to remind them to check-in again soon. Be it items you give to clients once they've placed a booking or perhaps travel-sized products that you make available in hotel bathrooms, one thing's for certain: we've got you sorted.
We have a wide range of promotional health products that can tie into your travel campaign, ranging from custom-printed wrapped travel soap (with your logo on the label) and aloe vera hand cream all the way through to our increasingly popular and eco-friendly branded bamboo toothbrushes.
We've got a wide range of health promotional items that your customers will either love to take away on holiday with them, or will be delighted to receive once they've reached their destination. Browse our full selection of promotional beauty products to see more!
Keep It Classic With Summer Travel Must-Haves
Need more inspiration? From branded flip-flops to promotional hats, we've got a wide range of summer-tastic printed products that are essential for any travel-themed marketing campaign.
Staples such as promotional sunglasses, printed sun lotion tubes and branded towels embroidered with your logo are all solid options, whilst 'fun' products - think promotional water pistols and branded beach balls - can also offer great novelty touches. And of course: for a truly timeless promotional travel item, you can't go wrong with one of our promotional sewing kits.
In short: whether your customers are planning a UK staycation or holding out for an oversea trip, we've got the perfect printed travel accessories to make their summer getaways that bit more fabulous - and your brand that bit more visible. Happy holidays!
From promotional products for camping and staycations to promotional cycling merchandise, Total Merchandise has all the branded items your business could need this summer. Need help finding a specific item? Simply contact a member of our friendly and experienced Sales team on 01376 509092 or email info@totalmerchandise.co.uk! Visit our Coronavirus Hub for more information and updates.
Main image via Pexels.