With the British summertime officially upon us, it's safe to say that what is typically known as 'holiday season' in the UK might be looking a little different this year.
However: whilst exotic getaways might not be on the menu for your customers at the moment, that's not to say that your business can't still help those most important to it enjoy their summer holidays.
Whilst COVID-19 has paused overseas holidays, staycations are already enjoying a rocketing rise in popularity amongst Brits, with many of us keen to enjoy a getaway. In fact, stats shared by booking platform Evivo reveal that booking enquiries for UK-based holidays were up by 267% in May 2020 compared to the previous month - with the boom likely to continue.
---
RELATED:
---
In fact, Brits are actively being encouraged to enjoy what Culture Secretary Oliver Dowden refers to as 'the Great British break', with the prospect of Brits enjoying staycations from July a very real possibility.
Of course, camping firmly sits within the remit of UK-based staycations. Whether your customers are never happier than when under canvas or are perhaps entirely new to the prospect, odds are that staying in the great outdoors will also be seeing a significant rise over the next few months, with Brits determined to make the best of their summer holidays that they can.
So! Whether your customers (and colleagues, for that matter) are considering cosy staycations or camping trips into the great wilderness (and yes, that can include back gardens), we've got the perfect branded giveaways to bolster your travel campaign this summer.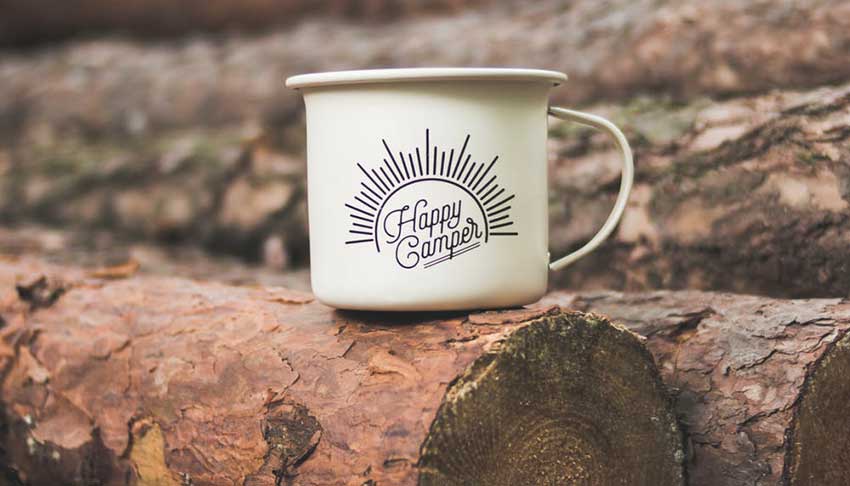 In fact, our range of branded giveaways can even make something as simple as a picnic that bit more enjoyable for your customers - and with your logo on prime display the whole time, it's the perfect way to ensure your business is a part of the action.
Read on to discover some of our favourite promotional beach and camping products, and don't forget to browse our full range of promotional products for camping and staycations.
Enjoy The Great Outdoors With Enamel Camping Mugs
...Because camping is made that little bit better when you've got a cuppa in hand, no? Our best selling enamel camping mugs are ideal for enjoying drinks both hot and cold from - whether it's a restorative coffee first thing in the morning or a cup of chamomile tea as your customers listen to soothing bird song and watch the sun slowly set in the evening... (We're not drooling, you are.)
For alfresco dining under the stars, our personalised BBQ tools could come in handy. Delivered in a neat set that's printed with your logo, these BBQ essentials are as useful for cooking on a camping trip as they are for rustling up a feast in the back garden.
Also useful? Our best selling Portland Torch Keyring. Branded with your logo, these promotional multi purpose keyrings are available in 11 different colours, with dispatch available in as little as five working days from proof approval.
Small but mighty, these printed torch keyrings are ideal for ensuring your customers are never in the dark - and that your branding can always shine though!
Serve Up Promotional Cooler Bags & Branded Picnic Blankets
Who doesn't love a picnic? Whether your customers are heading to the park, nearby woods or even just into their own back garden, picnics are arguably the epitome of British summertime fun.
Our range of branded cooler bags are ideal for enabling your customers to transport their feasts at optimal temperatures, with items such as our Tonbridge Lunch Cooler Bags perfectly sized for the task. Available for dispatch in as little as seven working days, these promotional cooler bags can be printed with your logo in either one striking colour, or via a full colour transfer.
Take it one step further by giving your colleagues or customers these smart Picnic Basket Cooler Bags, which are available in three colours and boast easy-grip foam handles. Ideal for incorporating into foodie campaigns as well as summer-themed marketing activity, these branded picnic cooler baskets are ideal for family-centric demographics.
Finally! Our branded fleece blankets with pouch are another must-consider. Printed in unmissable full colour with your artwork to the carrier pouch, these cosy fleece blankets are easy to transport and perfect for making itchy grass more comfortable to sit on.
Life's A Beach With Promotional Sunglasses & Branded Towels
Oh, we do like to be beside the seaside... If your customers are likely to be making the most of the UK's beautiful beaches this summer, consider the promotional products that could make the experience that little bit simpler and easier.
Promotional sunglasses, for example, are ideal for helping to protect your customers whilst also keeping all eyes firmly on your brand; our best selling Sun Ray Sunglasses, for example, can be printed with your logo in up to four colours on one or both of the arms. For something a little bit different, consider something like our Bamboo Sunglasses, which will add an effortless eco touch to your marketing campaign.
Also worth considering are our branded beach towels. Available in a wide range of colours (with a shade to suit almost every corporate colour palette), these branded towels are stunningly embroidered with your artwork for unmissable visibility that never fades.
For health and wellbeing themed marketing campaigns, it could be worth considering our promotional TOTAL Sun Block. This personalised sun block will help to protect your customers in the heat, with your logo printed in vibrant full colour on the label - it's a great promotional giveaway for travel marketing campaigns, as well as for health and beauty-themed activity, too.
Our F50 Sun Lotion Tubes are also worth considering; again, your branding is printed on the label in full colour, with the fragrance-free formula providing UVA and UVB protection.
And if it all goes wrong - our My Kit Sunburn Kits are ready to help.
Finally! Don't forget to give consideration to seating for your customers. For a luxe take for your most valued clients, you could consider our custom branded deck chairs; for a more budget-friendly alternative, prices for our foldable beach chairs begin at just £7.78 per unit.
Keep It Close To Home With Promotional Items For Staycations
Whether you run a UK-based hotel, rent out a property for holiday-makers or are simply looking for staycation merchandise your customers can take on their travels with them, we've got the promotional products to help.
One simple and low-cost promotional product idea you could consider? Disposable printed ponchos, branded with your logo. With British weather famously unpredictable during the summer season, providing your customers with these handy waterproofs could prove useful.
Another idea: promotional flip flops. As suitable for walking along a beach as they are for exploring a local high street, flip flops printed with your logo are a great takeaway item that customers can use during their staycation as well as once they're back home, too. Our printed flip flops are available in a range of shades and feature your artwork printed on the sole or strap of both shoes in up to four colours.
Finally! The humid climes of the great British summertime can prove notoriously overwhelming - so help your customers keep their chill during their staycations by arming them with promotional hand held fans. We have everything from fabric handheld fans (printed with your logo to the handle) to portable handheld fans available.
Whichever you choose, you can be confident our branded fans will help keep your clients comfortable and your branding visible. How's that for cool...?
From promotional products for camping and staycations to promotional cycling merchandise, Total Merchandise has all the branded items your business could need this summer. Need help finding a specific item? Simply contact a member of our friendly and experienced Sales team on 01376 509092 or email info@totalmerchandise.co.uk! Visit our Coronavirus Hub for more information and updates.
Main image via Pixabay.