We've got some big news, people - some huge news, in fact. We've won an award!
The Total Merchandise team are absolutely delighted to have been voted Promotional Merchandise Distributor of the Year 2020, in the prestigious Sourcing City Awards. This is the second year running we've scooped the gong - and the third award we've won in a year. Not bad, eh?
---
READ MORE:
---
For those not in the know, the Sourcing City Awards is a glittering industry event that shines a light on the best suppliers and distributors of promotional products in the UK.
A celebration of hard work, good relationships and more, this annual celebration gives the industry a chance to thank those who help make their day-to-day running that bit easier. And guess what? We won!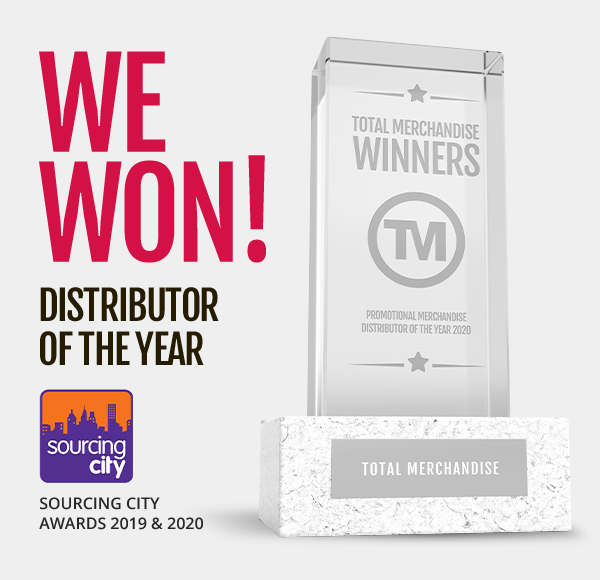 Scoring the top position in the Promotional Merchandise Distributor of the Year £3m+ category, we were delighted to have been chosen by our suppliers as their winner.
It's safe to say we've been on a bit of a winning streak over the last year - as well as winning the Sourcing City accolade back-to-back, we also won in the British Promotional Merchandise Association's annual awards in February 2020, scooping the gong for Promotional Merhcnadise Distributor of the Year £5m+.

Total Merchandise founders Michelle Rae Stoddart, Jason O'Connor and David Stoddart earlier this year,
shown with our 2019 Sourcing City award and 2020 BPMA award
With the whole of team TM on cloud nine about our latest victory, it's safe to say that our founders, Dave, Michelle and Jay, are also pretty thrilled by the Sourcing City Awards win too.
"This is quite simply amazing," says Jay. "To win it for the second year running really says a lot about the work put in by our great team and their relationships with our supply chain. On a personal level, it also brings a great deal of pride and shows that we are doing something right."
Dave agrees, adding: "Winning such a prestigious award two years in a row means so much to us! If it wasn't for the strong team we have around us I'm sure it would not have been possible."
And of course, after a year turned on its head by COVID-19, the award means more now than ever before. Says Michelle: "After such a difficult year this award is very special. I would like to personally thank the whole team and all our suppliers and customers - we could not have done it without you all."
A huge 'thank you' to everyone who voted for us and a massive 'congratulations' to everyone else who made the shortlist; you can view it in full over on the Sourcing City website.
From promotional pens to printed notepads, we've got all the promotional giveaways your business could need this winter to keep brand awareness at a high. Need help finding a specific item? Simply contact a member of our friendly and experienced Sales team on 01376 509092 or email info@totalmerchandise.co.uk today. Main image via Pexels.