The Total Merchandise Quote & Order Process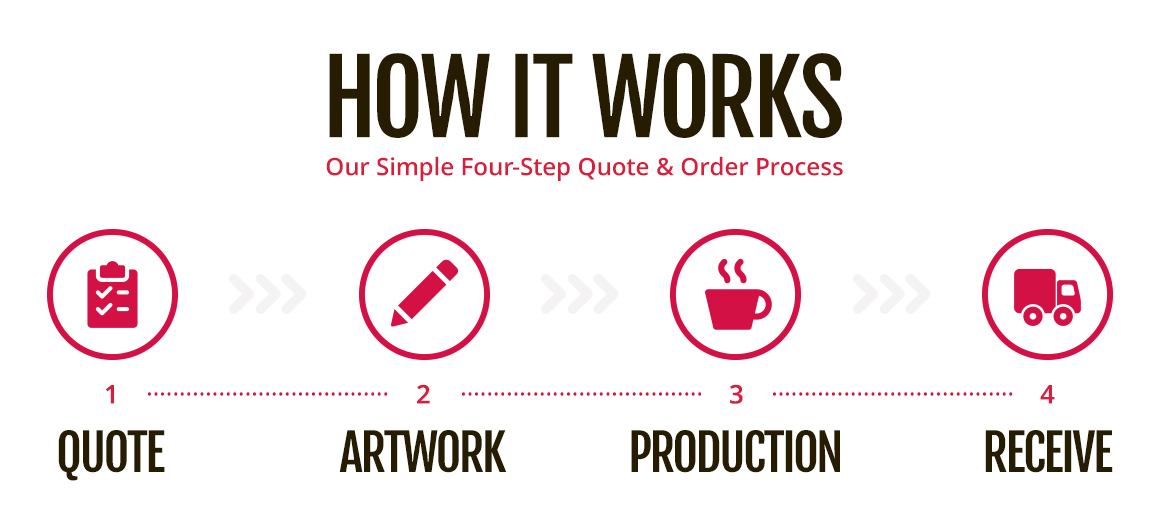 Ordering promotional merchandise with us couldn't be easier.
Step 1: Find the perfect branded products for your business
From mugs and T-shirts to umbrellas and water bottles, Total Merchandise is home to over 5,000 promotional products. Whether you're planning an event or are looking for a no-fuss way to generate meaningful brand awareness, we've got the right items for you.
To explore our products, simply navigate our product categories via the main menu or type your query into the search bar at the top of the website.
Our Everything Included pricing means that you can see exactly how much you'll pay for your chosen promotional products, while our easy-use calendar feature allows you to see which products are suitable for your chosen delivery date.
If you can't find exactly what you're looking for, just let us know - our expert Product team like a challenge!
Step 2: How can we help?
Once you've found a product you're interested in, simply fill in our four-step product form, which asks for details such as desired quantity and preferred branding option. You'll also be asked how you'd like to proceed with your enquiry.
Whether you're ready to order or just want a quote at this stage, simply follow the on-screen instructions or contact us for further assistance.
Step 3: Confirm your order
Once you've received your quote and are happy to proceed with your order, simply reply to your account handler by email.
You will need to provide the following details if you haven't already been asked for them:
Your company name
Company registration number
Purchase order number (if applicable)
Delivery address
Invoice address
Deadline
The artwork you would like to be printed, along with Pantone® references.
Your company name
If you require assistance with your artwork, get in touch or take a look at our Artwork Guidelines.
You can also provide this information via your Total Merchandise account, which is accessible via the 'My Account' button at the top of the website.
Once we've received these details, we will send you an order confirmation.
We'll also send you an artwork proof, which will show your chosen promotional item with your logo or design on it - and now's the time to let us know if there are any amends you'd like to make.
Once you're happy with the design and have approved it, the really exciting bit happens: your products will be sent into production!
Step 4: Receive your products
As soon as your products are branded and your order has been dispatched, you'll receive an email confirming that they're on their way to you.
We always ask our customers to let us know when they've received their orders and also love receiving feedback - so if you have a moment to spare and would like to review your Total Merchandise experience on Trustpilot, we'd appreciate it!
If you need assistance at any stage of the process, simply contact your sales representative or get in touch with our team via phone or email.
Written by
Jason is Sales Director and co-founded Total Merchandise in 2004. Sitting at the heart of the business, he is one of the most authoritative and trusted figures in the industry. Along with the other directors, his hard work has led to the business growing from a spare room set-up to an award-winning company that works with huge brands across the UK and employs more than 50 people. When he's not in the office, Jason likes to relax with music or Netflix boxsets, spend time with his family and walk his dogs.