The Total Merchandise Quote & Order Process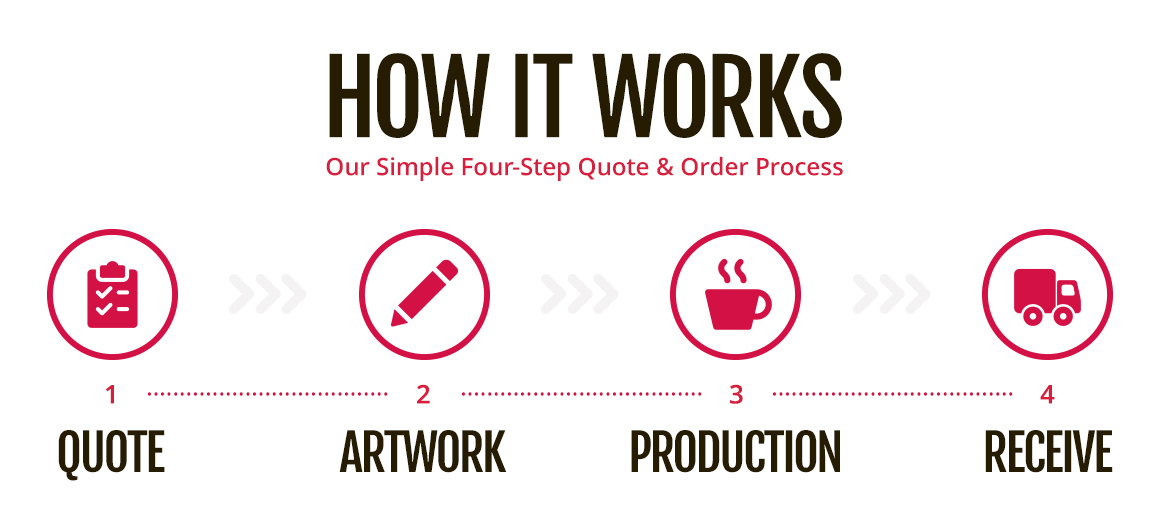 Want to order promotional items? Here's how...
Browse our products
From promotional mugs to printed golf accessories, Total Merchandise is home to 1,000s of brilliant merchandise items that are ideal for helping you take your marketing message to the next level.
Once you've found a promotional product on our website you are interested in purchasing, you can obtain a quote via our website by using our famous one-hour Rapid Quote Form or by calling 01376 509092 and speaking to a member of our experienced team.
Get a bespoke quote
Whether you've requested it online or over the phone, you will be emailed a PDF quote that will include all the information you need, including unit price, set-up charges and delivery costs. There are no hidden charges with Total Merchandise!
Your quote will also include the additional details you might need, such as the product size, colours available, print areas and lead times.
Confirm your order
When you are ready to confirm the order, simply reply to the email with your confirmation to give us the green light to go ahead with processing it!
You will need to provide the following details if you haven't already been asked for them: your company name, company registration number, purchase order number (if applicable), delivery address, invoice address, your deadline and the artwork you would like to be printed, along with Pantone® references. If your logo is not in the right format or you are unsure about the Pantone® colour chart, we can advise with this. Get in touch!
Once we have received this information, we will then send you an order confirmation, which reiterates your promotional product choice and the other details you have provided us with.
Approve it!
We will then send you an artwork proof: a PDF of your chosen promotional item with your artwork on it. You will need to check this carefully in case any changes need to be made - otherwise, you can approve it! Once the proof has been approved, we will start printing your artwork onto the products.
Receive your products
When your order has been dispatched, you will receive an email confirming your order is on it's way to you.
Once you've received your order, we ask that you let us know you've received it, and perhaps leave us a review on TrustPilot or Reviews.co.uk of your experience with us!
Want to see a sample of your promotional item? Let your account manager know and they can arrange this for you; the majority of our product samples are free but some of the more expensive samples will have a small cost attached to them.
Written by
Jason is Sales Director and co-founded Total Merchandise in 2004. Sitting at the heart of the business, he is one of the most authoritative and trusted figures in the industry. Along with the other directors, his hard work has led to the business growing from a spare room set-up to an award-winning company that works with huge brands across the UK and employs close to 30 people. When he's not in the office, Jason likes to relax with music or Netflix boxsets, spend time with his family and walk his dogs.