Printing Processes
Our branded promotional products can be personalised in a variety of different ways in order to create items that truly represent your business. Our product listings explain the printing process(es) available for each individual item we sell, meaning you can find out whether your specified item will be printed, embroidered, embossed…
Want to learn more? Explore our list of the most popular processes used to apply your company logo to our wide range of products.
Screen Printing
In a nutshell: some of the earliest examples of this printing technique date back to the Song Dynasty in China (690AD-1279AD). Screen printing is one of the most cost-effective and diverse forms of printing and is used in everything from manufacturing to signage, as well as the production of promotional items including clothing, branded plastic gifts and printed ceramic mugs.
How does it work? Screen printing forces ink through a tightly-stretched mesh, which is attached to a frame called a screen. (Creative name, no?) The screen is coated with a photo-sensitive emulsion or film; a stencil or photo-positive of the required image is placed on top of this. The screen is then subjected to Ultraviolet light, which cures the emulsion and all parts of the screen, apart from the image. The screen is then cleaned, which allows the ink to pass through the mesh onto the substrate being printed. This process will print one colour at a time; to print numerous colours, a different screen is required each time, with the process repeated from scratch.
Good to know: screen printing allows you to Pantone®-match colours with accuracy and precision, and is widely used here at Total Merchandise for both flatbed and cylindrical printing. Below you can see a screen in action in one of our printing factories.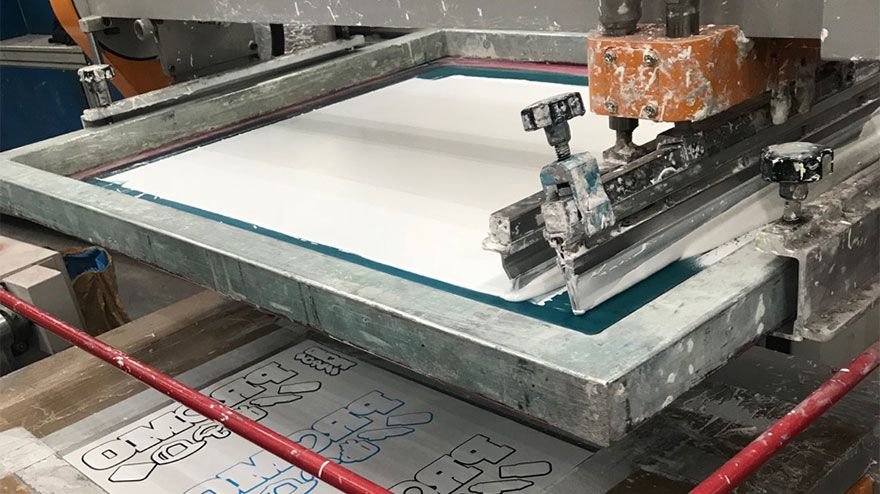 Foil blocking (AKA foil stamping)
In a nutshell: foil blocking is a personalisation method we use frequently at Total Merchandise, especially when branding promotional folders, wallets or other leather or imitation leather gifts.
How does it work? A blocking die is created using the logo required, with a layer of foil placed between the die and the product. Heat and pressure are then applied, which allows the foil to adhere to the product.
Good to know: this method is not suitable for multicolour printing or designs with very fine detail. Pantone® colour matching is not available with this method; we would typically brand your logo in gold or silver, which creates an impressive luxe finish.
Transfer printing
In a nutshell: transfer printing is great for personalised clothing, with its inexpensive set-up and ability to recreate high-quality images products durable and long-lasting results.
How does it work? Transfer printing involves your designs first being printed onto a flexible non-textile (such as paper or vinyl) before being transferred onto the item in question with a heat press.
Good to know: a process originally developed in Georgian England for use on ceramics, modern transfer printing processes make a great budget-friendly option for small businesses and sporting clubs.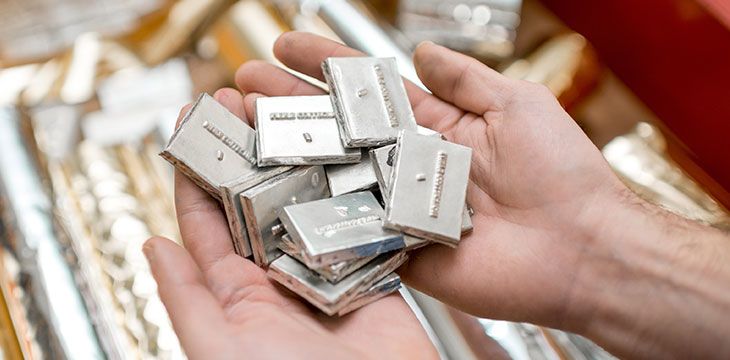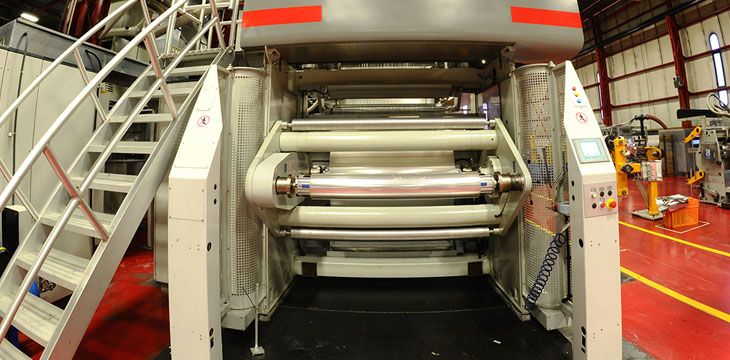 Laser Engraving
In a nutshell: laser engraving is a permanent and precise personalisation method that cannot be undone.
How does it work? The laser technique sees the surface of the promotional item eliminated, with the colour of the material beneath that top layer determining the colour of the imprint.
Good to know: this style of personalisation works best on metal promotional products, such as branded keyrings, engraved mobile phone stands, clocks and so on, creating a unique tone-on-tone look for your branded gifts.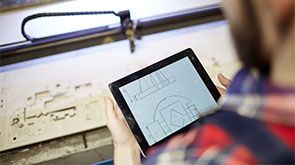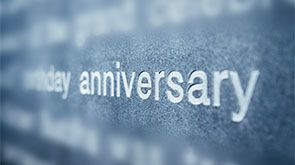 Embroidery
In a nutshell: with its roots sewn into Greek mythology, it's safe to say that the embroidery method of personalising items has been around for quite a while. Here at Total Merchandise, it's largely used to personalise clothing items, such as custom polo shirts and branded hoodies.
How does it work? The embroidery process allows multi-colour decoration of flexible fabrics with the use of needle and thread. The calculation of costs is based on how many stitches are required to recreate the branding or logo in question; whilst Pantone® colour-matching is not available, we do work to match colours as closely as possible from the wide range of thread colours that are available.
Good to know: embroidered business gifts can be personalised on both flat and irregular surfaces. If it's an item of clothing you've got your sights set on, embroidery can be applied on a variety of positions, including front, back, left breast, right breast or even the sidelines.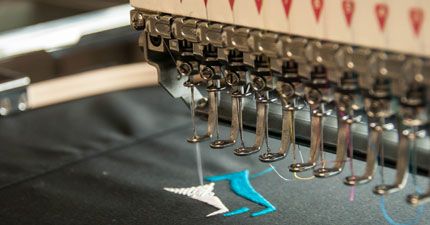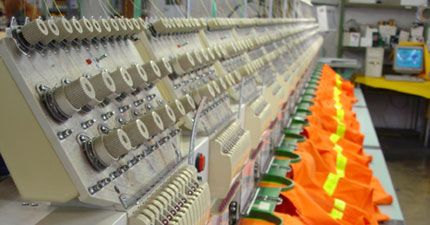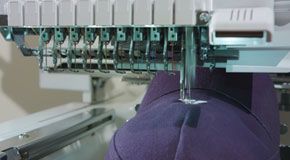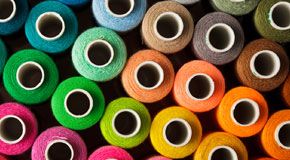 Digital Printing
In a nutshell: there are a number of different digital printing techniques, with the most popular being direct digital and digital transfer. This full colour printing process allows Total Merchandise to personalise items such as promotional stress toys or branded bags and umbrellas, using an almost unlimited range of colours, shades and gradients (and even photographs, in some cases.) Digital printing is ideal for lower runs when you need to print in full colour as other routes can be prohibitive.
How does it work? Direct digital printing uses modern inkjet technology to fire microscopic droplets of ink directly onto the surface of the product. In digital transfer printing, images are printed onto a specially formulated film and then heat transferred from the film to the product surface. This method allows photographic-quality full-colour reproduction and is especially useful for wrapping prints around curved edges.
Good to know: digital printing encapsulates digital full colour epoxy doming (which is great for items such as promotional sweet tubs), as well as dye sublimation printing, which transfers unique sublimation dyes onto special paper with a liquid gel ink through a piezoelectric print head. This branding method is particularly useful for the personalisation of ceramic mugs, where you will need to use a full colour process logo.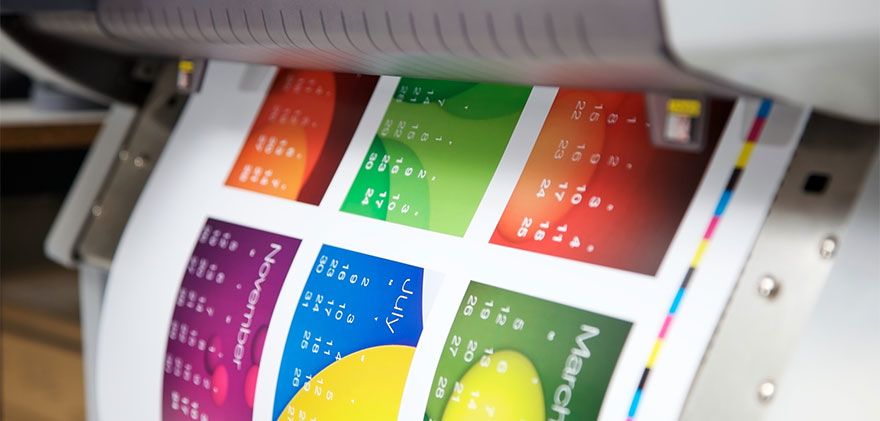 Embossing and Debossing
In a nutshell: an embossed promotional product will see your company logo raised against the background material, creating an almost 3D look. In contrary, debossing is where the logo 'sinks' into the product, itself, creating an interesting effect.
How does it work? There are three significant elements that require careful controlling when embossing or debossing a promotional item, namely: pressure, heat and die depth. Luckily, our team of embossing and debossing pros are experts!
Good to know: these methods of personalising promotional gifts work particularly well on items such as our silicone wristbands, promotional keyrings and corporate diaries, as well as personalised leather goods, too.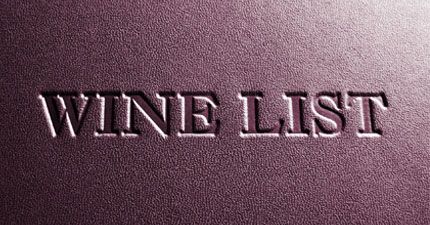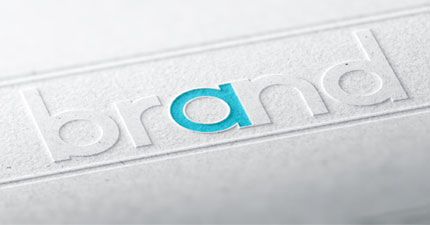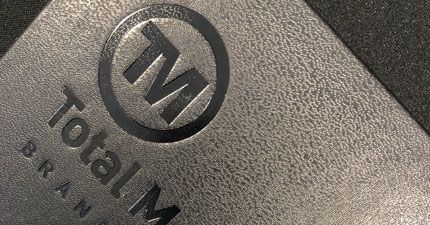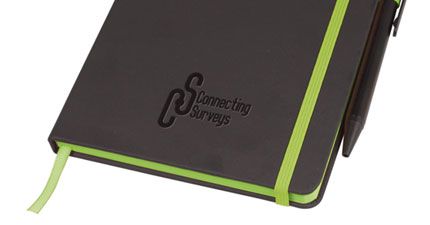 P.S. What's A Set-Up Charge?
You may have seen the phrase "set-up charge" or "screen charge" used across our website. This is a general term that refers to the making-up of the screens, dies, templates or jacquards used in the process of applying personalisation details to a product. In a lot of cases these are free but in some scenarios a small charge may apply.
FAQs About Printing Processes
Q: What are printing processes?
A:
Printing processes are the different ways in which a promotional product can be personalised with your logo. The printing process used for your order depends on the branded merchandise you're choosing, with some materials not working for certain methods of customisation.
Q: What printing processes does Total Merchandise offer?
A:
We offer a full range of printing processes and branding methods on our promotional products, including printing, engraving and embroidery.
Q: How do I know which printing processes are available for my chosen promotional products?
A:
Branding methods vary according to the material of your products, as well as other factors, including colours. You can find out which printing processes are available on a specific promotional product: when on a product listing page, simply look at the dropdown box that's displayed under 'Options' to see how your product can be branded with your logo.
Q: Can you advise me on which branding methods will work best for my promotional products?
A:
Of course! All of our product listings clearly state the printing processes that are available for your chosen branded items. Sometimes there will only be one option available, sometimes there will be multiple options available. Use the dropdown 'Options' box to see what's available for your product and how much it costs. If you're not certain about what might work best, contact us - a member of our team will be happy to advise you!
Q: What is screen printing?
A:
Screen printing is a versatile and common printing technique that's used for branded merchandise including promotional clothing, printed mugs and more. Put simply: ink is forced through mesh that is stretched across a screen. The screen is then coated with a photo-sensitive film, with a stencil of the required logo or artwork placed on top of it. The screen is then subjected to ultraviolet light, which 'cures' the emulsion and all parts of the screen, bar the image. The screen is then cleaned, allowing the ink to go through the mesh onto the material being printed. This process is repeated for each individual colour featured in the artwork.
Q: What is foil blocking?
A:
Foil blocking – also known as foil stamping – is the process of applying metallic foil to paper or card, with a heated die then stamped or applied into the foil. It's a simple yet effective way to make a promotional product feel that little bit more special.
Q: What is transfer printing?
A:
Transfer printing was traditionally used for ceramic products but is now often used for promotional clothing too. Artwork is printed onto a flexible non-textile material before being transferred onto a branded item with a heat press.
Q: What is laser engraving?
A:
Laser engraving involves the surface of a promotional product being permanently removed by a laser in order to engrave a logo. It works particularly well on items made from metal and wood, including branded keyrings and promotional phone holders.
Q: What is digital printing?
A:
Digital printing is one of the most popular printing processes. Modern inkjet technology is enlisted to fire droplets of ink straight onto the surface of a promotional product – it works particularly well for stress toys, promotional bags and branding umbrellas.
Q: What is digital transfer printing?
A:
Digital transfer printing involves artwork being printed onto a specially formulated film before being heat transferred onto the surface of the product. This is particularly useful for promotional items with curved edges.
Q: What is embossing?
A:
Embossing is a customisation process that sees a logo or piece of artwork rise up against the background of the product material. This 'raised' effect is great for adding a luxurious touch.
Q: What is debossing?
A:
Debossing is the opposite to embossing; if a product is debossed, the logo will 'sink' into the product for a striking finish.
Q: What is embroidery?
A:
Embroidery allows for a logo or piece of artwork to be applied to an item – typically promotional clothing, including branded caps and custom hoodies – using needle and thread. The calculation of cost is often determined by an estimate of how many stitches will be required to recreate the artwork.
Written by
As our co-founder and Systems Director, David has close to two decades of expertise within the promotional merchandise industry, with a specialist focus on our systems and processes. Under the guidance of David and the other co-founders, Total Merchandise has become one of the UK's leading suppliers of promotional products. With his finger on the pulse of both the industry and in-house activity, David oversees technical operations and prides himself on the 5* experience we offer suppliers and customers. Passionate about photography and off-road driving, he can often be found with his camera in hand or listening to a wide range of music genres.