Branded Bottle Opener Keyrings & Carabiners
Say Cheers to Personalised Bottle Opener Keyrings & Carabiners
Fact: a promotional bottle opener keyring makes a great giveaway item for attendants at trade shows and conferences, or as end-of-transaction gifts for satisfied customers. Combining budget-friendly prices with long-term shelf-life, our plastic bottle opener keyrings are products that your customers can use over and over again, meaning your company's branding will be on display in offices and homes long after the event has ended.
As well as allowing the user to enjoy their favourite drinks, a branded bottle opener keyring also has the extra bonus of being lightweight and portable. Your customers can add your printed bottle opener to their keys, meaning they'll be reminded of your business every single day.
Items 1-12 of 12 results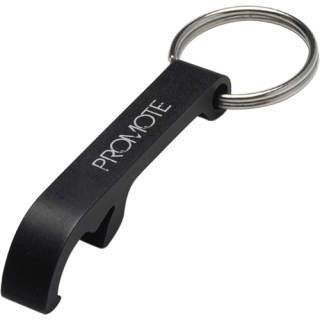 A promotional bottle opener keyring is a simple yet powerful gift to help enhance any UK business' marketing campaign. Whether it's for general brand awareness or to tie in with a new launch or special occasion, our range of printed bottle opener keyrings will offer your customers a high-perceived value branded giveaway that's actually - whisper it - incredibly budget-friendly. We'll drink to that!
Whether used by the recipient at home or at work, it's a simple essential that can be easily added to a bunch of keys, making your branding a part of your customers' day-to-day lives.
Why Pick A Promotional Bottle Opener Keyring?
Lightweight, portable and easily integrated into everyday life, a branded bottle opener keyring, customised with your branding, is as functional as it is promotional.
After all, there's a reason why the Plastic Bottle Opener Keyring and Metal Bottle Opener Keychain are both among Total Merchandise's bestseller items.
Printed Bottle Opener Keyrings: A Small Gift With A Big Message
A promotional carabiner or branded keyring bottle opener is the perfect gift for offering high-impact return. Small, lightweight and perfectly portable, it's ideal for adding onto a bunch of keys and will come into its own when recipients need to open a bottle. Whilst plastic keyrings are undeniably budget-friendly, the added functionality of the bottle opener means it's a gift that effortlessly combines subtle impact with day-to-day life.
Best of all, a personalised bottle opener keyring printed with your company's logo and marketing message is the perfect way to generate awareness for your business.
Which Promotional Bottle Opener Keyring Will You Choose?
Total Merchandise is proud to offer one of the UK's biggest and most varied selections of personalised bottle opener keyrings.
Our bestsellers include the simplistic Talon Bottle Opener Keyring, which is available in five colours, and the stylish Metal Bottle Opener Keychain, which is pleasingly sleek and available in a spectrum of ten shades.
For multi-function cool, look no further than the Torch Bottle Opener, which combines a bright light with a bottle opener and is available in five colours and makes a luxurious gifting option.
Personalised Bottle Opener Keyrings Make You Part Of The Party!
A promotional bottle opener keyring with your company's branding on might sound like a simple gift but factor in the essential need for said keyring at the office Christmas party or a special in-house occasion and the impact and importance of it increases tenfold. Cheers!
Why not explore the full range of luxury keyrings we supply, including metal trolley coins, metal keyrings, pu & leather key fobs, and bottle openers & carabiners?
Curated by
As Product Team Manager for the past 15 years, Adam has built up an enviable reputation as one of the industry's most trusted authorities on promotional merchandise. As well as supplier relations, product sourcing and pricing, Adam is also responsible for ensuring our promotional merchandise is presented on the website in the most effective manner. His expertise makes him the go-to person in the company for spotting merchandise trends and finding the best branded products to meet customers' needs. When not at work, Adam enjoys travel, electronic music and all forms of cinema.