Your Promotional Merchandise Order: Artwork Guidelines
Quick links: Find your font | Pantone colour Chart
When you place an order with us, we will need to receive the artwork you would like to have printed, embossed or embroidered onto your promotional products. This allows us to customise the items you've selected to your precise specification - resulting in products that truly reflect your business!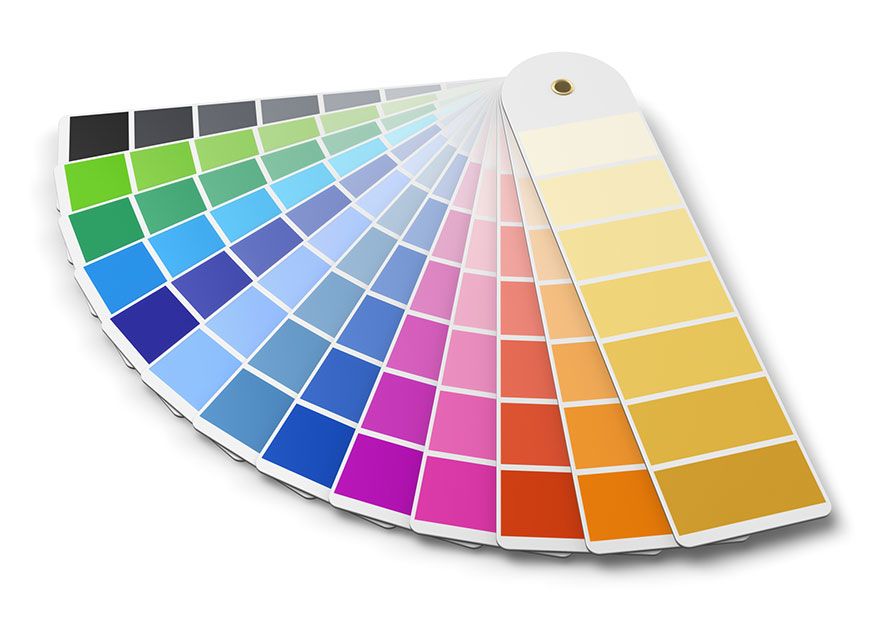 Which File Type(s) Do We Work With?
Ideally we need vector artwork, saved as an .EPS file, created in Adobe Illustrator and saved as outlines. If this isn't possible, we can help; email us your artwork in whatever format you currently have it in and our in-house team can convert it.
Complicated designs might incur a small charge for this service but simple designs are free. Accepted file types include ,JPG, .PDF, .PSD, .TIFF, .AI and .PNG.
Please note: .JPEG is a very common file type, so if you are sending us one of these, please ensure it is 300DPI. If it isn't, please let us know and we can adjust this for you.
Your Branding: Knowing The Colours In Your Artwork
Chances are your company logo would have been created by a designer, who will know the colour(s) used within it. The most commonly used recognition system printers use to determine the exact colours of your logo is called a Pantone Colour System (PCS). If you're new to the PCS, you can explore our Pantone Matching System Chart; please bear in mind this should be a rough guide only, as colours will vary on different computer screens and office printers.
That said, there are many other types of colour recognition systems that are used; for example, CYMK (Cyan, Yellow, Magenta and Black) or RGB (Red, Green and Blue). If you're unsure, don't worry: our team of in-house designers can easily convert these for you.
We can print your logo even if it is Full Colour; a photograph, for example, or a logo with lots of gradients. If you're in doubt, email us whatever format your artwork is currently in and let us do the hard work for you.
If you need more information on the branding options we can use to place your company logo onto our corporate gifts, explore our Quote & Order process.
How To Work With Fonts
Your company logo and branding will have been created using a specific font. Your in-house designer will be able to advise on this but if they can't, we can attempt to match it upon sight.

If you have never created a text-based corporate design before, we can offer you a choice of fonts to pick from.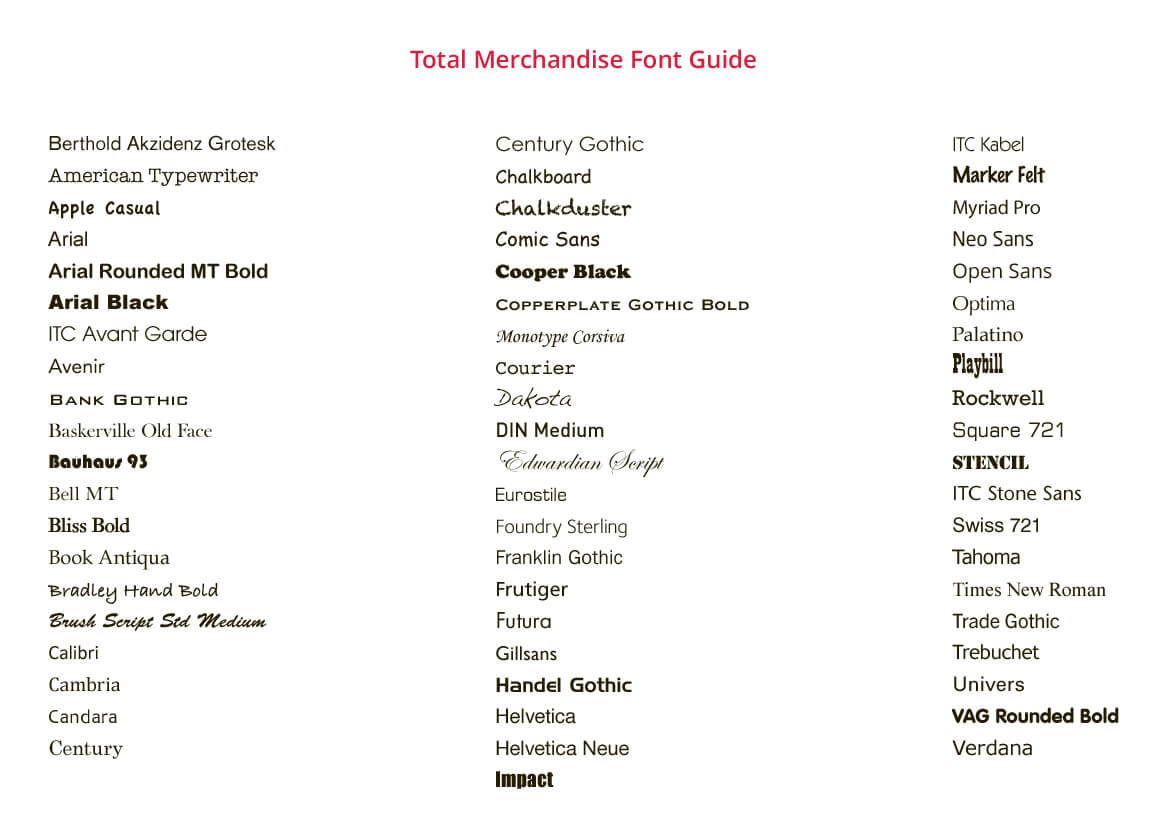 Our in-house studio has access to 100s of the most commonly-used font families. If you have a bespoke font requirement, we are happy to work with font files you are able to provide, or can look into obtaining specific font files (charges may apply). Ask a member of our team to find out more!
Where Will Your Logo Be Printed?
Please let us know if you have a preferred position where you would like your company logo printed when you order your promotional merchandise. For many items, you can choose exactly where you would like your logo printed; other products have specific print areas available only. Please see below an example of this on our printed cotton tote bags.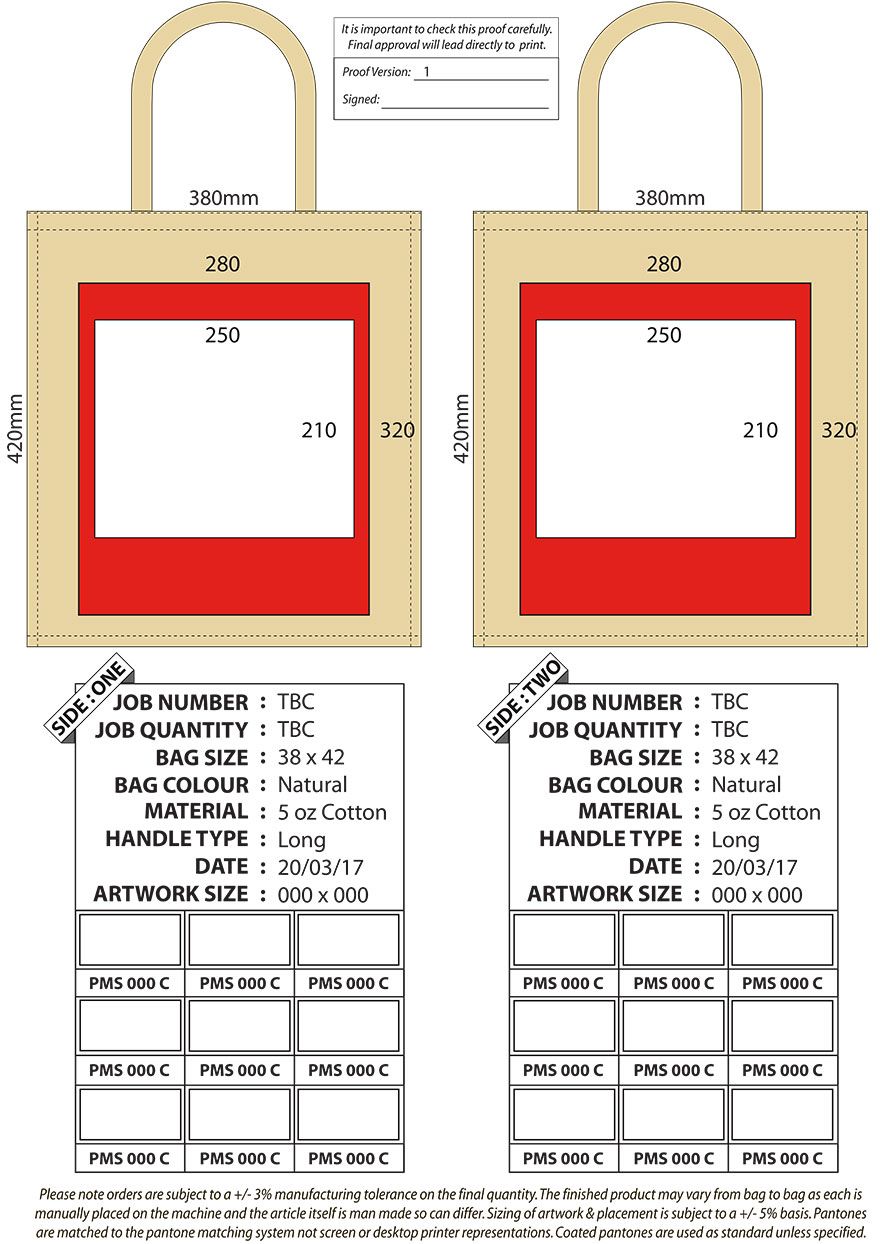 The diagram above shows the optimum place for your logo to be positioned, guaranteeing a smooth print and optimal visibility for your branding. Many products can be printed in multiple areas; for example, our branded conference folders can be printed on centrally, or in the bottom left or right corners. Similarly, our range of promotional clothing can feature your branding on the front, back, sides, left breast or right breast.
If you are unsure, we have artwork templates available for downloading alongside each item on the site; alternatively, our sales team can advise.
The Proofing Process
Once you've selected your promotional product(s) and provided your artwork, we will then send you an artwork proof to approve; this will show your corporate logo in the specified position on the item, as well as demonstrating the colour of the print and the colour of the product itself.
We won't do anything further until we have received instruction from you, whether you're confirming you're happy with the proof or asking for changes to be made.
Written by
Jason is Sales Director and co-founded Total Merchandise in 2004. Sitting at the heart of the business, he is one of the most authoritative and trusted figures in the industry. Along with the other directors, his hard work has led to the business growing from a spare room set-up to an award-winning company that works with huge brands across the UK and employs close to 50 people. When he's not in the office, Jason likes to relax with music or Netflix boxsets, spend time with his family and walk his dogs.