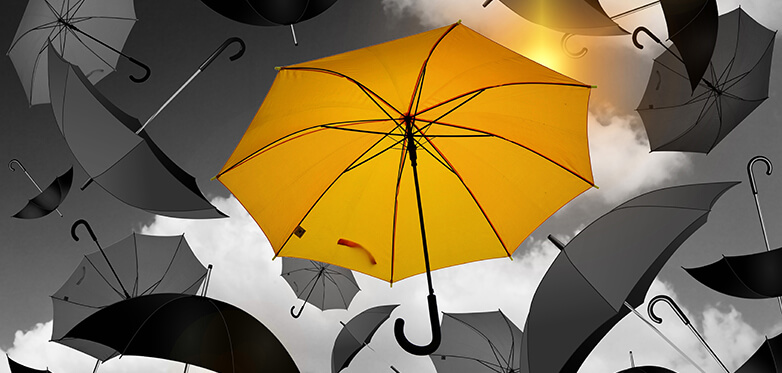 Our Best Selling Promotional Items: Umbrellas
Promotional Umbrellas have long been one of our most popular promotional items. They are a great giveaway opportunity that offer a large imprint area with high visibility and can be extraordinarily useful for the recipient. However with all the varieties, choosing the right umbrella for your message can be a little challenging. Below are some helpful tips on the sorts of things to consider when choosing the perfect umbrella to giveaway
The Types Of Promotional Umbrellas
Here at TM we offer a number of different types of Umbrellas:
Golf Umbrellas
With diameters of around the 1300mm mark, these are the largest of the portable umbrella range. They come with differing materials and qualities like steel or carbon straight shaft, wind proof etc. Most importantly, they also offer a substantial branding area.
Telescopic, Mini and Compact Umbrellas
These can fold/collapse down into a very short length, making them easy to transport and store. There are varying degrees of 'compactness' and typically range from 250mm to 300mm but still opening up to a traditionally large diameter, ranging from 900mm to 1000m. As well as differing finishes and materials they also have different opening mechanisms.
Traditional Umbrellas
Sitting at roughly 950mm in diameter with lengths of around 450mm, they can have the same choices as above but also with option for straight and curved handles. Branding areas are around 120mm square.
Beach or Garden Umbrellas
While we don't have a huge range of these we still do offer them and they are really for sun protection rather than rain. They come with a white, steel stem and a tilt mechanism with adjustable height.
What To Look For In A Promotional Umbrella
The umbrella you choose depends greatly on where you see it used or the target sector you're aiming at. A telescopic umbrella is perfect to fit in a handbag or briefcase but a golf umbrella is much more sturdy for the lovely UK weather. There are hundreds of variations and combinations within our range so you should find something that is relevant to your need.
The design of umbrellas have largely stayed the same over the years with the materials, finishes and detail being the changing and advancing factors. The choice is truly massive now. For instance the main materials offer their own different opportunities:
- Aluminum offers a lower cost and generally lower weight with some flexibility allowing endurance. This can also be a failing as twisting and inversion can then happen too.
- Steel is typically higher in cost and weight but has greater rigidity and durability in adverse weather conditions. That rigidity can also work against it by making it more brittle.
- Composite/Fiberglass balances flexibility and rigidity characteristics but this is reflected in the cost making these the highest price option.
Branding Opportunities
These are massively varying from umbrella to umbrella but the basics are typically:
- Printing areas – these are very generous and are one of the largest print areas of all the promotional items. Opportunities to print in full colour are common but the option for less colours and therefore less costs are always available.
- Additional print areas – often specific umbrellas will allow extra areas for print like the covers or the handles.
- Umbrella colours – the canopies can often be customised to match your company pantone colours or if not then there will be a range of colours that will provide a best near match.
Additional Features
Remember there are all sorts of extras that are available too. Often you can specify materials used or even handles, having straight or a curve, carbon or wood shafts. There's been a rise in novelty umbrellas with cute characters and shapes on the canopy (like ears). Some can come with a light in the handle or even a light that runs the length of the shaft!
Promotional Opportunities
Pretty much the best print area of all portable promotional items, the high visibility umbrellas offer is fantastic. They have a preceived high value, extremely useful and are likely to stay with someone for a long length of time. As for who, when or where to give out to? Well the opportunities are many: Golf Courses, Schools & Universities, Conferences and Trade Shows just being a small section.
Posted: 11th Jan 2019