The January blues: the phrase that we've become accustomed to using to describe January. The month of cold weather, dark mornings, the post-Christmas come down, and the possibility of failed resolutions combine to create the January blues.
January even holds Blue Monday, supposedly the saddest day of the year. This day was coined in 2005 as part of a marketing effort for Sky Travel to encourage people to book holidays through them to beat the January blues.
Although the January blues and Blue Monday focus on the doom and gloom of the hue, blue also has many positive connotations associated with it. That's why we're putting a new spin on the January blues with our very best blue promotional merchandise.
---
READ MORE:
---
What is There to Know About the Colour Blue?
Blue may seem like a simple colour, but there are plenty of interesting facts about the colour including the origin, different meanings and why businesses choose to use the colour in their logos.
For instance, did you know that blue is the world's favourite colour? Chosen time and time again by the population, blue often appears as the number one colour of the globe. It's not surprising when you consider the beautiful blue skies and seas.
Interestingly, blue is the rarest colour found in nature; which is ironic as it's voted the world's favourite colour. Whilst we're on the subject of nature, did you know that owls are the only birds that can see the colour blue?
We've established that blue is connected with feelings of sadness and aloofness, but blue also has many positive psychological traits. It calls to mind feelings of calmness and is often described as peaceful, tranquil, secure, and orderly. As well as encouraging productivity and being seen as a sign of reliability and stability, it's no wonder so many businesses choose blue as the main colour to portray their brand.
Some of the most popular industries that use blue in their branding and advertising include airlines (such as British Airways and Lufthansa), financial services (American Express and PayPal are good examples) and technology products and services (think Dell, Nokia, oh and Facebook...).
With all of this in mind, let's take a look at our beautifully blue promotional products; ranging from deep navy blue to the lightest baby shades, we've got it all.
1. Fruit of the Loom Valueweight T-Shirts
Our best-selling printed t-shirts are not only available in one shade of blue but seven! Hues including deep navy, navy, heather navy, heather royal, royal blue, sky blue, and azure, there really is a blue to best fit your needs.
Boasting a large print area, long-lasting brand awareness and budget-friendly prices, these promotional t-shirts are a no-brainer choice for advertising your business.
2. Universal Take Out Cups
Perfect for getting that all-important caffeine kick whilst on the move, these popular reusable coffee cups are available in light blue and midnight blue with either matching or different coloured lids!
With your logo printed on the side of each cup, it's a great way to associate your brand with a moment of refreshing calm for your customers.
3. Soft Feel Pocket Notebooks
Another tried and tested product that is available in two shades of blue is the best-selling Soft Feel Pocket Notebook. With multiple branding options including spot colours, full colour, debossed and foil-blocked there's an option to suit any marketing campaign.
This notebook is pocket-sized and sits between A6 and A7 size, making it the perfect size for easy transportation in handbags and pockets meaning your logo will be seen whenever and wherever it is used.
4. Plastic Toy Ducks
Looking for something different to add to your blue merchandise collection? These Plastic Toy Ducks could be just what you're after!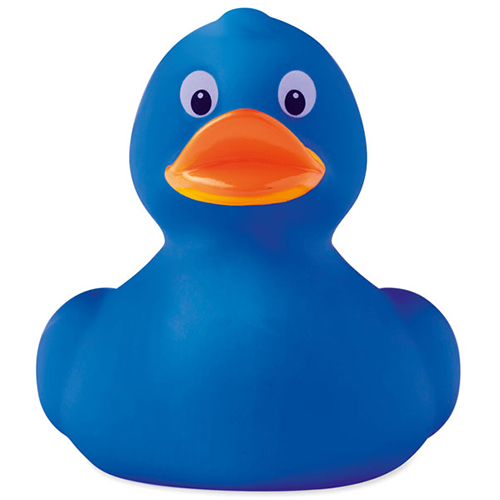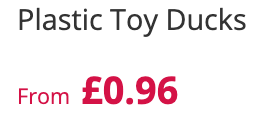 Made from squeezy PVC, these printed plastic toy ducks are a fun and interactive way of placing your brand into your customer's hands.
5. Bubble Blowers
Another novelty item that represents your brand in a fun and unique way is our Bubble Blower - available in blue, of course! Fun for all ages these printed bubble blowers are great giveaways at parties, festivals and more.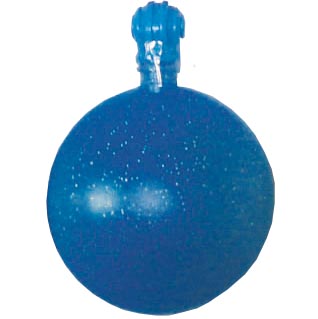 Round in shape and printed with your custom design to the surface, these novelty promotional bubbles are sure to draw attention to your brand at any event.
6. Coloured Cotton Tote Bags
You really can't go wrong with bags when it comes to choosing promotional merchandise and these blue Coloured Cotton Tote Bags are no exception! A chosen favourite with all manner of UK businesses, these printed tote bags are a proven powerful marketing tool.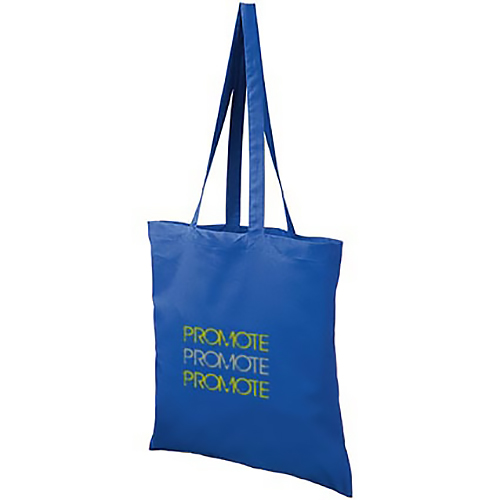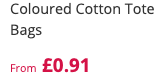 FYI, there's more than one shade of blue available!
7. Beanie Hats
Perfect for any winter marketing campaign are these beanies, embroidered with your business name, message or logo. Choose from navy, royal and sky blue to best match your corporate colour scheme.
Made from 100% acrylic and complete with a turn-up, these branded beanies guarantee to keep heads warm and your logo at the front of the end-users mind - literally!
8. Large Belluno Luggage Tags
Work within the travel industry? Look no further than these impressive luggage tags; after all, blue is linked with the travel and airline industries!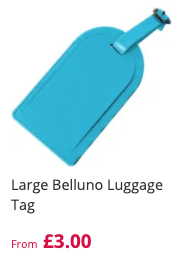 Each branded luggage tag is made from quality Italian PU for durability and features a security flag to hide personal details and a buckle fastening; these personalised luggage tags will be any travellers best friend.
9. 3 in 1 USB ILO Phone Stands
This new charging hub is complete with a switchable 3 in 1 adaptor and elegant LED branding allowing easy attachment of Apple, Micro-USB or USB Type-C devices. In short, they fit most devices.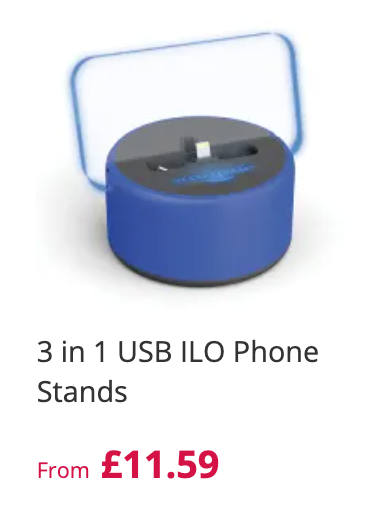 LED engraved with your logo or message, they guarantee to shine a light on your branding - pardon the pun!
10. New Shape Recycled Plastic Trolley Coin
Be on hand when your customers need you most with these promotional trolley token keyrings; perfectly designed to fit supermarket trolleys and lockers at work, the gym, or the swimming pool.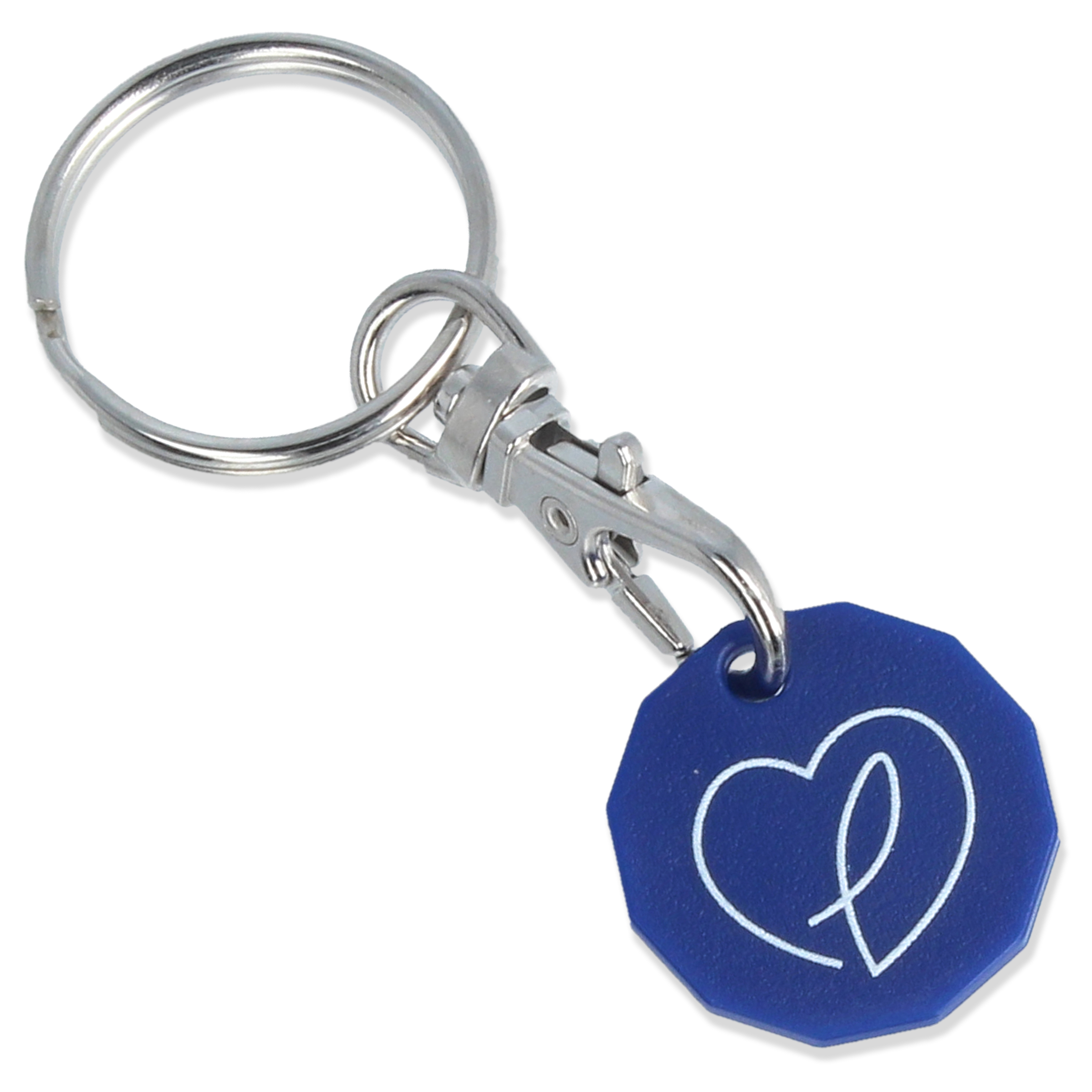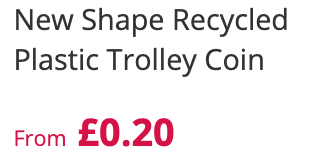 Our promotional New Shape Recycled Plastic Trolley Coin Keyrings are made in the UK from 100% recycled plastic and printed with your logo on one side as standard.
Ready to help your clients and employees beat the January blues this year? Browse all our best-selling promotional products available in every shade of blue! Need help finding a specific item? Simply contact a member of our friendly and experienced Sales team on 01376 509092 or email info@totalmerchandise.co.uk today. Main image via Pexels.