Schools across the country are currently getting ready for a return to normality following months of home-learning due to Coronavirus.
Whilst teachers and pupils might be itching to get back into the classroom, it's safe to say that things will be a little bit different as educational environments across the country adjust to the 'new normal'.
---
READ MORE:
---
What Are The Latest Guidelines For Reopening Schools?
Guidelines released by the government explain in great detail what schools can do to ensure they're as ready (and Covid-secure) as possible when they open in September 2020, with key points including:
The need for regular and thorough hand washing: 'schools must ensure that pupils clean their hands regularly, including when they arrive at school, when they return from breaks, when they change rooms and before and after eating'. The guidelines advise schools to consider 'whether the school has enough hand washing or hand sanitiser 'stations' available so that all pupils and staff can clean their hands regularly'.
The minimisation of 'contact between individuals and (maintaining) social distancing wherever possible'; this includes the grouping of children into 'bubbles', implementing appropriate measures in classrooms and giving consideration to how children arrive at and leave school at the start and finish of each day.
The wearing of PPE in small and infrequent scenarios, such as when staff are dealing with a child who appears to have symptoms of COVID-19.
(Want to find out more? Read the guidelines in full on the government website.)
Total Merchandise is here to help every step of the way. With our collection of social distancing products for schools, as well as our ranges of promotional face masks and branded hand sanitiser items, we're confident we've got the needs of your establishment covered.
Whilst we've always had a wide selection of promotional products for schools (ranging from school bags to leavers gifts), we've also expanded our offering over recent months to include school merchandise with a Covid-secure twist.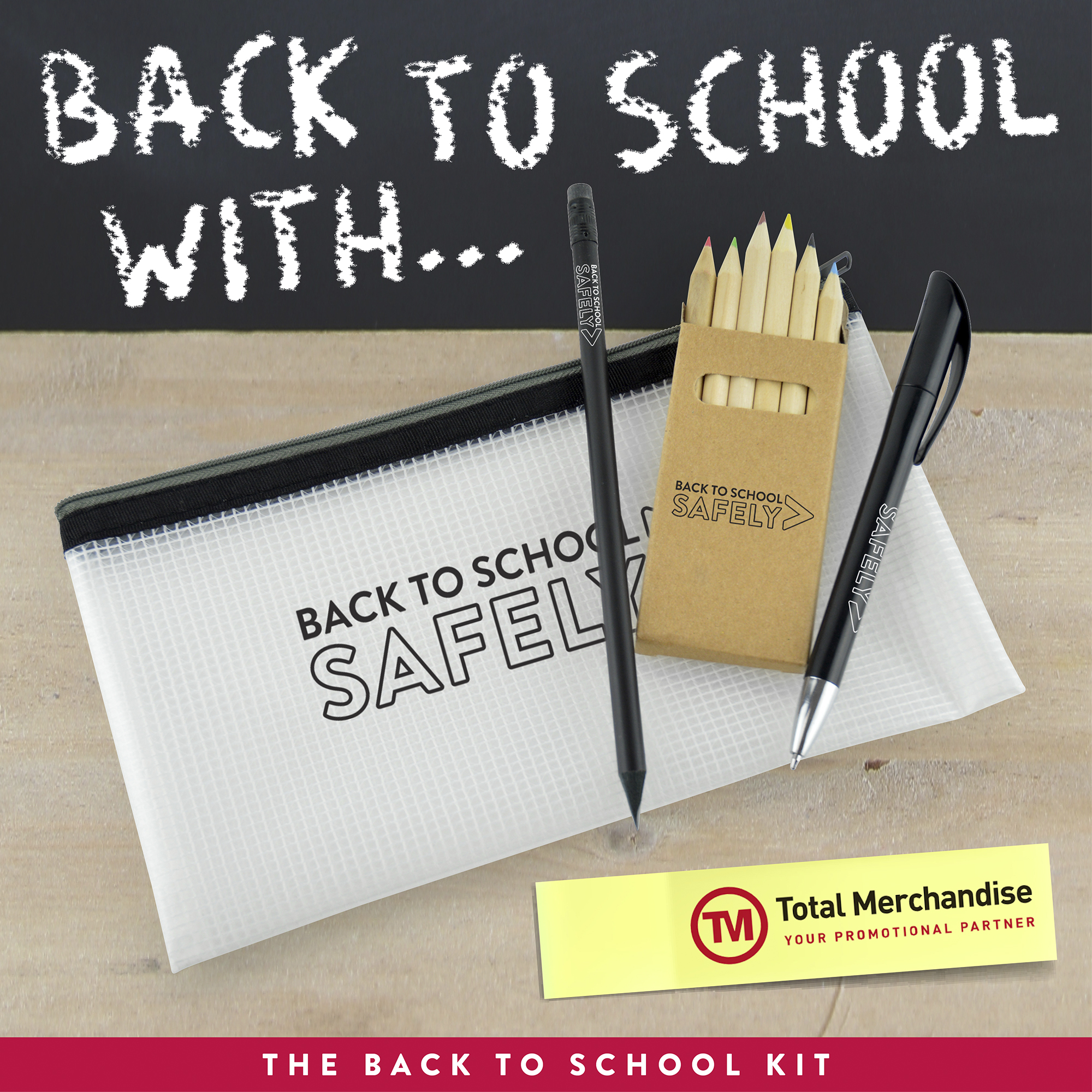 Our quick-dispatch range includes back to school pencil case options (including wipe-down designs), staff essentials (such as antimicrobial coffee cups and individually named printed pens) and promotional hygiene products that will be handy for any establishment.
Read on to browse some of our highlight products that will help make the transition back into the classroom that bit easier and browse our full range of social distancing products for schools to see more. Need help, or can't find exactly what you're looking for? Don't hesitate to get in touch: simply call 01376 509092 or email info@totalmerchandise.co.uk to speak to a member of our team today.
Branded Face Masks For Secondary School Students & Teachers
The government announced on 25 August 2020 that schools across England would have the option to decide individually whether they wanted their students to wear face masks, whilst schools in 'high transmission risk' areas would be required to ensure students were wearing face coverings.
Their new guidelines on face coverings state that face masks should be worn in schools if 'the layout of the school or college estate makes it particularly difficult to maintain social distancing when staff and pupils are moving around the premises'. The guidance also states that 'safe wearing of face coverings requires cleaning of hands before and after touching – including to remove or put them on – and the safe storage of them in individual, sealable plastic bags between use. Where a face covering becomes damp, it should not be worn and the face covering should be replaced carefully'.
Whether it's a secondary school, a college or a university, we've got your academic establishment covered. Our best selling Double Layer Reusable Face Masks are ideal for both secondary students and teachers alike; it's double-strap design means it offers a comfortable fit for heads of all sizes, with your school logo printed in up to full colour on the front.
Alternatively, take it one step further with an individually named face mask: a face covering that features your logo as well as the branding of your establishment.
It doesn't end there: we also have a wide range of face mask accessories available for use in schools, including exemption badges. We also have handy Protective Face Mask Cases (shown above), which are ideal for keeping masks secure when they're not in use.
Browse our full range of branded face masks for more options.
Back To School Pencil Case Kits & Branded Lunch Bags For Students
With wipe-down pencil cases referenced early on as a must-have item for pupils returning to school, our fuss-free Pencil Case Kits are a must-consider that can help to reduce the risk of inadvertent cross-contamination.
Each of these easy-clean school pencil cases contains a range of stationery essentials, including a rubber, ruler, pencil and pen, all branded with your school's logo. Take your pick from an assortment of colours to create a kit that's truly unique to your school and its identity, with prices beginning from just £1.29.
And it doesn't end there. We're proud to offer a range of all-in-one pencil case kits for schools, which are ideal for reducing the risk of potential cross-contamination and mean that students won't need to borrow pens or pencils from each other.
Our A5 Notebook School Set is also a must-see promotional product for secondary school students. Each of these smart self-contained sets includes an A5 branded notebook (printed with your logo) as well as a geometry set that also features your artwork.
For an all-in-one kit for pupils at a fantastic price, look no further than our Back To Schools Sets. Each of these kits contains a promotional drawstring bag, a branded water bottle, printed pen and a school pencil case, with every item printed with your school's logo. The printed drawstring bags, water bottles and pencil cases can also have the names of the recipients hand-written onto them. (We'd recommend doing this with a permanent ink pen to ensure there's no smudging!)
Another promotional product to consider when welcoming your pupils back to school? Our branded lunch bags. We've got a wide range of promotional lunch boxes, with some even available to print with the individual names of your students as well as with your school logo. Giving your students their very own personalised lunch bags can help cut the scope of cross-contamination, as well as reducing the potential of pupils accidentally picking up the wrong lunch bag.
Branded Hand Sanitiser Stations & Hygiene Must-Haves For Classrooms
Hand sanitiser stations are a must-have for schools and colleges across the UK, allowing staff and students to clean their hands as and when required. We have a wide range of hand sanitiser stations available to order today, ranging from wall-mounted to desktop and foot-operated to contactless.
Our Wall Mounted Hand Sanitiser Dispensers, for example, are ideal for displaying by entrances and exits, in hallways and in bathrooms. Available plain stock or printed with your logo in one colour, each sanitiser station is designed with a touch-free automatic sensor, meaning there's no need for direct contact.
Take things one step further with our impressive Wall Mounted Hand Sanitiser Stations, which feature your school logo vibrantly printed on to the dispenser's backing. With dispatch available from just two working days, they're ideal for adding some school pride to entrances and exits.
For reception areas, classrooms and staff areas, our Contactless Automatic Hand Sanitiser Dispensers are ideal. Neatly sized for sitting on desktops, these branded hand sanitiser stations are printed with your logo in one colour and are available to order from just one unit.
And it doesn't end with the hand sanitiser! We have a wide range of other promotional hygiene products available for schools to order, ranging from our Non-Contact Infrared Thermometers (a must-have for the school medical room and available for dispatch from just three working days) to our new-in Wipe Clean Promotional Lanyards (shown below), that are ideal for students and teachers alike.
Browse our full range of social distancing products for schools for more ideas.
From branded hand sanitiser to promotional face masks, Total Merchandise has all the branded items your school or university could need to get back into the classroom. Need help finding a specific item? Simply contact a member of our friendly and experienced Sales team on 01376 509092 or email info@totalmerchandise.co.uk!
Main image via Pexels.