If there's one thing we can all be confident of post-lockdown, it's this: the nation is going to be in serious need of a haircut.
From overgrown fringes to roots that are so long they technically qualify as some kind of balayage (or so you like to tell yourself, at least), it's safe to say that people across the country will be keen to get their 'dos sorted out, ASAP.
---
RELATED:
---
Despite there being upwards of 35,000 hair and beauty salons around the UK, we expect appointments will be filling up pretty quickly if the number of 'lockdown haircuts' we've spied on our timelines is anything to judge by...

Nope - somehow the DIY blowdry isn't quite the same...
So, when can hairdressers go back to work? According to the guidelines laid out by the UK government, hair salons and barbers are currently expected to reopen from July 4 2020 at the earliest.
Beauty giant L'Oreal has published a comprehensive set of guidelines for hair salons that are preparing to reopen in light of COVID-19 and the UK lockdown. The document includes advice on everything from the wearing of face masks to the use of hand sanitiser, as well as the technicalities of running your hairdressing business.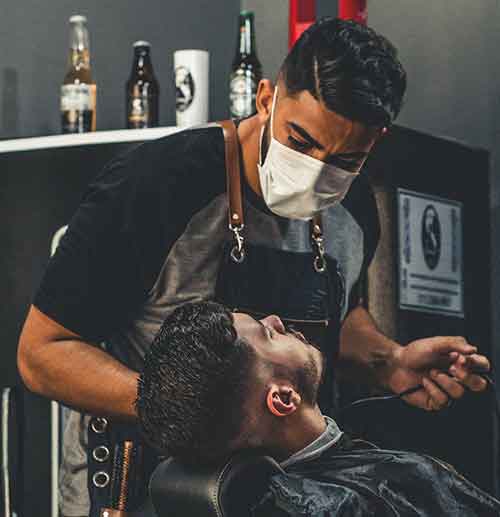 From reconsidering payment methods (will you still accept cash?) to revising the 'menu' of services you have on offer, there's a lot of thought you'll need to put into reopening your hair salon or barbers. It's daunting, yes - but also incredibly exciting.
Without further ado, read on for our round-up of the promotional products that will help your hairdressing business demonstrate it's doing all it can be to be as Covid-secure as possible. Can't find the products you're looking for? Don't hesitate to get in touch with a member of our friendly and experienced Sales team, who will be more than happy to advise you; call 01376 509092 or email info@totalmerchandise.co.uk.
Display Appropriate Social Distancing Signage Around Your Salon ↔️
From social distancing floor stickers to branded roll up banners printed with safety messages, there are all sorts of fuss-free measures you can incorporate into your UK hair salon to remind customers and colleagues alike to adhere to the COVID-19 government guidelines.
Keeping two metres apart is made perfectly simple with our range of social distancing signage, which can be printed with our own default safety messages or your very own bespoke full-colour design.
Make things loud and clear from the moment customers step foot inside your premises with our A4 Social Distancing Roller Banners, which are ideally sized for displaying on your reception desk; equally, our promotional Anti-Slip Social Distancing Floor Stickers are great for reminding people to keep 2m apart at all times.
Provide Branded Face Masks For Staff 👩
Making sure you have supplies of promotional face coverings for your staff can help them feel protected as much as it can reassure your customers that your business is taking all the appropriate health and hygiene measures. Whilst current guidelines don't declare them as compulsory, promotional face masks can be a useful product to have available should your team wish to wear them. Please note that we would always recommend wearing face masks in conjunction with normal hygiene practices, including regular hand washing.
We have a wide range of branded face masks available, including reusable fabric masks and single-use face masks. The L'Oreal guidelines also suggest providing face masks for your customers, 'especially when the safety distance is not optimal' - so having a stash of disposable face masks available for your customers to wear during their appointments could be a savvy move.
It's also worth adding that if you're planning to provide your staff with promotional face masks that are worn over the ears, they might start to rub after a while. However, our printed face mask straps are perfect for helping to alleviate discomfort in moments, taking the pressure off sensitive skin.
Keep Things Clean With Branded Hand Sanitiser 🧴
A hand sanitiser station by the entrance of your salon or barbershop is a great prompt for customers to clean their hands the moment they step onto your premises. Our touch-free Stainless Steel Pedal Hand Sanitiser Station is ideal for positioning by the front door, encouraging people to use it as they both enter and leave.
Our branded hand sanitiser stations are also a great item for your colleagues to use, too. The L'Oreal guidelines ask hairdressers to clearly demonstrate to clients that they have clean hands, so having hand sanitiser publicly available for a visible application can offer instant assurances that your staff are following basic hygiene practices.
Don't quite have the space for a freestanding hand sanitiser station? No worries - our Wall Mounted Hand Sanitiser Dispenser is easy to attach to any wall and is touch-free, making it a great hygienic addition to your salon. Equally, providing your colleagues with their own individual bottles of hand sanitiser (ideal for keeping in lockers or bags) is another smart decision, enabling them to clean their hands when they're out on their lunchbreaks and so on.
You could also consider presenting your customers with bottles of branded hand sanitiser as a topical giveaway after payment. Our best selling 60ml Branded Hand Sanitisers are printed with your full-colour artwork on the label, ensuring visibility for your business with every use and practicality for your customers.
Want more ideas? Browse our full range of branded hand sanitiser products.
P.S. Your colleagues might enquire about the possibility of wearing protective gloves. Total Merchandise has boxes of vinyl disposable gloves available to order in quantities as low as five units, though do remember that wearing gloves is not an alternative to regular handwashing.
Swap Reusable Gowns For Disposable Ponchos ✂️
Our printed ponchos are great for single-use and are a smart disposable alternative to 'traditional' hairdressing gowns. Lightweight and comfortable to wear, these promotional ponchos are available in a range of colours, meaning there's almost certainly a shade to match your salon's unique branding.
You can also consider providing additional 'coverage' for your staff, too - branded aprons in a full-body cut could make a neat option. Again, it's a clear and visual indication that your business is taking all the measures it can to be as Covid-secure as possible - and with our full-length aprons stunningly embroidered or printed with your logo, it's a great way to add a splash of corporate pride to proceedings, too.
Make Payment Feel More Protected With Safety Change Trays 💳
Whether your customers are paying by cash or by card, trim down the risk of inadvertent hand contact between them and your staff with the help of our simple-yet-smart Safety Change Trays.
These promotional change trays are available in a range of colours and help to make the exchange of cards, cash and receipts that bit easier for both your customers and your till operators.
Consider Promotional Giveaways For Post-Haircut Awareness 💇
Offering your customers branded merchandise to say 'thank you' as they pay can ensure their experience with your salon ends on a real high. Not only will they be delighted with their great new haircut but they'll also have a tangible in-their-hand reminder of your business that might encourage them to book again, recommend you to a friend and so on.
Keep it on-point by presenting customers with a promotional compact hair brush or branded travel hair brush, for example; these are ideal for your customers to effortlessly incorporate into their day-to-day lives and are perfect for carrying in handbags, pockets and so on.
If you want some more marketing giveaway ideas to offer your customers, be sure to check out our range of best selling promotional items, which includes everything from printed cotton tote bags (branded with your logo) to promotional pens. Items such as branded keyrings or promotional confectionery can also help to create a seriously sweet lasting impression of your business - and what's not to love about that?
From promotional products for social distancing to branded giveaways to show gratitude, Total Merchandise has all the branded items your business could need. Need help finding a specific item? Simply contact a member of our friendly and experienced Sales team on 01376 509092 or email info@totalmerchandise.co.uk! Visit our Coronavirus Hub for more information and updates.
Main image via Pexels.