Video calls! Who'd have 'em? Well, actually quite a lot of us, as it happens.
With the current climate seeing Brits increasingly turn to video chat software such as Teams, Zoom and Skype, we're increasingly communicating with our colleagues and customers via video. Arguably more personal than a phone call and more straightforward than face-to-face contact, video is a happy medium that strikes the balance between the two neatly.
---
RELATED:
---
In many ways, that's great. There's no need to rush or race across town to get to that important client pitch; equally, you can have all the paperwork, Chrome tabs and everything else you could possibly need in front of you throughout your call. Video makes working from home that bit easier and you can even oversee your toddler's artistic processes (strawberry jam handprints on the wall, for example, and a crayon tableau on the radiator - it's like watching a modern-day Da Vinci at work) first-hand.

"You carry on with your video call, dad - I'm just giving the carpet a refresh."
All in all, it's fine - and it makes remote-working yet still feeling like part of a team a breeze. However. There's one small element of video calls that's not always quite so glossy-glossy.
The Importance Of Your Backdrop When Making A Good Impression
Picture the scene. You're as cool as the proverbial cucumber and ready to dazzle - you've done your prep, you know the brief and your confident that this meeting will go exactly how you want it to. Great - although that quickly changes when you switch on the camera to begin talking to that important big-spender customer and realise - oh God - that they can actually see the setting behind you.
Just like that, your ready-to-nail-it chill turns into a sweaty panic as you try to work out if you can readjust the camera without drawing attention to the fact your underwear is currently on prime display on the clothes horse that's standing behind you. You can see your customer narrowing their eyes and looking past your shoulder. Is this one of those nightmares you read about? You'll wake up in a moment, right?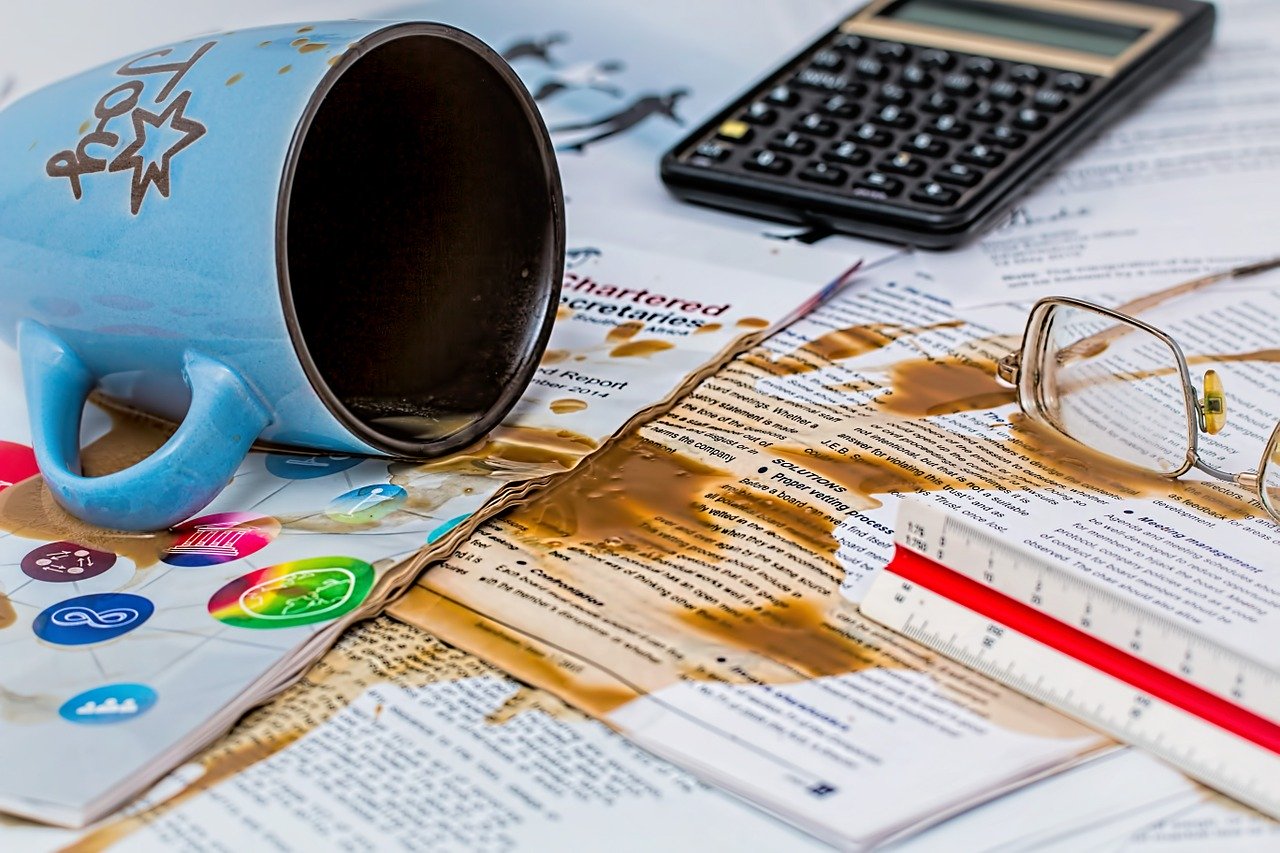 Sure, you might consider this scenario and feel indignant. 'Hey! Why should I care what Tom, Dick and Harry think about my home?' You're quite correct, of course - technically, you don't have to care at all. By all means, leave the lingerie-laden clothes horse right there - but before you do, consider this.
According to survey data shared in 2018, the average Brit takes just 38 seconds to judge someone based on the appearance of their home. Thirty-eight seconds. How much of your pitch could you deliver in that measly time? And yet that's how long it takes for someone to form an opinion - no matter how unfairly - of you, based purely on your home.
When you log on to a video chat, everything in your portion of the screen is reflective of you. You, in turn, are reflective of your business, representing it as an ambassador for everything you do and stand for. A chaotic backdrop, to the naked eye, could subliminally represent a chaotic business.
Things that work in the background of a video call 🙋‍♀️
Boujee décor that hints at what a cool and stylish individual you are (well - that's what the description on Amazon said, anyway). Cute plants, a quirky light, chic artwork... It's all encouraged.
Props that back up your brilliance and savviness. A stack of books relating to your industry, for example, or a glittering display of the trophies you've won, not-so-subtly glittering on a shelf behind you.
A cute appearance by a child or pet. This is actively encouraged, if anything, and could even lead to viral online glory. Remember Robert Kelly's appearance on the BBC News...?
Things that don't work in the background of a video call 🙅‍♀️
Your partner calling out something entirely inappropriate when you're mid-call. *Hits mute, hands in resignation*
Any media: something on the TV or your Spotify playlist humming away in the background. It's distracting for all.
Mess and clutter. From your discarded lunch to that stack of recycling you need to bag up, it can subliminally create Quite A Bad Look. Hey - we don't make the science.
Anyway! With the help of a few savvy investments - as well as perhaps that 'blur background' feature - there are certain items that will ensure you and your colleagues can project professionalism at all times during video calls - be it with your own team, important clients or prospective customers.
Keep It Neat With Printed Roll Up Banners
Great for: Displaying your corporate branding in all its glory. Printed in unmissable full colour with your artwork, these easy-to-assemble pop up banners are just as simple to put away, too. The meaning? There's no storage stress involved: simply put them up when you have a call and roll them back down again once you've disconnected.
Another perk of these promotional banners? Look after them and they'll last and last, meaning they can be used at events in the future - and if you only need one, there's no minimum order. Brilliant, we know.
By the way - for a 'smaller' take on the look, consider our A4 Desk Roller Banners. Just as easy to pop up (and down), they're a more space-economic equivalent for set-ups that don't boast much room.
Top tip: Have a trial-run to make sure the positioning is right before your first call. Using a pop-up banner is a great way to add a smart touch to your set-up - but only if it can actually be seen on camera...
Add An Award-Winning Touch By Getting Trophy Copies Made
Great for: Allowing all your team to flaunt your company's award-winning status. We have a range of engraved awards available, meaning there are designs to suit every budget and occasion.
Prices start from as little as £8.55 per unit with our Jade Glass Bevelled Crescent Awards, whilst our Glass Plaque On Wooden Base design (shown below) is available to order in quantities as low as just ten units. For the ultimate in pick-me-up cheer, ship them out to your colleagues along with one of our mini bottles of Prosecco to remind them how brilliant they are. And the winner is...
A spot of trophy admin: Remind your colleagues to keep their trophy (or perhaps even trophies) in a prime position that manages to be both glaringly visible yet also discrete. Ideal for those '...what - this old thing? moments, engraved awards can make great talking points with new customers and can also fit nicely with a 'humble with a hint of Kanye' vibe.
Of course, equally key to all this is ensuring the trophy can stay in all its twinkling crystal glory: remind your team to keep them fingerprint-free for added sparkle.
Keep Up Appearances With Smart Desk Stationery
Great for: Enhancing the smart, savvy vibe you and your colleagues want to exude. Whether you opt for luxe branded notebooks that can be used for scribbling notes or smart printed ringbinders for storing paperwork neatly yet accessibly out of sight, there are all sorts of desk-friendly and camera-ready options available that will keep things looking picture-perfect.
Along a similar line, promotional drinkware - such as branded water bottles and printed mugs - can also help to subtly hammer home your branding. Whether you opt to give your staff reusable coffee cups (great for an eco edge), promotional mugs or a stylish branded metal water bottle, we've got the perfect match for your needs.
While we're on the subject... Consider mindfulness-themed giveaways, too. As well as helping your colleagues to create a more zen-like desk-top experience, they can also visually help to reflect your business as one that cares. With everything from plantable promotional products through to branded candles, Total Merchandise has a wide range of options available. And breathe...
Add A Smart Sartorial Touch With Branded Teamwear
Great for: Helping to project an on-brand image at all times. If your normal office dress code leans more towards relaxed than a specified uniform, you might want to consider presenting your colleagues with one item of branded clothing that can help them present a stylish corporate look when they are representing the business via video calls.
For an informal take, consider something like promotional hoodies or branded polo shirts that can be dressed up or dressed down; our AWD Varsity Hoodies, for example, are available in a wide range of colours and feature your branding clearly printed or embroidered on the front for max visibility.
For a more sophisticated look, consider our wide range of branded work shirts; from blouses to traditional tie-friendly options, we've got a range available to suit every budget and corporate feel. Even if they're worn purely for the benefit of external video chats with clients both current and prospective, they can effortlessly help your team to exude a smart, polished vibe - and if they feel great, chances are they'll deliver a better pitch or chair a better meeting.
Style it up: Giving your colleagues a matching item of clothing or accessory (such as a branded baseball cap) can also offer a great way to unite them all on office-wide conference calls, helping to bump up a sense of 'we're all in this together' team unity.
PS: Help Protect Colleague Privacy With Branded Webcam Covers
Great for: Ensuring things are safe once the call has ended. We can't really talk about the joy of video meetings without touching on webcam security. According to research shared by YouGov in February 2019, almost three-quarters (71%) of Brits believe companies record individuals' data without their consent via phones and laptops. It's little surprise, then, that 40% of Brits cover up their webcams when they're not in use - so why not afford your colleagues a similar luxury?
(Of course, they could always follow the lead of the now-former head of the FBI, James Comey, who announced in 2016 he had started to put a piece of sellotape over the camera on his laptop 'because I saw somebody smarter than I am had a piece of tape over their camera'.)
Giving your team a branded webcam cover is a great way to ensure that once they log-out of a meeting, their camera is no longer accessible by third parties - and kind of like double-triple checking you've hung the phone up before you start talking about someone, it can also help to ensure there are no awkward moments caught on camera, either. Win-win.
From promotional products for working from home to essential items for helping to keep children entertained when indoors, Total Merchandise has all the branded items your business could need. Need help finding a specific item? Simply contact a member of our friendly and experienced Sales team on 01376 509092 or email info@totalmerchandise.co.uk! Visit our Coronavirus Hub for more information and updates.
Images throughout via Pexels.