It's an understatement of epic proportions to say that the last few months have been a bit crazy.
At Total Merchandise, we've all been lucky enough to be able to work from home since the COVID-19 lockdown began. Staying connected via Teams and a range of other platforms, our various departments been working hard to ensure our customers receive the 5* service we're known for - albeit from our homes rather than from the office.
---
READ MORE:
---
However, our stint of #WFH is coming to an end and we're all looking forward to returning to TM HQ in the coming weeks.
With that in mind, we thought we'd give you a little preview of the social distancing changes and precautionary measures that our founders Jay, Dave and Michelle have been working hard to implement, ensuring only the safest environment for the team to come back to.
What Social Distancing Products Are Available For UK Offices?
Whilst social distancing has dropped from a recommended two metres to an acceptable one metre, the need to remind your colleagues and visitors to your workplace to maintain social distancing is just as important.
Creating a Covid-secure working environment is as much a government requirement as it is essential for ensuring your team feel protected as they come back to work. If you're unsure about where to begin, the official guidelines from the government should be able to help.
There are all sorts of simple ways you can implement safe social distancing practices, with signage, floor stickers and additions such as divider screens all helping - and at Total Merchandise, we have options to suit everything from the pokiest of offices through to the most spacious of premises.
In fact, some of our items are even suitable for use outdoors; our social distancing floor stickers, for example, can be used on concrete and pavements, ensuring that colleagues and visitors are prepped to maintain social distancing appropriately before they even step through the door.
How We've Done It: Social Distancing Floor Stickers
Great for: Entrances, exits and along 'pathway' areas of the workplace.
We have a range of social distancing floor stickers available and chose to use our Round Anti-Slip Social Distancing Floor Stickers for high-impact visibility from the moment anyone steps foot inside TM HQ.
The beauty of these floor stickers is manifold: printed with your artwork in full colour, they're punchy, unmissable and easy to read. Whether you opt to use our default high-impact design (shown on the product page) or to create your own bespoke corporate messaging, you can be confident it will hit the mark every time.
The anti-slip surface means there's no chance of your colleagues being sent flying, whilst the high bond adhesive means they're suitable for most indoor flooring and short pile office carpet, as well as outdoors (including on tarmac, pavement and so on).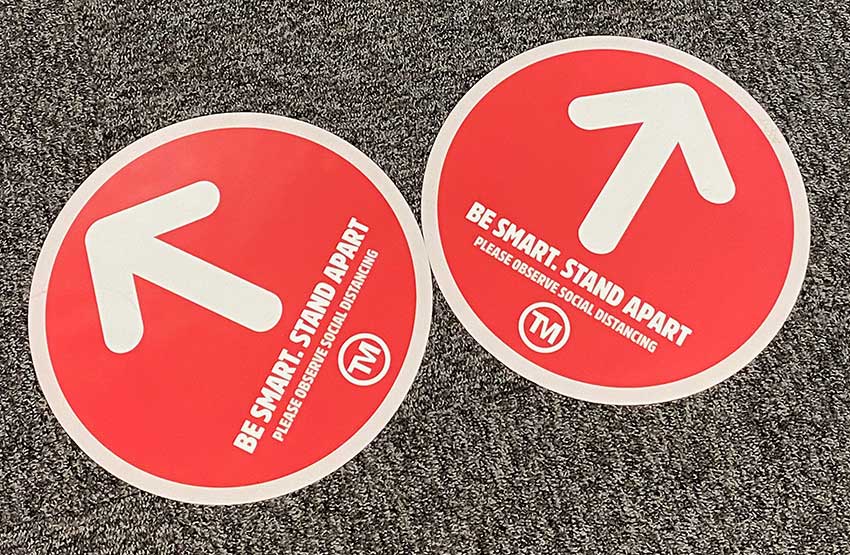 Simple to apply and remove, they're available in two different sizes and can be ordered from just 10 units. Dispatch is available from just three working days, meaning that if you approve your artwork on a Monday, they could be with you by the end of the week.
We have other options available too: our social distancing floor stickers are available in a rectangular size, as well as in strips.
How We've Done It: Social Distancing Wall Posters
Great for: Entrances, exits and previously 'communal' areas, such as kitchens and lunch zones.
With many people entering and exiting our offices every day, we knew it would be important to ensure that appropriate messaging was in place at every step of the journey. Whether it's a colleague in the kitchen or a delivery driver dropping off a parcel before exiting again, we wanted to make it crystal-clear what would be expected.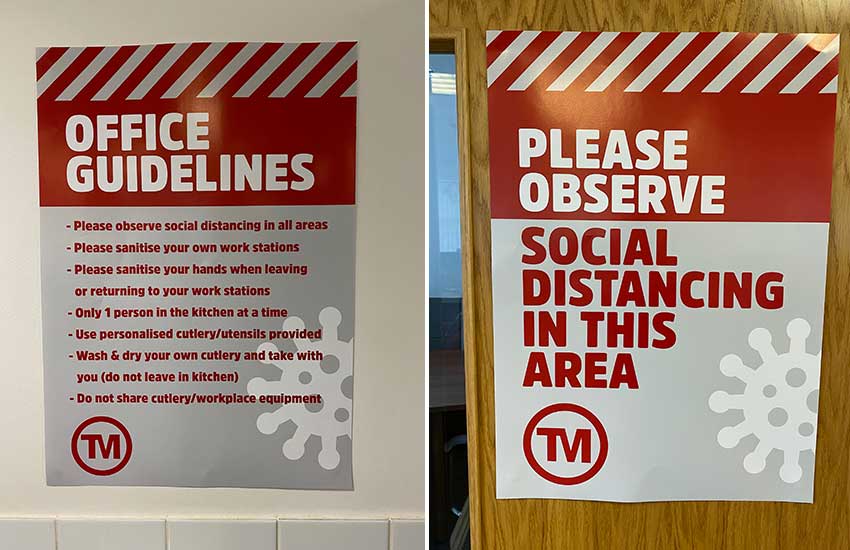 From hand-sanitising reminders to not leaving cutlery in the kitchen sink, there are all sorts of new guidelines that are quite different to what we're all used to. Branded wall posters offer the perfect means to convey the new rules in a simple, fuss-free and yet highly effective way.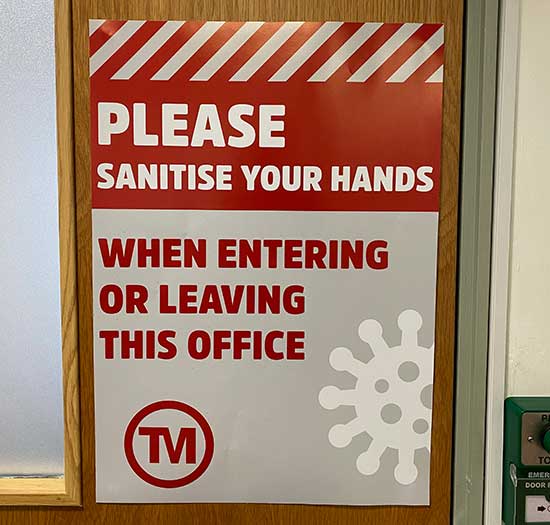 (And it goes without saying, of course, that we'll have branded hand sanitiser available for use at a variety of points around the office.)
Whether you choose to have them printed with your own set of rules or decide to keep messaging short and sweet, our Full Colour Social Distancing Wall Posters are here to help. Available in sizes ranging from A4 to A1, you're in full control of the design and how you want to reflect your brand.
You could also consider taking things one step further by choosing our branded banners to help you make an impactful statement. Whether you opt for our A4-sized desktop banners (perfect for displaying on reception desks) to full-size pop-up banners that stand at an impressive two metres, they're a great display option for further highlighting the Covid-secure measures your workplace is asking people to adhere to.
Browse our full range of promotional social distancing products for more ideas for your UK office or workplace.
How We've Done It: 'Welcome Back' Sets For Staff
If your office is anything like ours, you've got a busy, friendly team, powered by caffeine. Whether it's grabbing a pen from a communal stationery drawer or picking up a random mug from the kitchen cupboards, we're all about sharing - but in light of Coronavirus, we'll be implementing changes.
Each member of staff will receive a 'welcome back' kit when they return to the office. Each set comprises a range of essential items that are specifically theirs, cutting the need to borrow someone else's pen or use an 'unclaimed' mug found in the kitchen. Staff will also be encouraged to keep their items at their personal work stations, helping to cut the risk of cross-contamination.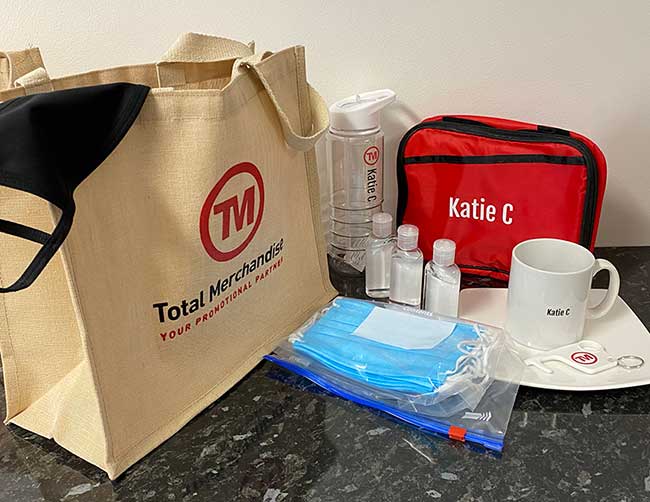 Many of the items in our kits are from our Individually Named Promotional Products range. As the name suggests, each of the products in this recently-launched category can be printed with the individual names of your colleagues (or customers), as well as your business logo. All in all, these named products are a great way to cut the potential for confusion or mix-ups, which in turn can help to slow the spread of germs.
Each of our 'welcome back' kits for staff includes:
We'll also be providing our team with their own individual plates and cutlery sets, too, as well as disposable face masks.
We're Ready To Go - Are You?
Is your business ready to get back to the new normal? Whether you're looking for finishing touches to make your staff feel more comfortable as they return to work or are starting from scratch in terms of getting your office Covid-secure, there's no time like the present to start getting organised. From products for your very own 'welcome back' kits to social distancing signage, we're your promotional partner - and we're here to help.
Browse our COVID-19 product categories below to find the right items for your business or get in touch via the details below if you need any assistance in tracking down exactly what you're looking for.
From promotional social distancing products to antibacterial products printed with your logo, Total Merchandise has all the branded items your business could need this summer. Need assistance in finding a specific product? Simply contact a member of our friendly and experienced Sales team on 01376 509092 or email info@totalmerchandise.co.uk!