If you've recently reopened or are in the process of reopening a car dealership in the UK, Total Merchandise is here to help you get your business firmly back on the road.
From forecourt social distancing essentials to promotional giveaways that will help to spread the word about your business long after any customer interaction, we have a wide range of back to business merchandise that will make reopening your showroom that bit simpler.
---
RELATED:
---
Whether you manage a large team or work with a handful of employees, we have promotional social distancing products available that will help to make the experience as safe and practical as possible for both your colleagues and your customers in light of the coronavirus outbreak.
With car dealerships across the UK required to complete an online HSE inspection to prove that they are safe to respond, there's also the possibility of random spot checks in the future to check they are still being compliant with the government's COVID-19 guidelines.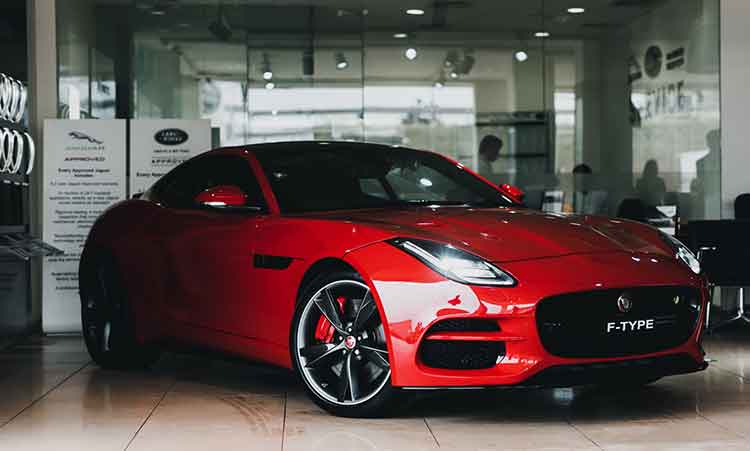 With all that in mind, Total Merchandise is here to help. With our wide range of promotional social distancing products, we have a wide range of items that will help your business to confidently - and safely - reopen its doors.
Read on for our round-up of social distancing products for UK car showrooms, as well as the motoring merchandise that can help reignite client engagement - as well as keep it going after your happy customers have driven off in their new wheels, too.
Keep It Safe With Social Distancing Products For Car Dealerships
Let customers know from the off that you're open and back to business again with our wide range of promotional social distancing products, which are ideal for making your dealership more Covid-secure. For example, choose our branded feather banners for a signage choice that will let potential clients know you're open whilst also reminding them of social distancing guidelines.
Similarly, displaying our A4 social distancing banners on the desks of your colleagues makes for an impactful way to remind visitors to adhere to the government's social distancing guidelines and keep two metres apart - no matter how excited they might be about their new car!
Our social distancing floor stickers are a must-have. Whether you opt to have them printed with our default 2m social distancing artwork or choose to have them branded with your own full colour design, these anti-slip floor stickers are suitable for use both indoors and outdoors (making them appropriate for car forecourts and showrooms alike).
Another must-have? Our practical Desk Divider Screens, which will keep your staff protected from coughs, sneezes and so on when going through paperwork with customers. Available to order in quantities as low as ten units, these sneeze guard screens can be dispatched in as little as three working days.
Finally! Encourage both your customers and colleagues to keep their hands clean and stop the spread of germs by providing branded hand sanitiser. Our Wall Mounted Hand Sanitiser Dispensers are ideal for displaying around key areas of your premises, encouraging people to clean their hands as they enter and leave your showroom.
Browse our full range of promotional social distancing products.
Remind Customers You've Reopened With Mailable Promotional Products
If you're keen to generate some business for your freshly reopened car dealership, sending related promotional merchandise through the post to your customer database (or even just a portion of it) could be a great idea. After all, following lockdown and with social distancing measures still firmly in place, your customers might not be aware that you've reopened.
Sure, you might have posted about it on your Facebook page or changed your hours on Google - but you really can't beat the direct guarantee of awareness that promotional products can offer.
Here at Total Merchandise, we have a wide range of post-friendly low-cost promotional products available, meaning we've got branded giveaways to suit even the smallest of budgets - and the tightest of letterboxes!
Our best selling 2D PVC Keyrings are a great choice. These custom keyrings can be cut to your bespoke design and printed in up to four colours with your artwork, giving you the opportunity to get creative and design something that's truly unique to your business.
Our In Car Phone Holders are another solid option. Combining a practical purpose with a sleek aesthetic, these printed phone holders are perfect for safely and securely holding your customers' mobile phones whilst they're driving. Available in a range of colours, each of these promotional mobile phone holders is printed with your logo in up to four colours, offering unmissable visibility for your business with every journey the user goes on.
Another great promotional product for a car dealership's direct-mail campaign? Printed air fresheners! We have a wide range of branded car air fresheners available, with our best selling Car Air Fresheners (shown above) perfect for a cost-effective promotional giveaway. Printed in full colour on both sides, these personalised car air fresheners are a fantastically simple way to ensure your logo is unmissably visible every time your clients go for a drive. Available in a wide range of fragrances, these promotional car air fresheners are available for dispatch in as little as ten working days. (And they're not just great for car dealerships: our car air fresheners can also make brilliant giveaways for carwash, garages and more.,)
Finally! For one final inspiration fix, consider our Car Shaped Mint Containers, which can be out for delivery in as little as just three working days. Printed with your artwork in either one colour or full colour, these promotional mints are perfect for freshening up your brand awareness, and reminding people you're open for business once more.
Browse our full range of postable promotional products.
Generate Post-Sale Awareness With Branded Motoring Products
For positive brand awareness that lasts long after your customers have signed on the dotted line, consider our wide range of promotional motoring items to keep your business at the forefront of customers' minds. These can be an especially savvy choice if social distancing has meant your usual customer service experience might have been a little different to what your clients are used to (no handshakes, for example), and offer a great way to end the experience on a high.
It doesn't have to be anything overly complicated or wow-worthy - even something as simple as our Car Document Wallets, which can be printed in up to full colour with your branding, is ideal for helping to ensure an extra flash of corporate awareness every time they're used.
For an on-the-road take, we've got a wide range of branded motoring gifts that combine practicality with promotion for your business. Our Auto Scent Air Fresheners, for example, are printed with your full colour branding and are available in a range of delicious scents. Long-lasting and offering high-impact awareness for your logo, these logo printed car air fresheners slowly release scent and last for more than 25 days.
For a touch of tech, consider our Illuminated USB Car Chargers. Printed with your logo in full colour, these easy-use promotional car chargers will allow your customers to charge their smartphones whilst they're on the road. Dispatch is available from just eight working days, with a range of colour options meaning you can create a branded giveaway that's truly unique to your business.
Finally! Whether they're used at home or at work (or perhaps even whilst sat at traffic lights...), our Stress Cars are a topical promotional giveaway that are perfect for reminding your customers that your business is always there for them. Printed in up to full colour with your artwork, these branded stress balls are a tongue-in-cheek giveaway that your customers will love to receive... And use!
Browse our full range of promotional motoring items.
From promotional products for social distancing to branded giveaways to show gratitude, Total Merchandise has all the branded items your business could need this summer. Need help finding a specific item? Simply contact a member of our friendly and experienced Sales team on 01376 509092 or email info@totalmerchandise.co.uk! Visit our Coronavirus Hub for more information and updates.
Main image via Pexels.