It's officially autumn, people. The season that welcomes pumpkin-spiced lattes, unpacking your favourite woolly jumpers and watching the leaves slowly turn from vibrant green to crisp auburn, orange and yellow. 🍂
And, in the wise words of Winnie the Pooh "It's the first day of autumn! A time of hot chocolatey mornings, and toasty marshmallow evenings, and, best of all, leaping into leaves!".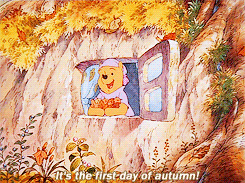 Gif from GIPHY.
---
READ MORE:
---
Facts About the Autumn Season
Autumn is much more interesting than you might believe. Did you know...
There are two dates for the start of autumn: Yes, you read that right, there are two dates when autumn could be said to begin. Defined by the Earth's orbit, autumn starts on the equinox, which falls on 22 or 23 September. However, the meteorological autumn always begins on 1 September.
The colours of the leaves are down to chemistry: The green colour of the leaves on trees is created by a chemical called Chlorophyll, as the levels of these chemicals decline, others increase which are responsible for the bright reds, oranges and yellows.
24th September 2303, save the date: The Gregorian calendar is not quite in perfect symmetry with the Earth's orbit, so the autumn equinox will very occasionally fall on September 24; which last happened in 1931 and will next happen in 2303.
Do you say autumn or fall? Did you know that the phrase 'fall' was commonly used in England in the 17th century, a shortening of 'fall of the leaf'.
What Promotional Products are Best for the Season?
1. Health and Safety Autumn Must-Haves
Autumn is synonymous with the nights drawing in earlier and the mornings staying dark for longer. With that in mind, why not arm your customers with promotional products that will ensure their safety at all times?
Whether you work in a primary school, manage a construction site or encourage your employees to walk or cycle to work, it's important that people in your establishment are armed with the correct health and safety equipment. Our range of hi-vis and reflective items, ensure that visibility is taken seriously as the nights draw in and the days get shorter. In fact, by 30th September 2021, sunrise won't be until 07:00 and the sun will set at just 18:40.
Perfect for attaching to your bike, bag, jacket or anything else, these UK-made reflectors are the ideal item for any road safety campaign. Suitable for all ages and demographics, they're a fantastic autumnal giveaway for almost any business.
Our Luminous Fleece Beanies are the perfect 2-in-1 item for autumn; allowing extra safety of sight whilst keeping heads warm! Available in luminous orange or green and embroidered with your business name or logo, they are a no-brainer marketing tool for the season.
2. Items to Suit Autumn Weather Conditions
Of course, Autumn is associated with shorter days and dropping temperatures, but what is the weather usually like? The months of September, October and November, see unsettled weather and the end of the season often experiences stormy conditions.
With that in mind, make sure your customers and colleagues are equipped for the varied autumnal weather with practical items, printed with your logo.
For those light rain showers that we experience in autumn (and every other season, for that matter), choose our Supermini Telescopic Umbrellas. Combining steel ribs on a 3 section frame with a colour coordinated handle and carry cord, these promotional umbrellas are perfect for keeping in a bag for those all of a sudden showers whilst out-and-about.
Another item that's perfectly suited for light showers and mild temperatures is our Scirocco Lightweight Jackets. Each promotional rain jacket is complete with an adjustable hood concealed inside the collar with velcro closing tabs, as well as full zip opening, adjustable bottom hem (with two velcro tabs), and two front pockets.
We've got a wide selection of corporate clothing for the autumn, including hoodies, beanies, fleeces and jackets. Can't see exactly what you're looking for? Give us a call and we can try to source it for you.
3. Warm Up Your Seasonal Marketing with Hot Drinks & Drinkware
Who doesn't want a warm mug of hot chocolate, tea or coffee on a crisp autumn morning?
Perfect for any hot drink-fix, is our best-selling Universal Take Out Cup. Available in a variety of colours and boasting a large print area for your design, these reusable coffee cups allow your logo to be seen wherever your customers enjoy their favourite drink.
Run a hospitality or catering business? Look no further than our Hot Chocolate Refresher Packs. Each fully printed pack contains one hot chocolate sachet (packet design may vary), one bag of mini marshmallows and two individually wrapped mini shortbread biscuits, making them the perfect product for any autumn day.
4. Spook-tacular Products for Halloween
October 31st: a date that everyone is aware of. So, why not include it within your promotional strategy?
From Halloween-themed stress balls (including bats and pumpkins) and logo bugs to scented candles, we've got all of your Halloween-inspired merchandise sorted.
Looking for more inspiration for your seasonal marketing, browse our full range of autumn promotional merchandise ideas and get your quote today. Need help finding a specific item? Simply contact a member of our friendly and experienced Sales team on 01376 509092 or email info@totalmerchandise.co.uk today. Main image via Pexels.