In case you haven't discovered it yet, we've recently launched a whole new range of promotional products that can be branded with the names of your recipients.
Whether you plan to give them to your colleagues or your customers, every single one of the items in our Individually Named range is printed with not only your brand's logo but also the names of your recipients, too.
---
Read more:
---
So what are individually named products - and why are we selling them? Read on to find out more...
The Many Benefits Of Individually Named Promotional Products
There are all sorts of reasons why we're excited to be able to bring you our Individually Named range.
Against the backdrop of COVID-19, this summer felt like the right time to launch a range of items that were printed with names, helping to cut the potential risk of cross-contamination in the workplace as people begin to swap #WFH for returning to the office.
After all, there's limited scope to accidentally drink from someone else's coffee cup if it's got their name on it, right? It's a subtle yet significant way to contribute towards COVID security in your workplace, helping to reduce the spread of potentially harmful germs among colleagues as they get used to a new way of working.
It doesn't end there. Promotional products printed with names on are great for adding an extra personal touch, welcoming staff back and making them feel appreciated in one thoughtful and practical swoop. It's a great way to assert the unity of your workplace, generating corporate pride as well as reminding your staff how much they matter to your business all in one go.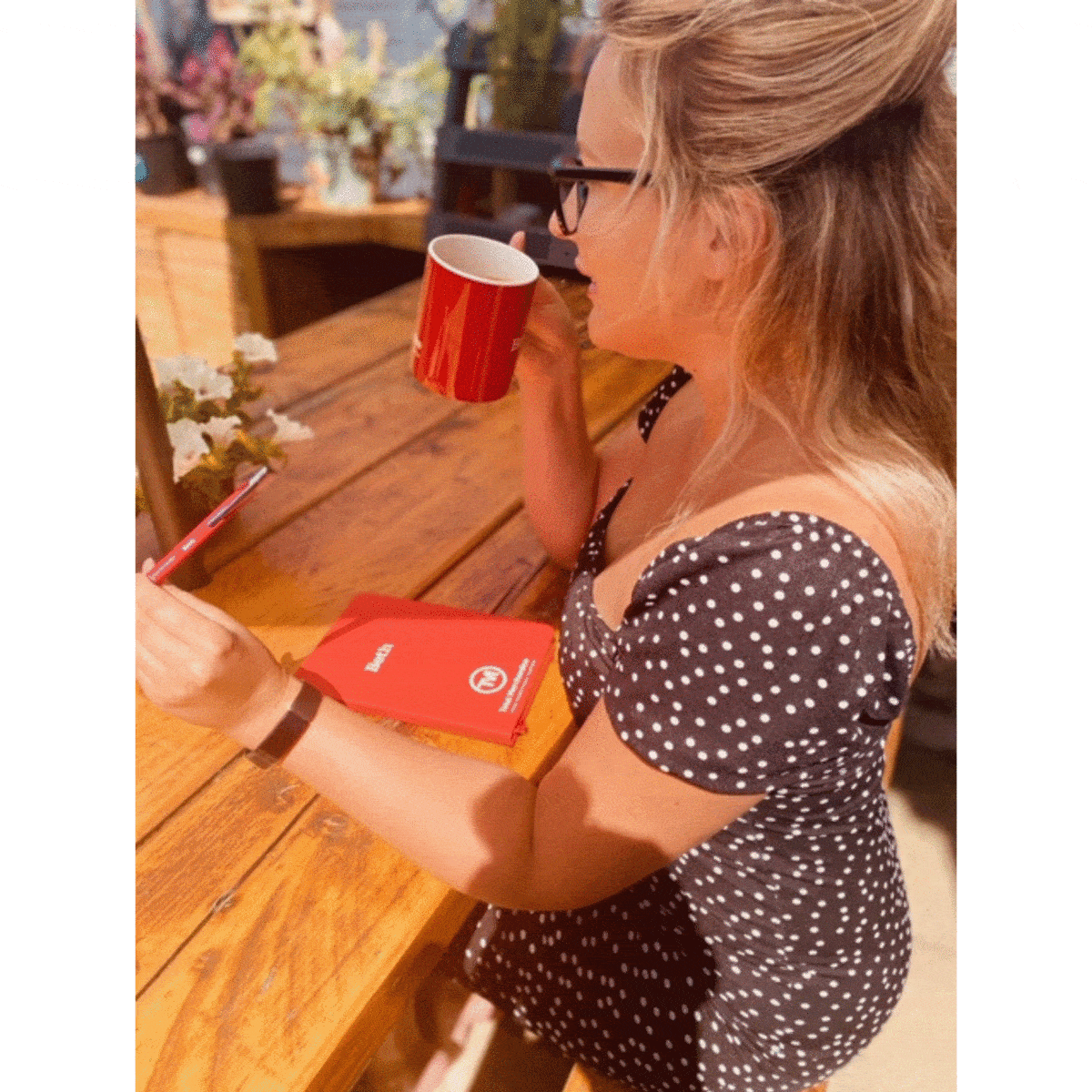 A few members of the Total Merchandise team with their very own individually named items.
And of course, these products aren't limited just to your staff. They can also make brilliant promotional giveaways for a targetted customer list, offering a strong reminder that your business is still there for them. Many of our individually named items are iterations of other best selling products we stock, so you can be confident that the items you choose are going to be popular with your clients.
In short: your logo + their name = one brilliant promotional product.
You can browse our full range of individually named promotional items and keep reading to discover some of our favourites!
The Best Individually Named Promotional Products For Colleagues
When it comes to choosing individually named items for your colleagues and team members, it can make sense to factor in the kinds of activity that they'll be undertaking in the office.
With the 'new normal' requiring distancing and enhanced hygiene practices, providing your staff with promotional drinkware, branded stationery and other daily must-haves is a great place to start.
Printed with the names of your colleagues as well as the logo of your business, these items will help to cut the risk of inadvertent cross-contamination and stem the spread of potentially harmful germs.
We have a broad selection of drinkware items available that can be branded with the names of your teammates, along with your business logo. Our Indiviudally Named Metal Bottles and Individually Named Sports Bottles are both great for cold drinks, whilst our Individually Named Matt Black Travel Mugs and Individually Named Stainless Steel Reusable Coffee Cups are ideal for teas, coffees and so on.
We also have stationery covered, too. Our Individually Named Soft Feel Stylus Pens are impressively engraved with your staff members' names along the barrel, with your logo sitting neatly alongside. Offering a comfortable writing experience and with a range of smart colours to choose from, the stylus end of each of these promotional pens can also be used to operate touch-screen devices such as tablets, smartphones and ATM screens.
Of course: you can't offer a great pen without a branded notepad to go alongside it. Our Individually Named Mood Soft Feel Notebooks are available in a whole rainbow of shades and feature names and logos prominently printed to the front. Each notebook is designed with a handy loop for keeping a pen in, too.
With a minimum order quantity of just 50 units and 100 units respectively, these promotional notebooks and printed pens are ideal for ordering in for smaller teams, ensuring you've always got a stationary supply available as and when needed.
We have a range of promotional cooler bags available that can be printed with your logo as well as the names of your team, including our Individually Named Packed Lunch Cooler Bags and our neat Individually Named Lunch Cooler Bags.
Finally! Our promotional hygiene keys have been consistently popular throughout lockdown - so why not incorporate them into your 'back to business' plans? Branded with the names of your colleagues as well as your logo, our Individually Named Conactless Hygiene Hook Tools can be used for everything from opening doors to entering access codes.
The Best Individually Named Promotional Products For Customers
If you want to delight your customers with individually named branded giveaways, we've got a huge range of items available for your consideration.
Whether you plan to post them directly to your most valued customers or present them in person in the near future, we've got the perfect promotional products to match.
Our Individually Named Branded Tote Bags, for example, make great mailable promotional products. These printed tote bags also double-up as a brilliant and impressively personalised giveaway option at events (such as ticketed talks and workshops) and offer long-lasting visibility for your logo, too.
For a sweet twist on the idea, our Custom Printed Toblerone bars offer a delicious opportunity for brand awareness. Printed with up to 20 characters, they're a great way to delight your customers - Dairy Milk bars can also be customised with the names of your customers, too.
On to another 'sweet' idea: our individually named promotional teddy bears! These custom cuties feature the names of your recipients as well as your branding, and are available in three different designs: 'Paw' (shown below), 'Waffle' and 'Flopsy Bunny'. Ideal for campaigns targeted at kids, they also make lovely school leavers' gifts and are all-round mementoes that you can be confident customers will keep.
For another postable promotional product idea, look no further than our branded coasters, which are printed - you guessed it - with your logo as well as the names of your customers. Made from oak with a sleek satin wood oil finish, these branded coasters are a great tie-in to any lifestyle campaign and will offer your recipients a practical use.
Finally! We also have a range of delicious snacks available, all in individually named packaging; these include our Custom Printed Toblerone (shown below) and pots of Promotional Jelly Beans - whether they're posted to your customers or handed over in person, they're a mouthwatering way to bump up the brand awareness - if you can bear to hand them over that is!
Of course, all of these products are suitable for both colleagues and customers. Need help or want to find out more? Don't hesitate to get in touch. You can contact a member of our friendly and experienced Sales team on 01376 509092 or by emailing info@totalmerchandise.co.uk today.