On the road again! If your business offers a delivery service, chances are that your drivers have been adjusting to a whole new way of working.
With Coronavirus limiting opportunities for both brands and customers to enjoy 'direct' in-store contact, businesses across the UK have been busy either enhancing or launching online ordering services, with contactless deliveries key to their success.
---
RELATED:
---
If your brand is considering launching an online delivery arm, there's no better time to explore the various ways you can help ensure this is as safe as possible for your team and your clients, whilst also promoting your business and delivering your product in style.
The Rise Of Contactless Deliveries In The UK 🚛
From keeping a two-metre distance from customers to using hand sanitiser gel pre and post parcel drop-offs, the way UK delivery services operate has changed a great deal since the COVID-19 lockdown began.
If you didn't already offer an online order service, you might have adapted your business model by launching a new delivery arm, enabling you to continue some degree of operation even if your premises have been shut to the public. For example, you might run a shop that's branched into e-commerce or you might manage a restaurant that's developed a takeaway menu in lieu of your usual table service.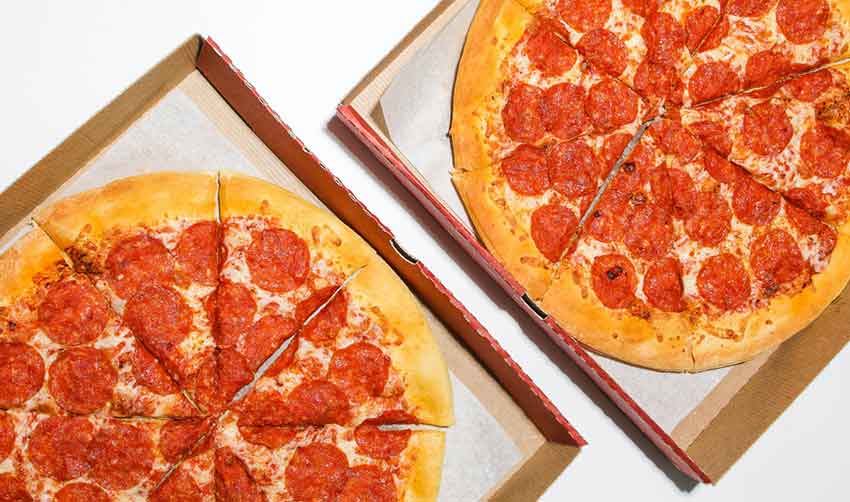 It's not just SMEs that have been expanding their online delivery options: supermarket giants like Sainsbury's and Tesco have doubled the number of delivery slots they had available to shoppers, with other big-name food shops also significantly increasing their online delivery options. The numbers are jaw-dropping, with research shared by data measurement firm Nielsen revealing that the four-week period ending 16 May 2020 saw a record-breaking online grocery spend of £1.2bn.
Whatever the scenario your business finds itself in, one thing's for certain: you need to ensure that your contactless deliveries are as safe as possible for your team of drivers and for your customers, too.
Your Usual Five-Star Service, Just From A 2m Distance ⭐
Just because the scenario might be different, doesn't mean your usual high-quality customer service experience needs to slip.
There all sorts of ways you can impress your customers, even without the usual direct or face-to-face contact. Distanced deliveries are a great opportunity to emphasise elements of your business that you might not have necessarily considered before - details such as packaging and branding, for example.
It can also offer a chance to demonstrate that your business is responsible in the way it operates; in the current climate, you can clearly show your customers and colleagues that your business is following UK government guidelines by adhering to social distancing rules. And that's just the beginning of it!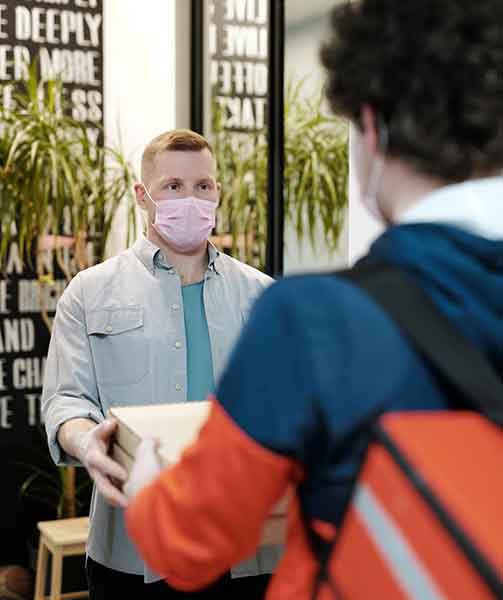 In short, contactless deliveries offer a range of opportunities to promote your business in a positive light. Sure, it might be different to the way you usually do things but that's not to say it can't be beneficial.
At Total Merchandise, we have a wide range of promotional products that are suitable for contactless deliveries - ensuring your team can safely stick to a two-metre distance, whilst also representing your brand in style.
Read on for our round-up of ideas, ranging from pitch-perfect packaging all the way through to safety essentials for your colleagues!
Start With Safety Must-Haves For Your Drivers
From promotional face masks to branded hand sanitiser, Total Merchandise has a range of hygiene items that you can equip your team with to ensure they feel more protected. Popular picks include our best selling Hygiene Key; this savvy promotional products helps to cut the amount of direct contact your colleagues have with potentially dirty surfaces, including keypads, lift buttons and door handles. Each hygiene key can be branded with your logo in either one colour or full colour; alternatively, they're also available to order in plain stock if preferable.
We have a wide range of branded face coverings available too, including everything from single-use throwaway designs to branded face masks that are printed with your full colour design.
Offering your colleagues a fuss-free way to clean their hands when they're on the road is also crucial: bottles of branded hand sanitiser gel can help them keep their hands clean when a sink isn't instantly available. Vinyl disposable gloves are also an option - just remember that whilst they can protect hands from direct contact with dirty surfaces, they're not an alternative to hand-washing.
Please note that we would always recommend incorporating these products into normal hygiene practices, including regular hand washing.
Present Orders Into Printed Carrier Bags For An Instant Impression
Promotional packaging and branded carrier bags are a great way to add an extra smart touch to your delivery service. Whether you want to pack your deliveries into printed paper bags branded with your logo or biodegradable polythene carriers, we have an assortment of options to suit the requirements of your business and your products.
It doesn't end there! Offering a takeaway delivery service? Help to keep food at optimal temperatures with our branded cooler bags - we have a wide selection available that will promise to make delivering edible orders as simple and fuss-free as possible.
Finally! Our Reusable Drawstring Bags are a great option for food shopping deliveries, with your customers able to keep and reuse them the next time they visit your store. With your branding clearly printed on them, these reusable vegetable bags combine visibility with a touch of the eco friendly.
Of course, the benefit of choosing branded carrier bags for your contactless deliveries is that it can offer an extra flash of branding that the customer might not be privy to otherwise. Finish off the presentation of your deliveries in suitably on-point style by investing in branded stickers; ideal for sealing bags or adding onto packages, promotional stickers are a great way to generate extra awareness for your logo.
Ensure Staff Look The Part With Promotional Uniforms
As well as offering your staff branded face masks, workwear printed with your logo can also help to assert your brand even during contact-free deliveries. Classic printed polo shirts branded with your artwork, for example, can really help to represent your business in a smart light, creating a neat corporate image for your staff. Classic details such as branded caps are also winners, making your staff instantly recognisable to your customers.
Also worth considering in the current climate are our social distancing branded t shirts; these are available to be printed with our default 'please keep your distance' artwork or they can be emblazoned with your own safety messages. Whatever design you choose, they're a fantastic way to demonstrate how your company is working hard to ensure its processes are Covid-secure.
Articles of protective clothing, such as branded aprons and disposable ponchos, can also be worth considering; they offer an extra layer of coverage as well as another opportunity to demonstrate that your company is taking COVID-19 social distancing measures seriously.
Thank Customers With Surprise Promotional Giveaways
Much like you might offer an incentive to return at the end of an in-store transaction, you could also consider doing something similar via a contactless delivery. Customer incentives are a great (and budget-friendly) way to encourage them to order with you again, offering a great added bonus when your clients open up their deliveries. Because who doesn't love a surprise?
Total Merchandise has a wide range of budget-friendly promotional items that are perfectly sized for printing with the information that's most important to your business, be it contact details, opening hours or perhaps even a special offer, just for paying customers. Adding in something to your customers' orders is a great and unexpected way to both delight them and also further enhance visibility for your business.
Equally, custom keyrings and branded sweets (such as printed mint packets) are also universal crowd-pleasers; if you want a little more inspiration, be sure to take a look at our best selling promotional products for ideas galore. Whatever you choose, there's one thing you can be sure of: it's the perfect way to end the contactless delivery experience in an on-brand fashion that your customers will remember.
From branded merchandise for contactless deliveries to promotional products for social distancing, Total Merchandise has all the branded items your business could need. Need help finding a specific item? Simply contact a member of our friendly and experienced Sales team on 01376 509092 or email info@totalmerchandise.co.uk! Visit our Coronavirus Hub for more information and updates.
Main image via Pexels.