We're all aware that October is a fully booked month, with events like the change in seasons, the clocks changing, Halloween, and - not forgetting - the start of the run-up to Christmas. But, more importantly, October is Breast Cancer Awareness Month.
Breast Cancer Awareness Month is organised by the UK charity, Breast Cancer Now; and although they work tirelessly all year round to raise awareness of breast cancer and help those affected, every October people across the world show their support to the cause.
Breast Cancer Now's goal for the month is to show people it doesn't matter who you are or whatever your experience of breast cancer, they are always there to help and support you through the process.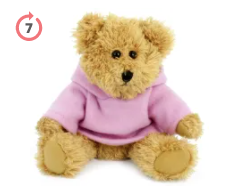 20cm Sparkie Bear with Hoody

---
READ MORE:
---
Why Should Your Brand Show its Support this October?
Did you know that breast cancer is the most common cancer in women in the UK, with one woman diagnosed every 10 minutes? Breast Cancer Now shares some very important facts about breast cancer in the UK, including:
Around 55,000 women and 370 men are diagnosed with breast cancer every year.
One in seven women in the UK will develop breast cancer in their lifetime.
They also share that this Breast Cancer Awareness Month alone, nearly 5,000 people will be diagnosed with breast cancer.
With all of this in mind, it's clear to see how important it is to spread awareness of the disease and help Breast Cancer Now in their research and resources. There are numerous ways your business can show its support for the cause and raise awareness of breast cancer including donating to the charity, organising a fundraising activity, and wearing something pink for Wear it Pink Day on October 22nd.
Total Merchandise is here to help with our range of pretty in pink promotional products, which are perfect for getting your brand involved in Breast Cancer Awareness Month 2021.
1. Pink Promotional Bags
It's a known fact that branded bags are a fantastic means of advertising a business name, logo or message; so it makes sense to use a printed bag (in pink, of course) in your business' Breast Cancer Awareness Month activities. Whether you're selling your branded bags to raise funds for the charity or giving them away to customers and colleagues for mobile advertising, one thing is for sure: they work!
Coloured Cotton Tote Bags
Perfect as part of a giveaway bundle at a fundraising event.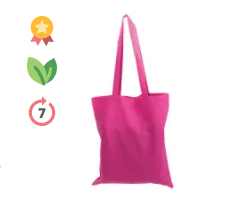 Coloured Cotton Tote Bags

Look no further than our bestselling Coloured Cotton Tote Bags; chosen time and time again by UK businesses, these printed tote bags are ideal for promoting your brand's support for Breast Cancer Awareness Month. Of course, the very nature of this bag means that awareness of breast cancer will carry on long after October has ended.
Wells Jute Tiny Gift Bags
Choose these for stylish gift bags - it says it on the tin!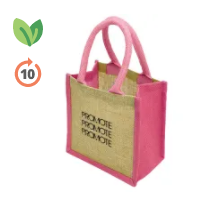 Wells Jute Tiny Gift Bags

These miniature jute bags are brilliant for adding a touch of oh-so-cuteness to your marketing. Featuring matching coloured gusset and handles, these promotional jute bags are stylish bags that will be used time and time again. Why not go the extra mile and include goodies such as pens, sticky notes, and USBs in the bags?
Waist Belt Bags
Ideal for any sports and fitness business or audience.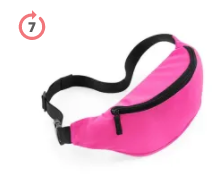 Waist Belt Bags

For those who are always on the move, or perhaps you're planning on a walk, jog or run to raise money for a breast cancer charity, look no further than our Waist Belt Bags in pink. Featuring a practical zip to ensure belongings are safe and secure, an adjustable strap for maximum comfort and boasting a large print area, they're designed with both your business and the end-user in mind.
Discover all of our fabulously pink branded bags and get your quote today!
2. Pink Branded Mugs and Bottles
Promotional drinkware is a powerful marketing tool when it comes to promoting your business, so why not invest in our gorgeous pink mugs and bottles? Whether they're used on the move or sit centre-stage on desktops and kitchen worktops, they're a no-brainer choice of promotional product this Breast Cancer Awareness Month.
Americano Coffee Mugs
Consider these if you want to spread awareness of breast cancer wherever they are used.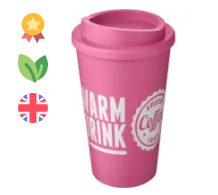 Americano Coffee Mugs

Our popular Americano Coffee Mugs are available in this beautiful shade of pink, which is perfect for spreading awareness of breast cancer (and your brand's support) this October. Perfect for saleable merchandise as a means of fundraising, these reusable coffee cups will keep your design on display throughout October and longer.
Mood Stainless Steel Metal Bottles
Choose these for a high-impact giveaway.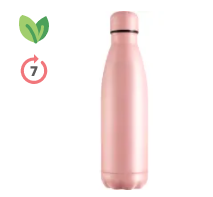 Mood Stainless Steel Metal Bottles

Encourage the end-user to stay hydrated whilst keeping your promotion on prime display with our Mood Stainless Steel Metal Bottles in blushing baby pink. They also make a brilliant alternative to disposable plastic bottles, too, just by the way!
10oz Premium Enamel Mugs
Perfect for target audiences that enjoy camping and exploring the outdoors.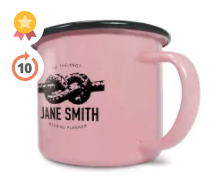 10oz Premium Enamel Mugs

One popular fundraising activity is to complete a hike or expedition, and our printed enamel mugs are the perfect choice of merchandise for such an event. With that being said, no matter whether your target audience are avid campers or simply enjoy a cup of tea or coffee at their desk, our enamel mugs are ideal for any scenario.
Feeling inspired? Browse all our pink branded mugs and bottles today.
3. Pink Promotional Gadgets and Tech Giveaways
Add a spark to your brand and charity awareness with our range of pink printed gadgets; technically all you need for your Breast Cancer Awareness giveaways. The beauty of these techy gifts is that they offer versatile usability and are guaranteed to be used time and time again.
Cocoon Earphones
Choose these if you're looking for a high-impact promotional giveaway.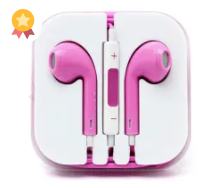 Cocoon Earphones

Featuring an ergonomic design for improved comfort, our Cocoon Earphones are a must-have tech giveaway this October. Printed with your business name, logo or message to the lid, your customers will be reminded of your brand every time they listen to their favourite playlist, podcast or video.
Sports Phone Armbands
Ideal for any sports and fitness business including gyms, clothing companies, health food stores and more.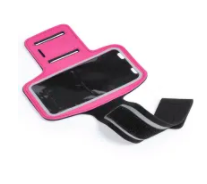 Sports Phone Armbands

Ideal for any sports and fitness brand, these brilliant phone armbands offer a practical and useful product to the end-user. Each Sports Phone Armband is manufactured from soft PU leather, has a reflective and adjustable velcro closure and key pocket for maximum practicality. The clear PVC window even allows touchscreen functionality so you can still use your phone without having to remove it from the sports armband.
Clip On Lights
Consider these to truly shine a light on breast cancer awareness - and your brand's support.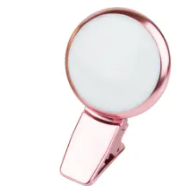 Clip On Lights

Shine a light on Breast Cancer Awareness month with these Clip On Lights, designed to be attached to smartphones, laptops, tablets, books and more. So whether the recipient is after the perfect selfie or wanting to get their head into a book, these lights are the perfect item! The beauty of these handy lights is that their ideal for a wide range of businesses, from the beauty industry to the corporate sector such as finance and law, and more.
Our selection of promotional pink gadgets doesn't end there, check out the full range and enquire today.
4. Pink Corporate Clothing and Accessories
Is your business taking part in Wear it Pink day on October 22nd? If so, it would be fitting to gift your customers and colleagues alike with pink clothing items printed with your logo.
Fruit of the Loom Valueweight T-Shirts
Perfect for even the tightest of marketing budgets.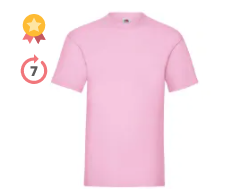 Fruit of the Loom Valueweight T-Shirts

Budget-friendly, effective and bestselling, our Fruit of the Loom Valueweight T-Shirts are a must-have clothing item for any UK business. Boasting a large print area and made from long-lasting materials, they're a no-brainer means of advertising your business message. Psst, if you're wondering what to wear on Wear it Pink Day, these are perfect!
Beanie Hats
Consider these for mobile advertising throughout the winter.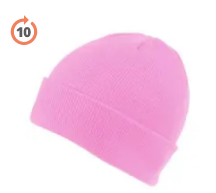 Beanie Hats

As the temperatures start to drop across the UK, now is the perfect time to invest in promotional beanies embroidered with your branding. The brilliant thing about these Beanie Hats is that they offer universal appeal (even in pink!), so you can be sure that they will be appreciated by all. Not to mention that they make fantastic saleable merchandise, as well as giveaways and even part of your staff uniform, too.
Full Length Apron
Ideal for the catering industry, running a baking competition or simply something different and unique.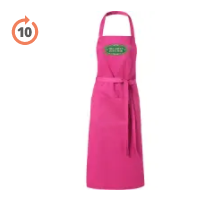 Full Length Apron

OK so you might be wondering why we've included our Full Length Aprons in the mix, but we have good reasons! Firstly, with the famous Great British Bake Off currently on our screens, these aprons show that your business is relevant. Additionally, one of the most popular means of fundraising is to hold a baking competition or coffee morning, so surely an apron is an essential item when baking up a storm? And finally, we bet your competitors haven't got them...
We have a wardrobe-worth of promotional corporate clothing available in pink, so discover the full range and get your quote today.
Of course, our range of 'pretty in pink' branded merchandise ideas doesn't end there... To view all of our items available to order in pink, simply select the pink colour icon on the colour picking tool in each of the category pages. Need help finding a specific item? Simply contact a member of our friendly and experienced Sales team on 01376 509092 or email info@totalmerchandise.co.uk today. Main image via Pexels.