Keen to make a serious impression on your customers? It's time to switch-on to the potential of branded technology giveaways and gadgets to help power up your brand awareness - and your customers' devices!
Here at Total Merchandise, we're proud of to offer a wide range of promotional gadgets and tech accessories, which includes everything from branded memory sticks to promotional speakers, via lanyard USBs and wireless mice.
After giveaways that will impress customers or that help make your colleagues lives a little bit easier? We've got a wide range of promotional tech gadgets available that are all ideal for helping to ensure there's no logging-off from your branding. From promotional power banks that will assert your business as a saviour in a time of zero-battery to branded curvy stylus ballpens, we've got everything your business could possibly need!
Why Consider Promotional Tech For Your Marketing Campaign?
There are all sorts of reasons you could consider incorporating branded gadgetry into your upcoming marketing activity. For one thing, choosing promotional phone charger or branded USB sticks is a great way to add a modern, tech-savvy edge to your business, demonstrating = how on-point and current your company is.
---
RELATED:
---
For another thing, branded gadgets are also the perfect way to tap into your audience's reliance on technology: after all, we spend an average of three hours and 23 minutes looking at phone screens each day. And that's not even including the amount of time office-based professionals spend in front of computer screens each day!
In short, tech plays a crucial part in our day-to-day lives, with charging devices, phone accessories and a huge range of other gadgets all influencing the way we live, work and engage with others. For example - portable power banks eliminate the need for situations like this...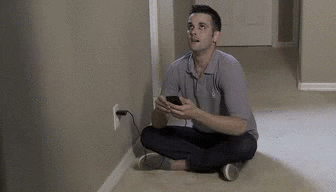 Whether you're keen to impress in a corporate setting or simply wish to give your customers something a little bit wow-worthy, we've got a whole range available that promise wow-worthy impact for your business.
Read on to discover some of our favourite promotional tech at the moment - from new additions to classic best-sellers, we've got a huge range available. Discover our full range of printed tech
Promotional PopSockets
Perfect for: A broader audience - after all, we all have mobile phones! (Well - 94% of us do, according to a recent study.)
Printed with your artwork in full colour, our branded PopSockets are a fantastically on-trend way to ensure your logo sticks in the minds of your customers all day, every day. For the uninitiated, a PopSocket is a simple attachment that, when stuck to the back of a mobile phone, makes the device a whole lot easier to hold.
Whether you opt for stylish black or minimalist white, your branding will be on clear display on the front of each PopSocket, ensuring your customers see it every time they pick their phones up.
USB Charging Cable Sets
A great choice if... You want to help your customers and colleagues keep connected.
We're reliant on smart device chargers. There, we said it! Without them, our phones, tablets, laptops and more would be impossible to charge with ease. So help keep things simple - and people connected - by presenting them with our USB Charging Cable Sets.
Available in white or vibrant cobalt blue, these charging cable sets are printed with your branding on the exterior of the case. The result? Customers will think of your business every time they go to charge their devices. The bag-friendly size of the case makes it a great pick for simple transportation - there's no risk of tangled wires around here, people.
Wireless Mouse
Great for: Adding a dash of corporate pride to your workplace.
Freshen up in-house tech with this fantastic wireless mouse. Far from chewing up wires, these fuss-free mice will allow your colleagues to work without limitation - and with your logo printed clearly on the main display, they'll add a smart touch of branding to your office.
Of course, it doesn't end there. This gadgetry giveaway is an ideal addition to marketing campaigns by IT and tech companies, too, reminding customers that they can rely on you when they need your services.
Curvy Stylus Ballpens
Choose it to... Offer your customers multi-functional practicality.
Another take on tech are our best-selling Curvy Stylus Ballpens. Printed with your branding on the barrel in up-to full colour, these promotional pens offer a combination of a classic ballpen effortlessly blended with a tech-friendly stylus pen.
With 19 colour combinations to choose from, these branded pens can be dispatched for delivery in as little as five working days, making them a fantastic last-minute solution for your marketing activity.
USB Silicone Wristband Flashdrives
Great for: Adding an on-trend nod to your marketing campaigns.
Now - how's this for a different take on a promotional USB? Doubling as a wristband, this wearable tech will make delivering presentations and sharing content with colleagues, clients and more even easier. With six colours to choose from (and the option to Pantone-match, too), you've got the option to have your artwork in up to four colours, meaning it can pop perfectly.
Whether your target demographic comprises students, professionals or potential clients, there is a whole range of scenarios where these branded USBs can come in handy - get in touch with us today to receive bespoke pricing for your business.
Lunem Bluetooth Speakers
The perfect product for... Thanking customers in a sleek-and-stylish fashion, or for adding a luxurious touch to your brand's offering.
These promotional speakers are the perfect way to say delight your customers in style. Featuring Bluetooth® connectivity and 3W power, it's easy to sync them to a smartphone or compatible device to get the party (or sensible office playlist - either way) started.
So, what makes these promotional speakers truly special? It's all about that engraved logo. Your branding is carefully applied to the side of the speakers, with the in-built lighting shining through. Your logo will be quite literally illuminated, ensuring all eyes are on your logo.
1200mAh Boost Power Banks
Choose it if: You want to help your colleagues and customers stay connected at all times.
We have a wide range of promotional power banks available and this powerful design is one of our best-selling options. Giving your colleagues or customers the ability to charge their smartphones while they're on the go, each of these branded power banks features rechargeable lithium-ion batteries.
Ideal for giving flagging phones an emergency surge of power, these branded gadgets are a great means to assert your business as a brand that your customers can trust and rely on at all times. And what could be better than that?
At Total Merchandise, our friendly and experienced team are ready to help you find the very best branded giveaways to match your business' unique needs. Browse our full range of promotional gadgets and tech accessories and contact us today to receive a quote for your brand.
Cover image via Pexels.