We've got some big news to share: it's our birthday!
Today (3 September 2020) marks 17 years since Jason O'Connor, David Stoddart and Michelle Rae Stoddart launched Total Merchandise.
---
READ MORE:
---
That's 17 years since the idea for TM was first born, operating out of the founders' spare rooms at home - and almost two decades of leading the way at the forefront of the UK's promotional merchandise industry.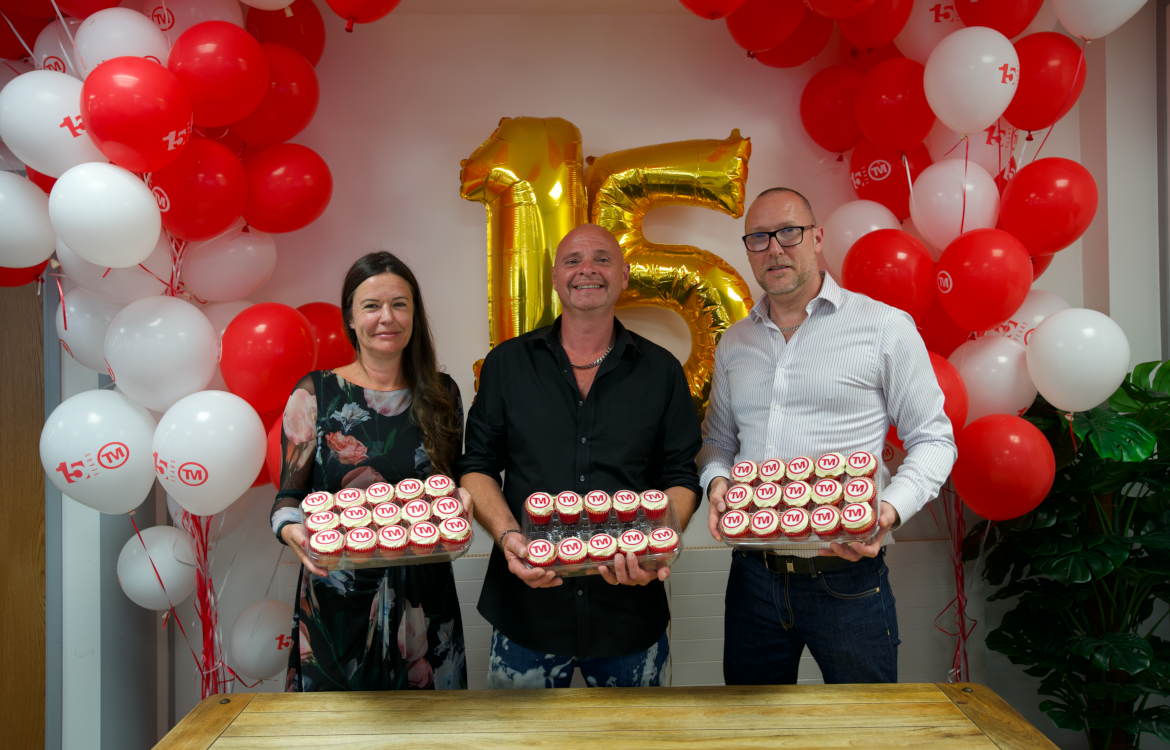 What makes this special day even better, is that we are able to celebrate this milestone with the whole TM team in the office. And what better way to celebrate than with a spectacularly large McDonald's breakfast?! OK, so it might not be quite as decorated as our 15th birthday, as pictured above with Michelle, Dave and Jay above with just some of the balloons and cakes we had to mark the occasion - but hey, there were no complaints.
Our transition from 16 into 17 has undoubtedly been one of our busiest and most exciting years yet - and yes, we might say that every year but we really mean it! With the transition to remote working and then back to the TM headquarters, various brand developments, the introduction of brand new roles within the company and record sales. Oh, and not forgetting the fact we have yet again won two amazing awards!
In December 2020, the team were over the moon to find out that Total Merchandise had been voted Sourcing City's Promotional Merchandise Distributor of the Year. This is the second year running that we have claimed the title of this prestigious industry award. The good news continued in August of this year, when we were delighted to learn that we had been voted as the number one business with a turnover of £5m+ in The South East Business Awards 2021, run by LOCALiQ and NatWest Business! Not bad, hey?
Yes, It's Our Birthday - But We've Got A Gift For You 🥳
We're currently running a huge range of discounts and offers on some of our most popular promotional products.
Whether you're currently prepping your team to return to the office, are looking for promotional items for an upcoming event or are simply looking for the perfect branded giveaways to help generate some positive awareness around your business, we've got you covered.
Many of the offers will be ending this month, so if you find something you love the look of, be quick. Browse our full range of discount promotional products - and don't forget to have some cake on our behalf today!
Total Merchandise has all the branded items your business could need this autumn and beyond. Need help finding a specific item? Simply contact a member of our friendly and experienced Sales team on 01376 509092 or email info@totalmerchandise.co.uk! Main image via unsplash.com.