Working from home: whether your team love it or hate it, there are undeniably a few need-to-know tricks that can make it that bit easier.
After all, whilst WFH might be a breeze for some, others could be struggling. Whether they're missing the simple pleasures of office gossip or are finding it hard to be self-motivated, the COVID-induced dawn of working from home has been a huge adjustment for many office-based Brits.
---
READ MORE:
---
Factor in other key factors - such as children learning from home, health concerns and the associated stresses of living through a pandemic - and it's very little surprise that some of us might just be struggling. And fundamentally, whether your team have been WFH since the first lockdown was announced in March or have been in-and-out of the office up until now, adjusting to a whole new way of working isn't always a straightforward process.
When it comes to overseeing your team, WFH can require careful handling to ensure your employees are feeling motivated, included and capable. There's also the lack of an obvious 'switch off' point: there's no leaving the office and travelling home when you're WFH; and no, we're not quite sure moving from the spare room into the living room once the clock strikes half-five quite counts!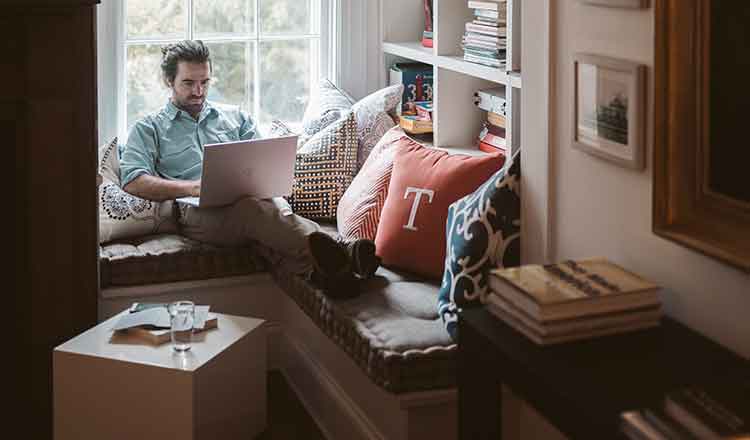 The good news? It can all be made easier! We've rounded up some of the simple hacks that will make WFH simpler for your team, whether they miss human interaction or need help with feeling motivated.
Read on to find out more and discover how your business can support its staff today. Can't find a specific product? Contact our friendly and experienced team on 01376 509092 or by emailing info@totalmerchandise.co.uk - we'd be delighted to help.
#1 Choose Promotional Notepads To Fire Up The To-Do List
The WFH hack: Use to-do lists to create a sense of purpose and motivation for the day ahead, as well as for a sense of achievement as tasks start to get ticked off.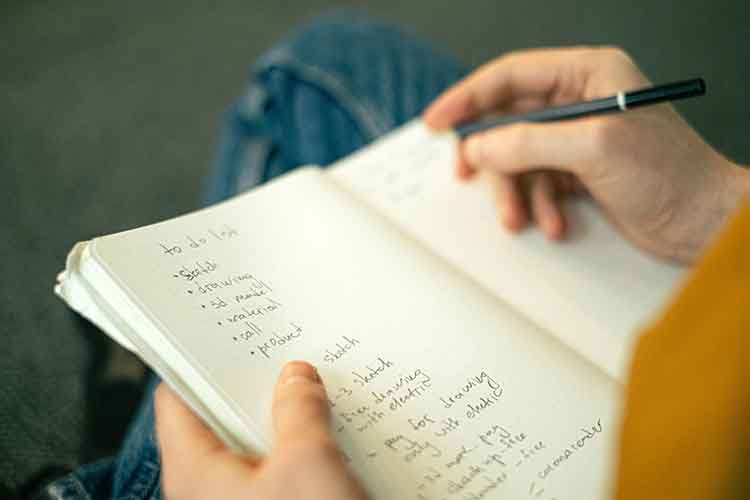 Ah, the to-do list! Some people loathe them, others can't function without them. Giving your staff the means to be able to create a proper to-do list for the day ahead can help them focus on the tasks that need ticking off on any particular day, as well as help them feel like they've truly achieved something at the end of the day.
From classic branded notepads to elegant custom notebooks, we've got a wide range of to-do-list-friendly options available. All our paper products can be printed with your logo, with some, such as our Individually Named Mood Soft Feel Notebooks, even able to feature your recipients' individual names too, for that extra personal touch.
Alternatively, some professionals swear by post-it notes when it comes to processing their tasks for the day ahead, especially if goals are likely to be fluid or your staff are working on bigger long-term projects. The ease of rearranging sticky notes according to a change in priority isn't to be underestimated, whilst there's an undeniable satisfaction to pulling a note off the wall and scrunching it into a ball once the task has been completed.
We can help there, too; our wide range of promotional sticky notes covers every feasible size and shape, with colours and price-points to match your colleagues' requirements.
Browse our full range of promotional notepads and branded sticky notes.
#2 Help Them Stay Well With Health & Fitness Essentials
The WFH hack: Encourage your staff to take part in team fitness challenges, step away from their desk on the regular and drink more water - it all adds up to better physical and mental wellbeing.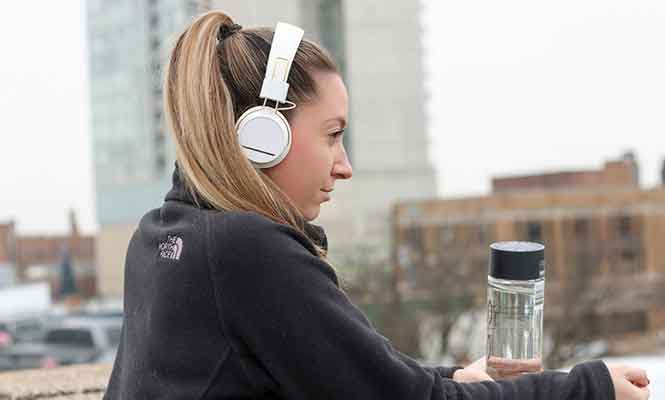 With productivity levels directly linked to exercise, it's important to remind your team that they should keep moving. Admittedly, if you get into a groove with work, time can disappear. One moment it's 11am - the next, it's four hours later and you've spent almost half your working day glued to your screen, without moving. Experts recommend that getting up every 30 minutes is the optimal rate for desk workers; whether it's to pop to the bathroom or to head outside for a few moments, stepping away from your desk chair can increase motivation as well as contribute towards healthy blood pressure, blood sugar levels and more.
And of course, it's not just from a work perspective that this is so crucial: reminding your team to keep going with simple wellbeing rituals (such as stretching their legs and drinking water) is also crucial for mental wellbeing, too. Whilst you're largely reliant on your team to use their own initiative to keep up and active, you can give them little reminders.
Our Time To Drink Water Bottles, for example, are perfect for reminding your staff to keep hydrated throughout the day, and they could even use the timing prompts printed down the side of the bottle to remind them to stand up, too.
If you want to encourage them to keep moving - especially if they're missing having gyms open - then our selection of promotional fitness products could help. With everything from yoga mats to promotional pedometers available, we've got items to suit all capabilities, interests and fitness levels.
And why not turn it into a bit of healthy office-wide competition? Set up step challenges for your team to participate in, or ask if any of your staff might feel confident leading a team pilates or yoga session on Zoom. It will keep their social element going, whilst also creating a friendly reminder to look after their health!
Browse our full range of promotional products for fitness at home.
#3 Invest In Branded Power Banks To Avoid Charging Drama
The WFH hack: Arming your staff with their very own phone chargers will cut the need for communal usage with other members of their households - and for any impromptu exits from phone calls!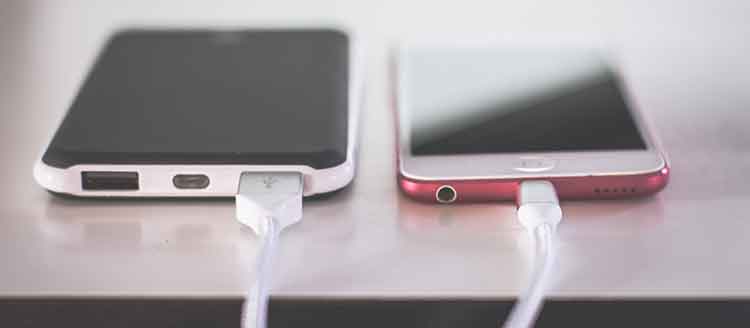 Whether your team are on the phone to colleagues a lot or are constantly using their laptops for Zoom chats with clients, chances are their devices will need recharging on the regular throughout the day. On top of that, if your staff are WFH alongside partners and children, odds are they'll be a familial fight or two over who gets to use the phone charger.
Enter the power bank. Clearly printed with your company logo, there's very little chance that anyone can dispute it belongs to your employee - meaning, by the ancient and noble laws of fair power bank usage, they should have full access to it, as and when required.
We have a wide range of branded power banks available, with popular options including our Tube Power Banks (available in a selection of colours and printed or engraved with your design), as well as our neatly-sized 48 Hour Express Card Phone Charger which, as the name suggests, can be out for dispatch in as little as two working days!
Take things one step further with one of our wireless charging pads, which can sit neatly alongside their computer monitor, minimising the chance for any unexpected 'nabbing'. Our Wireless Mini Phone Charging Pads make a great budget-friendly option.
Browse our full range of branded charging cables and promotional power banks.
#4 Create Work-Life Boundaries With Appropriate Storage
The WFH hack: Create distance between home-life and work-life by keeping papers out of sight and desk space tidy.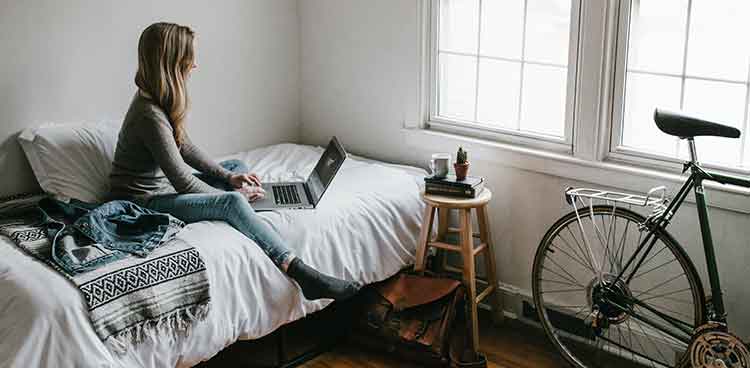 Whilst some of your team might have separate rooms where they can work, odds are that many will be doing their 9-5 in spaces that they'll continue to use after work, such as the living room or kitchen. That can make 'switching off' harder - after all, whilst the temptation to check emails or do a little more work is all well and good, the reality is that it can create an unhealthy working pattern for your staff.
So, what's the solution? Short of shutting-off the kitchen after 5pm (not happening), the only real solution your staff can rely on is storage: out of sight, out of mind, and all that jazz...
We're talking printed folders to keep papers out of sight, a logo-etched desk tidy to keep pens neatly tucked away and perhaps even branded laptop bags, allowing your team to firmly put away their devices come the end of the day.
Granted, that famous work-life balance we all hear so much about is always going to be a little harder to come by when you're doing everything under the same roof - but even just being able to tidy away work for the evening can make a huge difference.
From items for working from home to promotional face masks, Total Merchandise has all the branded products your business could need to help keep its colleagues and customers safe in 2021. Need help finding a specific item? Simply contact a member of our friendly and experienced Sales team on 01376 509092 or email info@totalmerchandise.co.uk! Main image via Pexels.