Halloween is creeping up on us - and if your business is keen to sink its teeth into this most spook-tacular of occasions, Total Merchandise is here to help.
According to data shared by Mintel, consumer spending around Halloween has almost doubled in the period between 2013 and 2018, with the total annual sum sitting at around £419 million. Fascinatingly, this is almost a comparable figure to the $480 million Americans spend on Halloween costumes for their pets alone. We kid you not...
---
READ MORE...
---
Editor's Note: This article was originally written in October 2019 and has been updated for 2020.
Of course, Halloween 2020 is going to be a bit different to the spooktacular celebrations your business might have taken part in in the past. Coronavirus has essentially put a stop to the potential for any of our usual Halloween hijinks - trick-or-treating is largely off the cards and localised lockdowns and the 'rule of six' have combined to mean that parties and other associated gatherings are on ice.
That said, Halloween is a seasonal occurrence that many Brits - and businesses - love getting involved in. Sure, the situation this year is very different from what we're all used to - but what's to say your brand can't still have some fang-tastic fun? Insights shared by Talking Retail suggests around half of UK consumers spent money on Halloween-related products in 2018, showing that we're truly a nation that loves to take part in the fun.
The key takeaway? Most people will still get involved in the antics of October 31st, albeit just in a different way to how they would normally - meaning promotional Halloween items can offer the perfect opportunity to generate some seasonal awareness for your brand.
The Beginner's Guide To Halloween-Themed Promotional Items
Whilst you might usually be prepping for face-to-face contact with customers, this year will possibly need a little more creativity to involve your business in the spine-tingling action.
Tapping into seasonal events is a great way to show that your business has its finger on the zeitgeist pulse and is as relevant as it is on-the-ball.
Whether you challenge your staff to take part in a company-wide pumpkin carving competition or are looking for themed giveaways that you can post to your customers, there are all sorts of ways your brand can take part.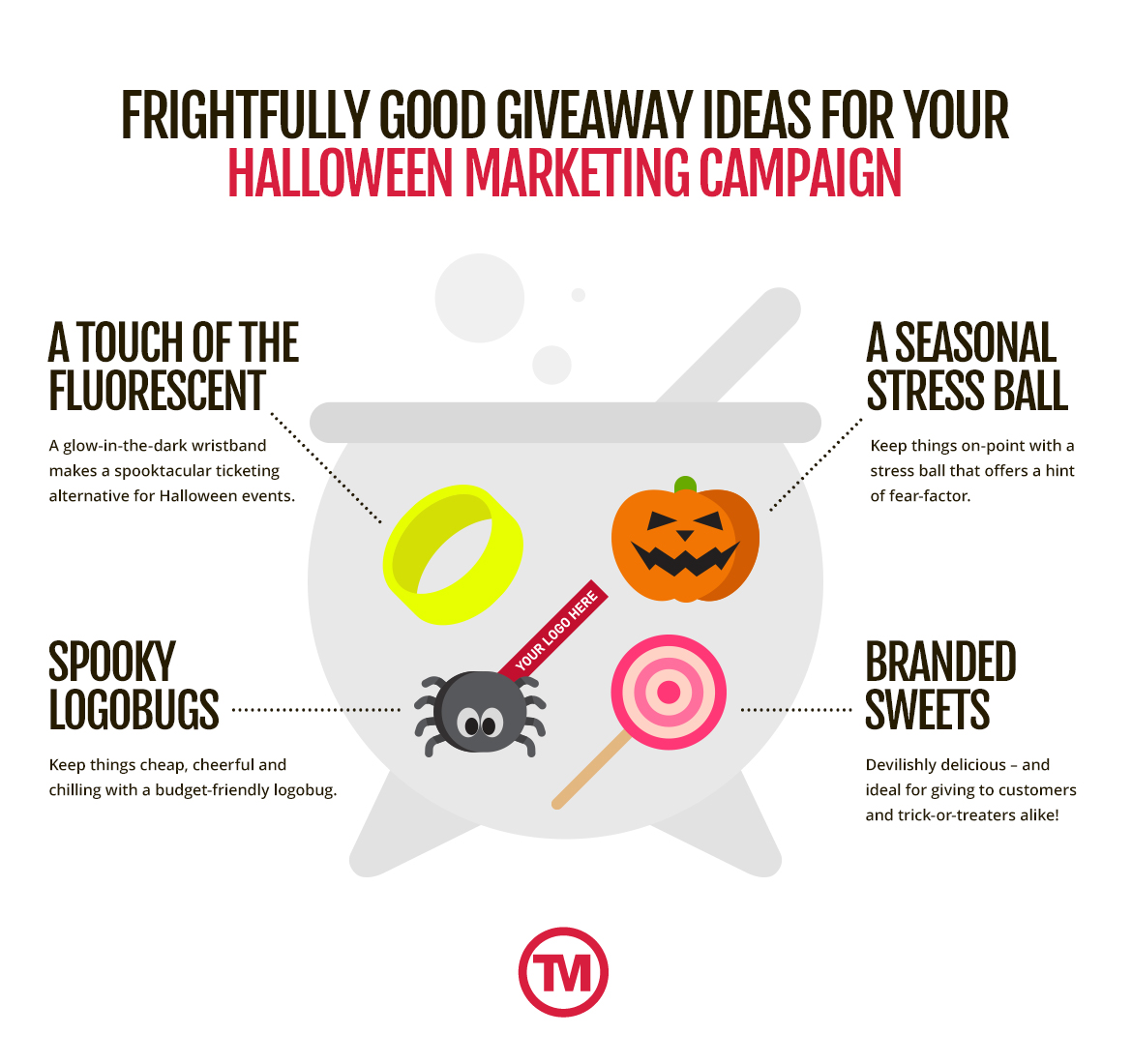 Total Merchandise's range of promotional Halloween items will help give your business some spine-tingling brand awareness - read on for our chilling edit of ideas!
Self Cling Window Stickers
Fear factor: 🎃
With 'pumpkin trails' being set-up across the UK as a Covid-secure alternative to traditional trick-or-treating, get your brand involved with our promotional window stickers.
Ideal for sending to customers - as well as for displaying in your own premises if you have multiples sites - these self cling window stickers can be printed with the Halloween-inspired artwork of your choice and are easy to apply and remove.
Glow In The Dark Silicone Wristbands
Fear factor: 🎃
If you're a school, charity or organisation that's hosting a socially distanced Halloween-themed event, our eerie Glow In The Dark Silicone Wristbands could be the perfect promotional giveaway item for you. Fuss-free and easy to keep clean, these branded wristbands are perfectly sized for sending in the post and can also be worn long after Halloween.
Printed in up to four colours or debossed with your branding, these glow-in-the-dark accessories can also make a spooky alternative to traditional paper tickets and can be worn long after the event in question by attendants.
Scary Eye Logobugs
Fear factor: 🎃🎃
For a cheap-and-cheerful promotional giveaway that's ideal for tying into general Halloween-themed marketing activity, look no further than our budget-friendly Scary Eye Logobugs.
A little bit creepy and a whole lot of cute, prices start from just 14p per unit for these fluffy branded logo bugs, which are available in your choice of 32 different colours. You can also pick from eight different colours for the feet, as well as 18 different shades for the ribbon, too.
Stress Bat
Fear factor: 🎃
Who could possibly be scared of this cute critter? For a seasonal stress-buster, look no further than our adorable bat-shaped promotional stress balls, which can allow your customers to alleviate stress whilst keeping your branding on display all at the same time.
Want full-colour printing? No problem! It's available at a small extra cost - contact our team today to get your quote.
Spider Logobugs
Fear factor: 🎃🎃🎃🎃
For another cost-effective option, consider our promotional logobugs. These spooky spiders are ideal for budget-efficient mailout campaigns or for handing out to visitors at exhibitions and events taking place around the end of October.
One to definitely keep away from the arachnophobes out there, these eight-legged terrors are available for dispatch in just seven working days.
Stress Pumpkin
Fear factor: 🎃🎃🎃
Our stress ball pumpkins are the epitome of Halloween promotional gifting with prices it's impossible to be frightened of! ideal for adding a colourful twist of promotional potential to your Halloween campaign.
Stress balls are proven to reduce anxiety and can make highly effective and useful giveaways for all manner of people - young and old, students and professionals, and so on - to benefit from using.
Pumpkin Logobugs
Fear factor: 🎃🎃🎃🎃🎃
Finally! Available to be printed in full colour and ideal for adding a spook-tastic touch to your campaign, this pumpkin message bug is attached to a ribbon that's printed in up-to full colour with your artwork.
These terrifying promotional logobugs are ideal for keeping awareness for your business at a high - and the fear-factor bubbling along, too. Just look at that little face...! 😱
From our wide range of event giveaways to our selection of corporate Christmas gifts, Total Merchandise has all the branded items your business could need to help your customers count down to 2021. Need assistance in finding a specific item? Simply contact a member of our friendly and experienced Sales team on 01376 509092 or email info@totalmerchandise.co.uk!
Main image via Pixabay.