Halloween is creeping up on us - and if your business is keen to sink its teeth into this most spook-tacular of occasions, Total Merchandise is here to help.
According to data shared by Mintel, consumer spending around Halloween has almost doubled in the period between 2013 and 2018, with the total annual sum sitting at around £419 million.
Fascinatingly, this is almost a comparable figure to the $480 million Americans spend on Halloween costumes for their pets alone. We kid you not...
Further insight shared by Talking Retail suggests around half of UK consumers spent money on Halloween-related products in 2018. The overall takeaway? Most people will get involved in the antics of October 31st one way or another so why not make your company a part of the action?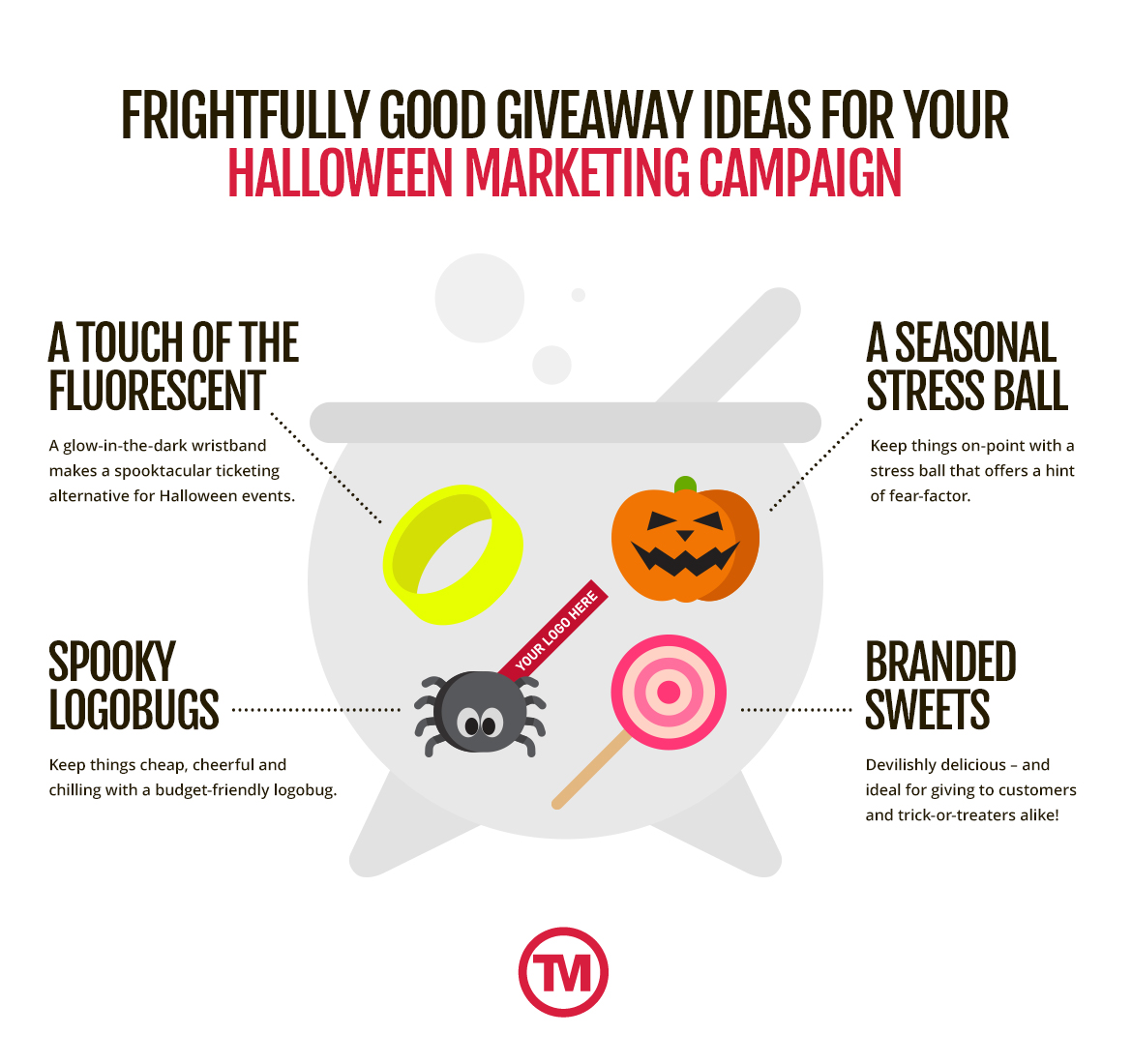 Total Merchandise's range of promotional Halloween items will help give your business some spine-tingling brand awareness - read on for our chilling edit of ideas!
Glow In The Dark Silicone Wristbands
Fear factor: 🎃
If you're a school, charity or organisation that's hosting a Halloween-themed event or party for your pupils or members, our eerie Glow In The Dark Silicone Wristbands could be the perfect promotional giveaway item for you.
Printed in up to four colours or debossed with your branding, these glow-in-the-dark accessories make a spooky alternative to traditional paper tickets and can be worn long after the event in question by attendants. The result? Prolonged awareness for your brand, of course!
Scary Eye Logobugs
Fear factor: 🎃🎃
For a cheap-and-cheerful promotional giveaway that's ideal for tying into Halloween-held events and launches, look no further than our Scary Eye Logobugs.
A little bit creepy and a whole lot of cute, prices start from just 14p per unit for these fluffy branded logo bugs, which are available in your choice of 32 different colours. You can also pick from eight different colours for the feet, as well as 18 different shades for the ribbon, too.
Stress Bat
Fear factor: 🎃
Who could possibly be scared of this cute critter? For a seasonal stress-buster, look no further than our adorable bat-shaped promotional stress balls, which can allow your customers to alleviate stress whilst keeping your branding on display all at the same time.
Want full-colour printing? No problem! It's available at a small extra cost - contact our team today to get your quote.
Spider Logobugs
Fear factor: 🎃🎃🎃🎃
For another cost-effective option, consider our promotional logobugs. These spooky spiders are ideal for budget-efficient mailout campaigns or for handing out to visitors at exhibitions and events taking place around the end of October.
One to definitely keep away from the arachnophobes out there, these eight-legged terrors are available for dispatch in just seven working days.
Stress Pumpkin
Fear factor: 🎃🎃🎃
Our stress ball pumpkins are the epitome of Halloween promotional gifting with prices it's impossible to be frightened of! ideal for adding a colourful twist of promotional potential to your Halloween campaign.
Stress balls are proven to reduce anxiety and can make highly effective and useful giveaways for all manner of people - young and old, students and professionals, and so on - to benefit from using.
Pumpkin Logobugs
Fear factor: 🎃🎃🎃🎃🎃
Finally! Available to be printed in full colour and ideal for adding a spook-tastic touch to your campaign, this pumpkin message bug is attached to a ribbon that's printed in up-to full colour with your artwork.
These terrifying promotional logobugs are ideal for keeping awareness for your business at a high - and the fear-factor bubbling along, too. Just look at that little face...! 😱
Looking for more ideas to tie-in with a special occasion? Browse our full range of promotional Event Giveaways for an inspiration fix and contact us today for your bespoke quote.
Main image via Pixabay.