Christmas is coming! With a matter of weeks to go until the big day, now's the ideal time to consider how, exactly, you're going to thank your customers and colleagues for another year of loyalty to your brand.
Whether you're after impressive giveaways you can present to guests at a festive corporate event or want luxurious gifts to hand over to your most valuable clients, 'tis the season to make an impression. And what better way to do it than with fabulous gifts adorned with your company logo?
Why Are Corporate Gifts So Important At Christmas Time?
According to research shared by luxury food and drink provider Cartwright & Butler, 95% of UK businesses see corporate gifting as an essential part of their marketing strategy, with personalisation the key factor. Interestingly, it's not just current customers that can benefit from receiving corporate Christmas gifts; rather, they can prove invaluable in securing new business, too.
Almost a quarter (24%) of the people asked revealed that they regularly use corporate gifting as a means to capture the attention of prospective customers, with a further 25% admitting it was a key part of their acquisition strategy.
Interestingly, the spend on customers (whether existing or potential) is typically more than the spend on gifts for colleagues, with the latter value sitting at almost a third of the amount forked out for customers.
The same research also revealed the products that are most desirable for customers: namely, food, drink, tech and stationery.
Which Promotional Products Make Great Christmas Giveaways?
If you have no idea where to start with finding the perfect Christmas gift for your clients, don't fret! Total Merchandise is here to help - with over 15 years of experience and a huge range of Christmas promotional products available (Father Christmas himself is very jealous of our grotto of goodies, FYI), we have all the insight and expertise needed to help you pick the perfect presents for your customers and clients.
Our infographic, below, highlights the key factors that the perfect promotional Christmas gifts will tick off - in short, it's a combination of choosing something that's as desirable for your customers to use as it is excellent at generating awareness for your brand.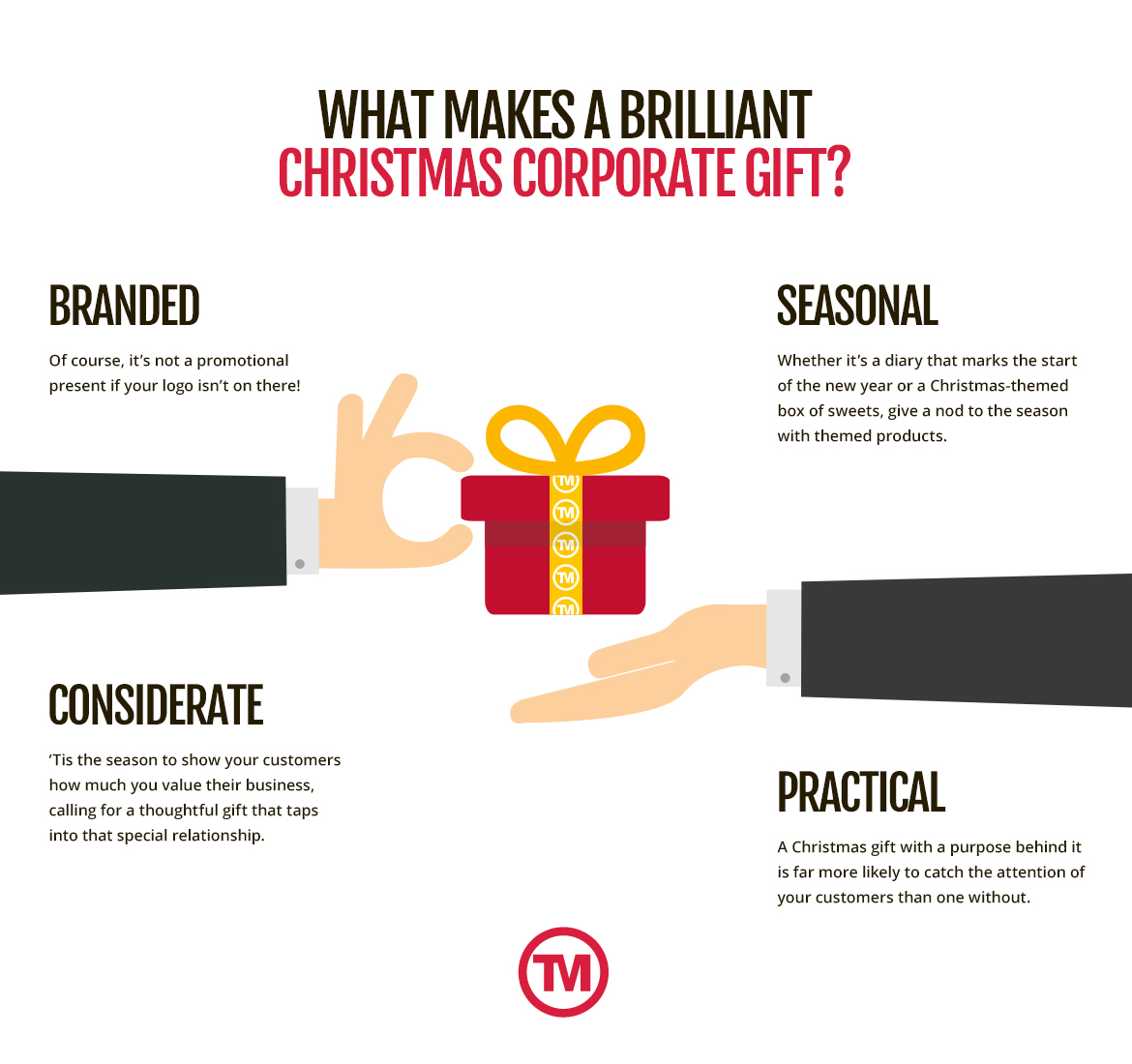 The Best Corporate Christmas Gift Ideas For UK Businesses
Ready to get inspired? Read on for our round-up of some of our favourite (and most popular!) Christmas giveaways, covering everything from tech to fizz, food to art... And more!
Of course, our edit below covers just some of the promotional products that you could consider gifting your customers and colleagues this Christmas. After more ideas? Explore our corporate Christmas gifts section in full and also consider taking a look at our luxury gift range, too!
Branded Mini Prosecco Bottles
Perfect for: A high-perceived value giveaway that you can guarantee will be enjoyed by customers.
Who could possibly say 'no' to a golden bottle of Prosecco? These shimmering beauties feature your artwork printed on both the lid and label, offering sophisticated awareness for your brand.
Miniature Bells Whiskey Gift Set
Perfect for: Low-quantity gifting - the minimum order is just 10 units.
These gift sets each contain a miniature bottle of Bells whiskey and a sparkling glass tumbler, etched with your artwork. Whilst we suspect the Bells might not hang around for too long, we can guarantee your customers will keep that personalised glass long after Christmas. And it doesn't end there - the gift is displayed inside a smart presentation box, also printed with your branding.
Parker Jotter Stainless Steel Ballpen
Perfect for: A smart giveaway that your customers can use over and over again.
Parker is one of the world's most iconic pen brands so why not align your company with it by choosing one of their striking pens for your corporate Christmas giveaways? This impressive promotional ballpen can be printed or engraved with your branding, offering awareness for your business with every word it writes.
Custom Printed Cadbury Milk Trays 360g
Perfect for: Adding a delectable sweet touch to your festive marketing plans.
With Cadbury famed for their mouthwatering chocolate, we're confident your clients would be delighted to receive one of these iconic branded chocolate boxes, filled with delicious mini dairy milk chocolates. Want more saccharine-infused gifting ideas? Browse our whole range of branded chocolate, which includes custom-printed Toblerones, Dairy Milk bars and more!
Wireless Dome Speakers
Perfect for: Bringing a touch of tech to your marketing.
Available in your choice of five colours and printed with your artwork in up to four colours, these Wireless Dome Speakers make a striking and highly practical giveaway. With three hours of battery life and an ability to stream music from Bluetooth-enabled devices that are up to 10m away, your customers will be thrilled to receive it.
3D Engraved LED Crystal Keyring
Perfect for: Long-lasting brand awareness that will illuminate your brand.
Looking for luxury corporate gifts that won't break the bank? Search no further than our 3D Engraved LED Crystal Keyring, which is ideal for making an impression on your customers - but not your bank account! With a minimum order quantity of 25 units, it can make a long-lasting giveaway option that your customers can add on to their keys. The result? Subtle yet long-lasting awareness for your brand.
Chocolate Coin Organza Bags
Perfect for: Treating your most-valued clients in style.
Each of our promotional Chocolate Coin Organza Bags is filled with delicious foil-wrapped chocolate coins and printed with your logo to the label.
Champagne Flute & Prosecco Gift Sets
Perfect for: Popping the cork on your brand awareness. Cheers!
These elegant gift sets contain a sparkling Champagne flute, impressively engraved with your message or branding, as well as a bottle of Prosecco. Both are beautifully presented in a satin-lined gift box, making it a stunning gift to hand over.
Luxury Magnetic Sculptures
Perfect for: Relieving stress and adding an artistic touch to desks.
These stress-busting sculptures comprise 200 small metal balls that can be rearranged as your customers so desire. Each of these stylish sculptures is engraved with your branding on the base, meaning your customers will think of your business every time they see it!
Three Amigos Gift Sets
Perfect for: A practical giveaway that offers fabulous branding potential.
Each of our Three Amigos Gift Sets contains a soft touch notebook, a metal pen, mechanical pencil and an LED torch keyring - and they're all branded with your artwork! Take your pick from four different colours, with the products presented in a luxurious gift-box for an impressive finishing touch.
Of course, it doesn't end there. We have a huge range of promotional Christmas gifts available that are perfect for branding with your business' logo - browse in full and contact us today for your bespoke festive quote!
Main image via Pexels.