Cold, hard fact time, reader: you can't go wrong with a promotional notebook when it comes to selecting appropriate merchandise for your upcoming marketing campaign.
(Wait - what do you mean, that was melodramatic...?)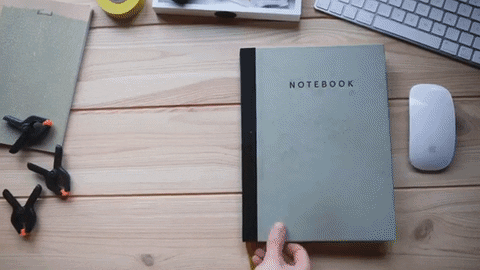 There really is no denying it. Whether you're planning a launch party, want to generate some long-lasting brand visibility or simply need to top-up your office stationery cupboards, promotional notebooks are an excellent place to start.
Don't believe us? There are all sorts of reasons why branded notebooks can make a great pick for your upcoming marketing campaign, including:
A printed notebook offers the user a defined and practical purpose. A notebook has a clear use, with long-lasting functionality. Student demographic? It can be used for making notes in class. Fitness campaign? It could be used to record progress. General lifestyle audience? It can be used as a diary, a book of to-do lists, scribbling down thoughts on-the-go... Whoever you're aiming it at, they'll have a use for it.
Promotional notebooks are available in a wide range of designs and styles. Whether you want A5 or A6, eco or budget, soft-touch or hardback... There's an option for every marketing objective and budget, and aesthetic.
Branded notebooks can be printed with as much or as little of your artwork as you'd like. From full colour to one-colour, our range of promotional notebooks gives you the flexibility to create the perfect notebook to match your campaign.
The beauty of a notebook is it can offer something entirely unique to every single one of your customers, whether it's used to write a daily diary, keep a note of workplace to-do lists, jot down notes in class, keep track of fitness progress at the gym... There really are countless ways a notebook can be utilised by the end-user, depending on who they are and what they do.
---
RELATED:
---
One thing you can definitely be certain of is this: if you choose a promotional option, you can be assured that they'll be doing it with your branding on display every step of the way!
With dozens and dozens of promotional notebooks for your business to choose from, Total Merchandise is confident we've got the perfect fit for your business and target customer.
Phone Pocket A5 Notebooks
The perfect choice for... On-the-go professionals, who never seem to have quite enough hands.
Whether your customers are on their way into important meetings or are simply looking for a way to minimise what they need to carry, our smart Phone Pocket A5 Notebooks are the perfect accessory for busy modern lives.
Each of these promotional notebooks features a phone pocket on the front cover, ideal for safely storing a smartphone, as well as a cover-based compartment that can hold paperwork. And it even has a pen pocket, too!
Recycled Notepad & Pen Sets
Choose it if... You're keen to enhance your company's eco-friendly output.
Available in eight different colours, these spiralbound recycled notebooks each come with a ballpen that's made from 100% recycled paper.
Available in both A5 and A6 sizes, they're a fantastic eco friendly promotional giveaway, featuring your up-to full-colour artwork on the front cover.
Pocket Moleskine Hardback Ruled Notebooks
Your customers will be... Impressed to see your business aligned with iconic Moleskine, the world-renowned notebook brand.
Moleskine is a name synonymous with sophistication - so why not link it with your business?
We have a selection of Moleskine notebooks available, including our best-selling Large Moleskine Hardback Ruled Notebook and this Pocket Moleskine Soft Cover Ruled Notebook.
A5 Wiro Bound Poly Pads
Choose it if... You want to dazzle your customers with your full-colour artwork.
With the option to print the cover in up-to full-colour with your artwork - be it a one-colour logo or a vibrant still from your latest campaign imagery - you can make this promotional A5 notebook truly bespoke to your business.
Take your pick from a range of colours for the spiralbound wire and, with a minimum order of just 100 units, this branded notepad can make a great promotional giveaway option for smaller businesses, too.
A5 Cork Print Notebooks
An ideal match for: A non-traditional take on a classic notebook.
With its textured touch-me appearance, our A5 Cork Print Notebooks can be personalised with your artwork in up-to full colour.
With page markers and a nylon band that can hold the page perfectly in place, your customer will always be able to find where they are.
At Total Merchandise, our friendly and experienced team are ready to help you find the very best promotional paper products to match the unique requirements of your business. Browse our full range of branded notebooks and contact us today to receive a quote for your brand.
Main image via Pixabay.