Pop the kettle on and grab your Rich Tea's because we've got some welcome news for our brew-loving nation: Wednesday 21st April is National Tea Day 2021. Yes, that's right, Brits have a whole day in celebration of a cuppa.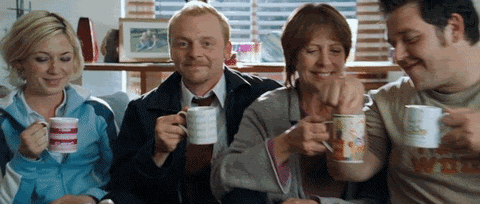 GIF from GIPHY
---
READ MORE:
---
National Tea Day And How To Get Involved
Tea is the nation's favourite drink - in fact, did you know that the UK consumes more than 60 billion cups of tea a year? - so it really is no surprise that there is a whole day in honour of the beloved brew.
After all, who doesn't love catching up with friends and family over a cuppa and (if you're feeling fancy) some biscuits to go with it? Having spent the last year in-and-out of lockdowns, getting together with a brew in hand is more important than ever before. And so, it makes total sense to get involved in National Tea Day with the best tea accessories printed with your logo.
To play your part in National Tea Day, all you have to do is grab a cuppa, a couple of digestives and use #NationalTeaDay when sharing a picture of your brew on social media. ☕️
The Best Promotional Tea Accessories For UK Businesses
Knowing that a cuppa is the nation's most-loved drink, it would be fitting to add a nod to UK's favourite beverage within your marketing plans. Read on to discover our best tea accessories, ready to be printed with your logo.
Tea breaks remain an important part of office life (whether at home or in the workplace), so why not gift your team members with their very own mug printed with your business name, message or logo?
Our Individually Named Cambridge Mugs add a personal touch to your campaign, with the names of your employees clearly printed alongside your logo. Having the individual names of your team printed on these branded mugs can help to prevent cross-contamination. The result? Your employees feel safer within the workplace knowing that the potential of spreading germs has been decreased.
Our individual name printing service expands throughout our range of promotional mugs, including our Sparta Mugs, Matt Black Travel Mugs and more!
Of course, in order to enjoy a sweet cup of tea, you need the tea. Our Labelled Tea Bags boast a large print area for your full-colour design to be branded to both sides of the packets; guaranteed to draw attention to your brand with every single brew, what's not to love?
OK, let's look at green tea. It's no surprise that green tea has become popular with Brits when we look at the vast flavours available and health benefits it has, including:
It helps to protect the body against disease and plays an important role in a healthy diet due to its high level of antioxidants.
It boosts brain function and alertness.
It increases fat-burning and boosts your metabolic rate.
And more!
With this in mind, why not include promotional green tea in your workplace kitchen? Our Printed Green Tea Bags flaunt your logo printed in up to full colour to the envelope for brand awareness at every tea break. We can also print your branding to the tag for extra impact.
Of course, tea doesn't tingle the tastebuds of all Brits and coffee is a chosen favourite with much of the nation. Our Tea and Coffee Refresher Packs ensure that there's an option for both tea and coffee-lovers. Each pack includes one coffee sachet, one teabag, one sugar and one shortbread biscuit - the perfect hot drink companion.
We also have a Hot Chocolate Refresher Pack for those who opt for a sweet cup of cocoa.
Whether you're looking for mugs and takeout cups or teabags and tea towels, we've got everything your business could need for National Tea Day.
Need any extra help? Simply contact a member of our friendly and experienced Sales team on 01376 509092 or send an email to info@totalmerchandise.co.uk! Main image via Unsplash.