Last weekend I worked at Silverstone for the long awaited Grand Prix. My role was to sell the Mercedes, Ferrari, Maclaren and other various brands' merchandise for crazy amounts of money (we're talking £15 for just a lanyard…). On the final race day of the Grand Prix, a customer comes up to me and asks if he can take a look at the 2017 'Lewis Hamilton' cap. The cap he was asking for was a black flat cap with 'Hamilton's wings' on the back and a large Mercedes logo on the front. I showed it to him and as I did I noticed that he was wearing an identical cap, just that this one didn't have the 'wings' on the back. I asked him why he would want to spend £50 on a nearly identical hat to the one he already has. His response? "Lewis Hamilton wears this hat, so I want to get the one he wears". This interaction allowed me to see first hand the power of Lewis Hamilton and quite how influential he is in the racing world. Of course, I knew he was popular, but these fans were spending upwards of £500 on the latest merchandise just to be seen in the items Lewis Hamilton promotes!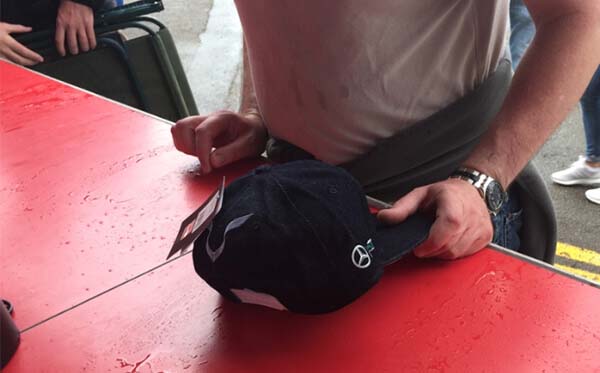 Above: the man purchasing the almost identical cap
As 47% of online consumers aged 18-24 use ad blockers, brands are further exploring influencer marketing. We are all guilty of spending a significant portion of our day on social media, therefore brands are now using influencers, the people we follow on social media and look up to, to get their products in front of a captive audience. The Silverstone Grand Prix weekend was an example of this in real life, as Mercedes pay Lewis to be wearing their branded products as he represents the brand, and consumers flock to buy the merchandise. In this way, Mercedes aren't posting adverts saying 'buy this product', they are getting a looked-up-to British idol to naturally, and organically, sell their product.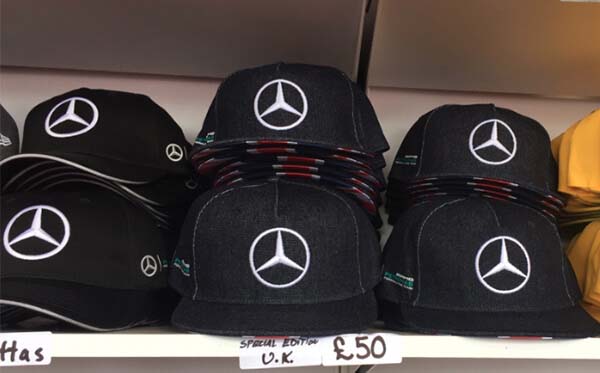 Above: the UK special edition 'Lewis Hamilton' cap retailing for £50
Influencer marketing is a proven strategy which delivers incredible results which I have witnessed first hand. Lewis Hamilton won the Silverstone Grand Prix which looks to push his commercial value further than any of Britain's sports stars. He has an estimated net worth of £131 million, and, as well as this, he is loved by millions as every time his car zoomed past a grandstand everyone would get up and cheer (51 times).