Would you believe me if I told you that it is possible for you to make £1,500 for posting a photo on Instagram? Appropriately coined 'Instapreneurs' are utilising the social media platform to capitalise on the back of its success. As photographs turn to followers, followers turn to funds. When an account with over 1000 followers is paired with a passion and flair for photography, these 'grammers can start advertising for other brands and quickly make a small fortune.
When high-profile celebrities are sent products to advertise for companies, the big bucks start coming in. We're often not so naive as to believe that supermodels actually swear by the 28 teatox programme for their killer bod, but their £500 an hour personal trainer and in-house dietician.
Yet people still buy the products they advertise, and a major influencer (100,000+ followers) can earn tens of thousands per post. Let's do the maths with Emily Ratajkowski (username: emrata) for example: for 100,000 followers an Instagrammer will charge roughly £1500 per post, Emily has 7.8 million followers (let's round this up to 8 million for ease), so 80 x £1500 = £120,000. Yes, it can be assumed that Emily could charge roughly £120,000 per Instagram post.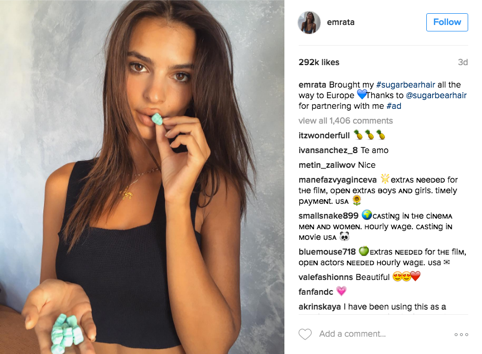 It's not all about the money, however. Many Instagram superstars are sent products that they get to keep for free, in the hopes that they will say something positive about the brand on social media. In a way, this is great because it's more likely that these influencers will post about products they genuinely enjoyed, not just because they're paid to do so. Take, for example, Instagram beauty Chessie King (username: chessiekingg). If you follow her snapchat (username: chessstickles) you'll see that she's sent heaps of products to try out, yet not all of them make it on to her Instagram page. From clothing, to popcorn, to experiences, this lifestyle 'grammer gets it all and doesn't have to charge thousands of pounds to companies to do so!