A short while ago we gave you our TM Top Tips on how to run a competition on your social media websites, however now we want to explain to you why they are so great.
There is no doubt that if you have a brief scroll through any social media platform, be it Facebook, Instagram, or Twitter, you will stumble upon a competition. We even ran a competition a few weeks back to get our Instagram followers to show us their favourite promotional mug!
These contents lead to many benefits for your business, and we've picked out the top 6 reasons why we believe you should run competitions for your business.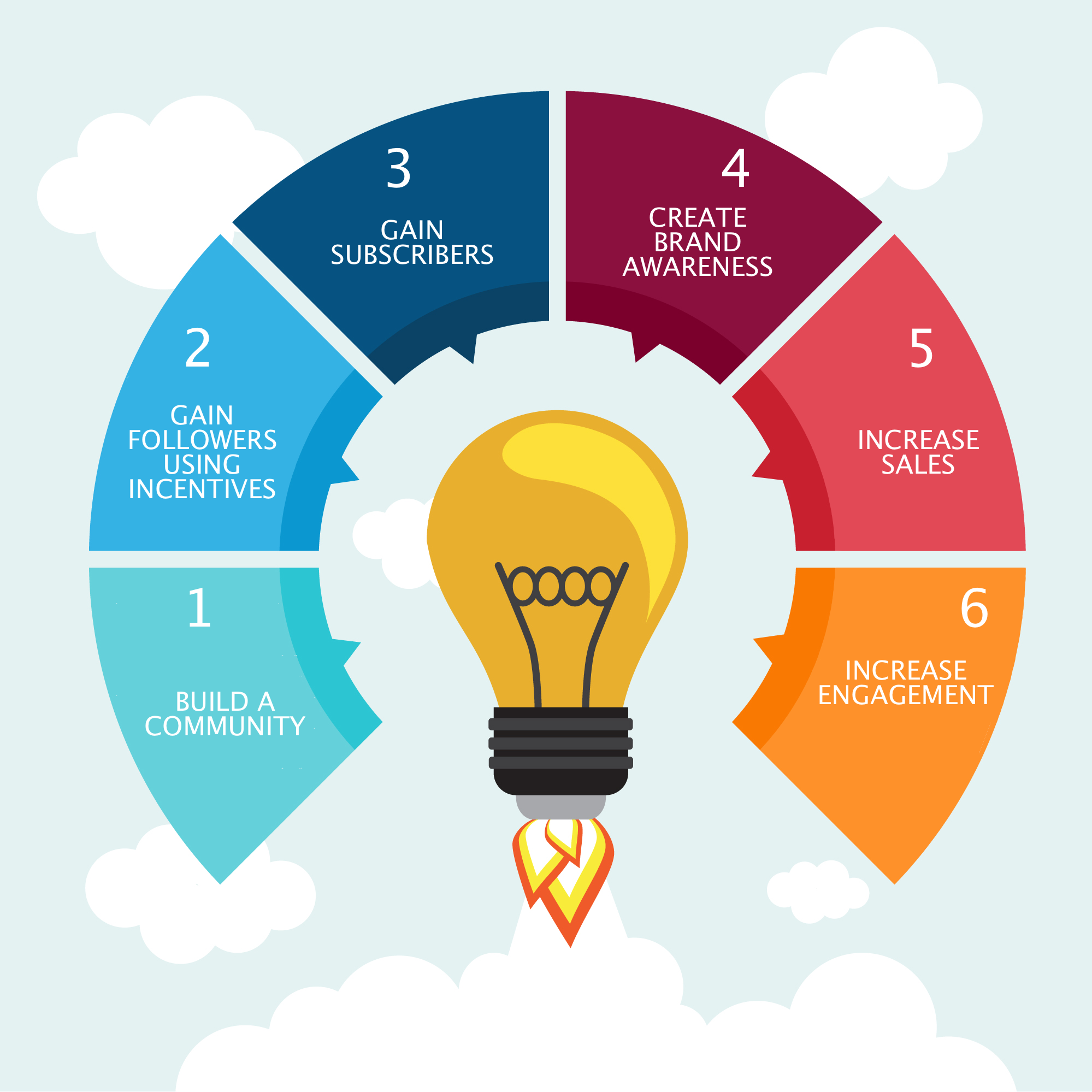 Infographic provided by Freepik
1. Build A Community
Particularly with small businesses, it is so important to build a community, be that of local supporters or far away customers. A lot of the time, business names are spread through word of mouth via family and friends, but running a competition would help to build a community by encouraging people to talk about the brand behind it.
2. Gain Followers Using Incentives
It can be difficult to persuade many people to do something like share with you their thoughts on your business or provide key demographic information that can be vital to your company without an incentive. By running a competition, you are providing that incentive for them in the form of a prize! In other words, you give people a strong reason to follow your account and incentivise this action in exchange for a chance to win the prize on offer.
3. Gain Subscribers
Ideally, you want as many people as possible to be reading your emails from your subscriber list, but how do you generate this list in the first place? A lot of social media competitions now ask for an email address to take part in the competition, thus allowing people to subscribe to your email newsletter. Today's social media users want content which is relevant to them, and by capturing the correct audience in your competition, you are able to promote your products that are relevant to them.
4. Create Brand Awareness
Again, if you are a smaller business this point is particularly important. You want to be generating buzz and interest around your brand and a contest is a great way to build awareness. You can use features such as Facebook ads to raise further awareness, and encourage people to share your content online to enhance their chances of winning.
5. Increase Sales
Of course, one major reason why you are running a business is to generate sales. Naturally, after a competition you are likely to have an increased follower base and increased buzz around your brand should lead to an increase in sales. Running a competition is a fantastic way to convert your business leads into valuable customers - especially the winners who will have likely tried your product for free!
6. Increase Engagement
Running a competition is a sure-fire way to generate more likes, comments, shares, retweets and more! Make sure you are tracking this engagement using programmes such as Google Analytics and ensure that you keep the engagement going via a mailing list or an active social media page that is responsive towards the relevant conversation.
Has your business ever run a competition? What did you find the greatest benefits were? We love getting to know our audience and continue to expand it which is why we enjoy holding social media competitions and flash giveaways - keep your eyes peeled for the next one!
Main image from Pexels.com