Perhaps once best known solely as the snack of choice for peckish pandas (who eat anywhere between 12-38kg of it every single day, with the shoots and leaves comprising up to 99% of their dietary intake), bamboo is officially stepping into the sustainability spotlight.
This sturdy, water-resistant and fast-growing natural material is becoming an increasingly popular choice for product design - and makes a fantastic eco-friendly option for businesses currently looking to invest in green-leaning promotional merchandise.
---
RELATED:
---
If your business is currently working hard to up its eco-friendly credentials, consider choosing promotional products that boast green origins or practices behind them. One easy way to do this is to choose branded merchandise made from materials that you can rely on to have a natural source.
Whether they are naturally sustainable or have been made from recycled items (such as our Brite Mat Tyre Coasters, for example), considering the source of a product is a great way to ensure the items you give your customers aren't harming the environment.
Why Consider Bamboo Promotional Products?
There are a variety of great reasons to consider bamboo-based promotional merchandise. As a material, it is becoming increasingly popular for a variety of reasons - eco-friendliness aside, it's also incredibly durable and even water-resistant.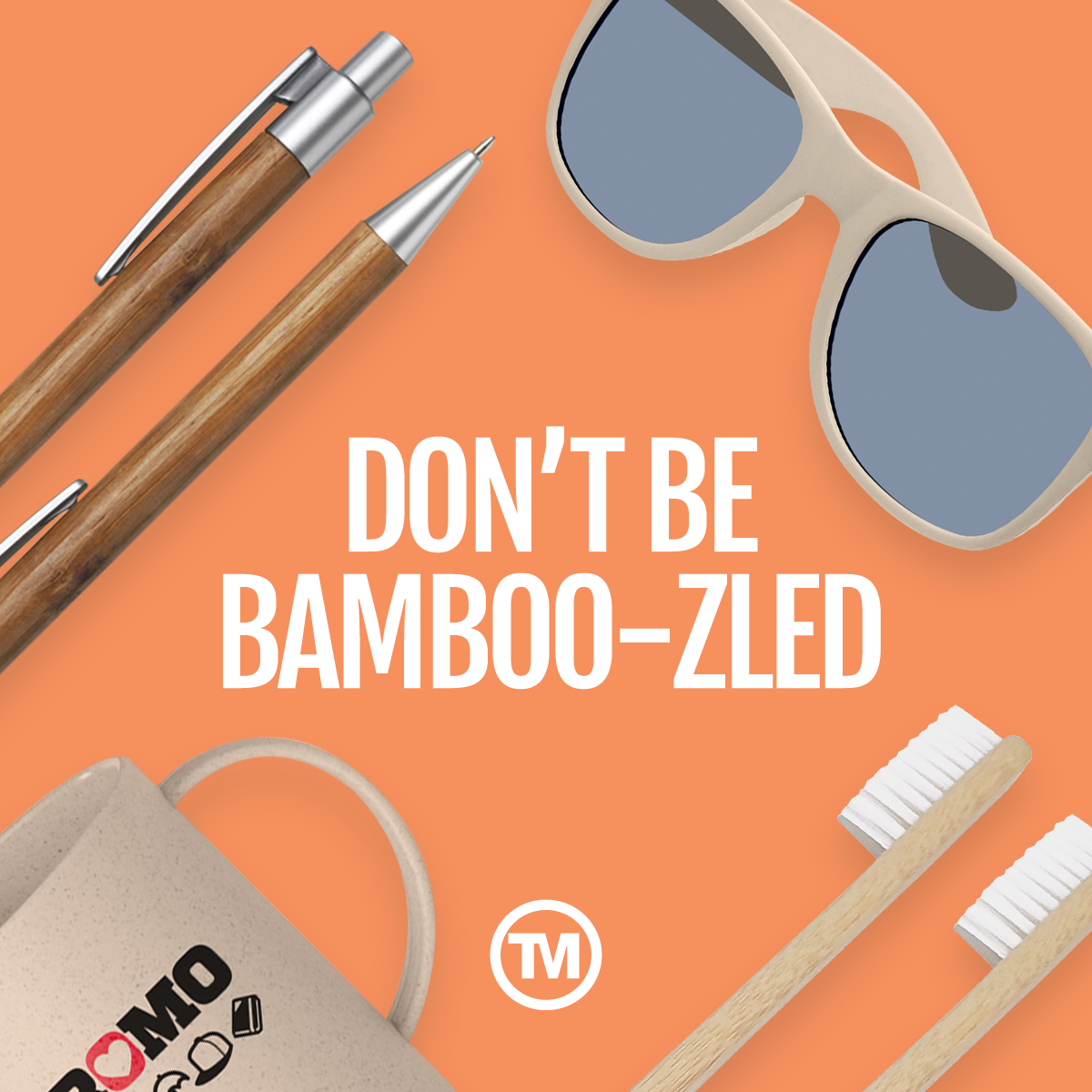 Bamboo is a sustainable and natural material that can grow under a wide range of climatic settings; whilst it's typically associated with balmier climes, it can also endure wintry conditions of as low as -20°F. As well as growing in wild conditions, it's also a favourite among gardeners who are keen to add a tropical touch to their spaces.
One thing you can certainly say about bamboo is it's resilient. It was one of the first plants spotted growing after the nuclear destruction caused by the bombings of Nagasaki and Hiroshima, and it can rival steel in terms of its sheer strength. For reasons like that, it's the perfect core material for items such as our Bamboo Bluetooth Speakers and Bamboo X 5W Wireless Chargers.
Despite its natural tree-like appearance, bamboo is technically classified as a type of grass. The key difference? Bamboo lacks the layer of - and brace yourself for some science here, people - vascular cambium layer, which is what allows actual trees to grow in diameter each year.
Similarly, it also lacks the necessary cells required to allow it to grow taller each year, with bamboo reaching its full and final growth capacity within one season. And while we're on the subject of biology, there are upwards of 1,500 different varieties of bamboo - pretty incredible, don't you think?
According to Guinness World Records, a variety of bamboo is the world's fastest-growing plant, with the ability to shoot up at a jaw-dropping rate of 0.00003km per hour.
Which Bamboo Promotional Products Does Total Merchandise Offer?
We're delighted to stock a wide assortment of bamboo-based promotional products, ranging from drinkware to sunglasses!
Of course, if you can't find what you're looking for, just let us know. Our experienced and friendly team are happy to help you source the perfect promotional items for your marketing activity. If you can't find it on our website, let us know and we'll endeavour to find it for you.
Read on to discover some of our favourite bamboo promotional products and be sure to explore our full range of eco-friendly branded merchandise to find the perfect match for your business.
Talca Bamboo Travel Mugs
This smart travel mug can be printed with your design in one colour for striking brand visibility with every sip. Able to hold 350ml of liquid, they're the perfect size for your customers' favourite drinks and will enable them to enjoy teas, coffees and more when they're on the go.
For an extra luxe touch, these sturdy mugs can also be engraved with your design. Designed to keep your customers' drinks at the perfect temperature for longer, they're a great promotional giveaway any time of the year.
Bamboo Coasters
With a warm caramel finish, these sleek Bamboo Coasters can be printed or engraved with either your bespoke design or one of our standard shapes - the choice is yours!
Available to order from just 25 units, quick UK dispatch is available. They're a post-friendly giveaway option and are also ideal for giving out at events or for adding an extra-smart touch to pubs, hotels and restaurants.
Bamboo Wireless Charging Desk Tidies
Looking for a touch of luxury? These smart Wireless Charging Desk Tidies are made from bamboo and are neatly engraved with your design for a promotional giveaway that will truly wow.
Made from FSC certified bamboo, they offer a neat amount of storage space as well as a wireless charging pad to charge compatible Qi-enabled devices.
Glass Mug with Bamboo Lid and Spoon
These promotional mugs are a great way to ensure your branding is seen every single day! It's up to you whether you have your artwork printed just to the mug or whether you want it on the lid as well - either way, you can be confident that your logo will be seen with every use.
Ideal for almost any campaign and demographic, these branded mugs put your business on prime display on desks and in kitchens across the UK.
Bamboo Straws
Looking for an alternative to throw-away plastic straws? These reusable branded bamboo straws could offer the perfect solution. Printed with your branding, they simply need washing in a 1:4 mix of vinegar and water to keep them in tip-top condition for being used over and over again.
According to research, upwards of 8.5bn plastic straws are used in the UK each year. Offering an eco-alternative will not only make a great talking point and offer memorable awareness for your branding - it will also demonstrate your business is passionate about doing its part to help the environment, too.
Celuk Bamboo Ballpens
These pleasingly chunky bamboo ballpens are ideal for offering long-lasting visibility for your branding. With the artwork positioning varying according to the number of colours you choose to incorporate, they're the ideal giveaway for your customers to use at work, at home or on the move!
With promotional pens consistently popular among customers, adding an eco touch can make for a great nod to your company's ethical backbone.
Bamboo Toothbrushes
An unusual promotional giveaway for dentists and hotels, these promotional bamboo toothbrushes also make a great addition to beauty and wellbeing-related marketing campaigns.
As well as being made from bamboo, these brilliant toothbrushes can also be recycled, offering your customers a 360 green experience - and a whole new teeth-cleaning experience, to boot!
Eco Bamboo Notebook
With a bamboo cover (both front and back) as well as pages that are made from 80% stone resin, this branded notebook is fantastic for boosting your business' eco-credentials.
Bamboo Name Badges
If you run a business where your staff are face-to-face with customers on a daily basis, our Bamboo Name Badges are a great option for ensuring that your team look smart at all times.
Engraved or printed in full colour with your name and logo, they can be ordered from just 10 units, making them a great pick for businesses both large and small. Looking for more name badge inspiration? Check out our full range of promotional badges for staff, and also take a look at our Bamboo Name Badges With Window, too.
Bamboo Cased Sticky Notes Set
With the option to engrave or full-colour print your artwork onto these smart sticky note sets, this promotional giveaway is an excellent way to turn a fairly 'normal' product into something a little more exciting.
Ideal for office supplies and student essentials alike, each set contains 350 sticky notes in total, meaning the recipients will be clocking your branding for a significant period of time.
Feeling inspired? Browse more eco friendly promotional products and place your order today. Need help finding a specific item? Simply contact a member of our friendly and experienced Sales team on 01376 509092 or email info@totalmerchandise.co.uk today. Main image via Pexels.