It's January 3rd 2020; the spirit of Christmas has disappeared, most of us are back to work and for some people, it's time to put start thinking about putting those 'get fit' New Year's resolution into motion. To motivate your customers with their 2020 health kick, it's important they have the top sports and fitness items. Enter promotional merchandise!
Why Should Your Business Invest In Branded Sports And Fitness Items?
According to recent insights published by Statista, there are upwards of 6,700 health and fitness clubs in the UK, with roughly 9.7 million members. With the new-year-new-me talk in full swing, we're sure this has risen and will continue to do so over the next month. This offers a great opportunity for your brand to be seen by a vast amount of people!
Whether your company is fitness-related or not, branded fitness products allow your business to shine in a positive light and encourages your customers to lead a healthy lifestyle. Providing your clients with promotional sports and fitness merchandise is a great form of mobile advertising - whether your customers are going to the gym, on a run around their local park or cycling to and from work, your branding is guaranteed to be flaunted wherever they go!
What Promotional Sports And Fitness Products Should You Gift?
Our very own Total Merchandise fitness fanatic (illustrated below) shows you six of the best promotional sports items you can gift to your clients for their New Year health kick.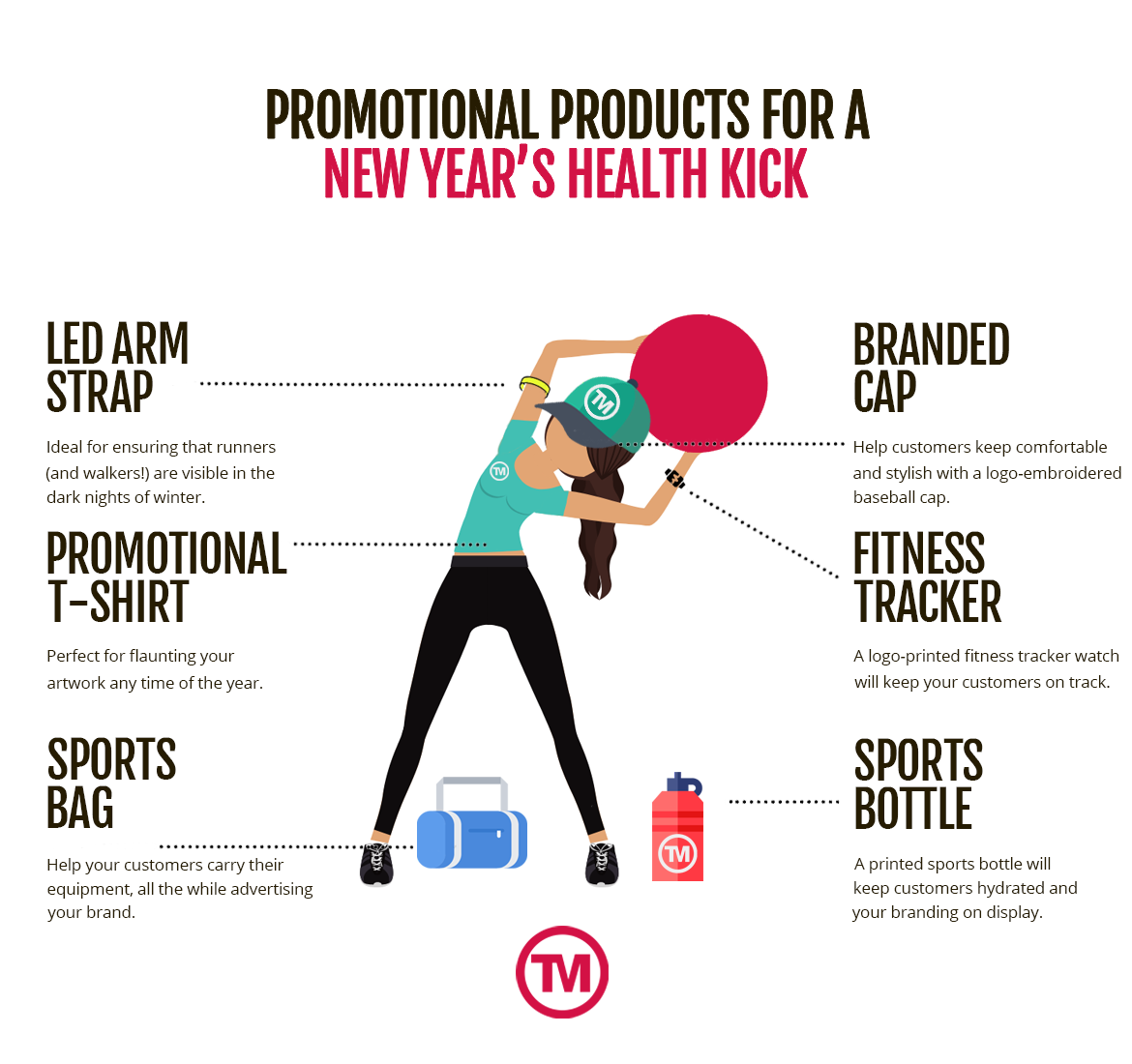 Let's take a deeper dive into each branded item and discover how they can help motivate your customers to get fit, all the while brilliantly flaunting your brand.
1. A Branded Cap
Did you know that the baseball cap as we know it today was first worn by the Brooklyn Excelsiors during their National Association of Base Ball Players championship, way back in 1860? As the sport moved into the 20th century, it became popular with other baseball teams, who started embroidering their club's logo or initials onto the front of the caps. Who would have thought the first branded cap was worn all those years ago?
TV had a big influence on the popularity of baseball caps outside of the sport with the birth of MTV in the 1980s. Caps became particularly associated with rap and hip hop music due to groups such as Beastie Boys and Public Enemy, then later with big-name artists such as Jay-Z and Kanye West.
Our best-selling Brushed Heavy Cotton Cap is a bestseller for a reason! With its structured six-panel, low profile, pre-curved peak and 3D embroidered with your company logo making it a high quality and eye-catching branded item. Choose from eight different colours to suit your campaign.
2. Promotional Fitness Trackers
A fun fact for you: the first-ever pedometer was invented in the 15th century when Leonardo da Vinci wanted to track the distance a Roman soldier walked.
Fast-forward to today and fitness trackers are everywhere - you can even count your steps with your mobile phone! We recently did some research into why people use fitness trackers, with 60% admitting they considered such a product to help them keep motivated with their fitness goals.
These Fit Watches offer a stylish and modern way for your customers to track their exercise with features including a step-counter, burnt calorie counter, distance tracker and digital clock. To use this sleek branded smartwatch, all your clients have to do is connect their device and voila!
3. Printed Sports Bottles
Not only are promotional sports bottles a great item to motivate your customers to keep healthy and hydrated but they are also an excellent plastic bottle alternative. The UK uses billions of plastic bottles every year, with billions being sent to landfill, incinerated or littered. And in the words of Greta Thunberg: "you are never too small to make a difference...".
With our Tarn Straw Sports Bottles, you can get both your eco-friendly credentials and fitness message across in one handy product. These bottles combine smart design and endless marketing opportunities. Available in a range of 11 different trim colour contrasts these promotional sports bottles make great fitness giveaways.
Alternatively, take things one step further and help your customers hit their daily recommended water intake with our personalised 2 Litre Water Bottles (shown above). Featuring your artwork printed in one colour, these easy-to-carry branded water bottles are ideal for use at the gym, in the office or at home.
4. A Branded Sports Bag
Do you know where the duffel bag originated from? If not, you're in luck because we have the answer: duffel bags first entered the scene in the mid-17th century and are named after the Belgium town, Duffel, where the cloth was originally made. Duffel bags were used extensively by British and American servicemen during World War Two. After the war, they were sold in army surplus stores and became a popular fashion accessory in California and Australia.
Although these Weekender Duffel Bags aren't quite WWII-style, they are the perfect gym bag for your customers. Manufactured from 407gsm cotton canvas these printed bags offer a large print area for you to flaunt your company branding wherever they may go.
5. Promotional T-Shirts
T-shirts have come a long way since they were first invented during the Mexican-American War in 1898 and 1913, where they were designed to be worn as undergarments. It wasn't until the 1950s when t-shirts became a popular wardrobe staple, thanks to the 1950 film 'A Streetcar Named Desire' and the 1955 movie 'Rebel Without a Cause'.
In the late 1950s, a print company held the original licence to print Walt Disney characters on to t-shirts and by the '60s innovations in printing led to the birth of screenprinting and turned the t-shirt industry into what it is today.
Our Spiro Performance Aircool T-Shirts are the perfect printed t-shirt to get your New Year health kick message across to your customers. Printed with your custom design in up to stunning full colour, these promotional t-shirts are made from high-performance polyester mesh piquet knit fabric for easy breathability while exercising.
Did you know that the word 't-shirt' entered the English Dictionary in 1920?
6. Branded LED Arm Strap
The first LED (Light-Emitting Diode) that could produce visible light was in invented in 1962 by Nick Holonyak, Jr. and due to his creation, he earned the name 'Father of the Light-Emitting Diode'. It wasn't until the early '80s that the first generation of super-bright LEDs was developed and then later in the '90s, ultra-bright LEDs were born.
Staying visible is extremely important when taking to foot or bike, especially when it is dark outside. These Flashing LED Silicon Arm Straps are the perfect way to ensure your customers are visible, whether they are cycling to and from work or going for a run in their local neighbourhood.
If you're looking for some inspiration for the right promotional item to motivate your clients to start their New Year health kick then take a look through our range of branded sports and fitness merchandise - we've got both you and your customers covered this January (and longer!).
Main image from Pexels.