Printing is a big part of Total Merchandise - it's what makes the products you order unique to you! There are many different options to choose from, depending on what product you're interested in, the material products are made out of, as well as your budget.
Typically speaking more colours will cost more, however, if you choose digital printing then you can have almost as many colours as you want! Depending on the material a product is made from other methods may need to be used to get your logo transferred. Many metal products feature the option of engraving, while textiles can often be embroidered.
Today we'll be talking about screen printing. Though it's not used a lot industrially, the screen printing process can teach us a lot about printing, can be done at home, and can create professional print jobs.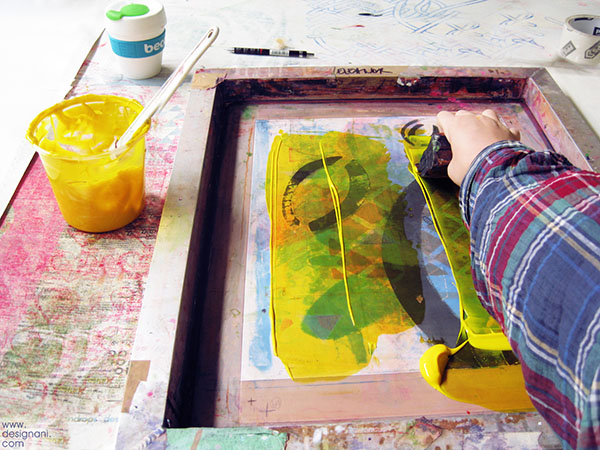 Source: Nani Puspasari, Flickr.
Screen printing is a pretty simple process when compared to methods such as offset lithographic printing, or digital printing. There are only a few things you need to get started:
A silk screen (these sound expensive, but can be made at home for very little)
Something to print on - screen printing works well for textiles as well as paper.
Ink suitable for what you're printing onto.
A squeegee to push the ink through the silkscreen and onto your product.
A paper stencil of what you want to print.
More advanced printers might use special photosensitive paint and transparent plastic in order to create complicated prints, possibly using process colours to create colourful pieces.
Screen printing can be done using spot colours, this means that colours are created using single inks. The advantage of this is that it is often cheaper, as fewer inks are required, but also that exact colours can be mixed. This means that if your company uses a precise colour for branding, this can be recreated. On the other hand CMYK process printing, where the colours cyan, magenta, yellow and key (a sort of brown/black ink) are mixed to create a range of colours (this is how an inkjet printer works). If you want to create an image which uses a variety of colours then you may be better off using multiple screens and the CMYK process method.
Is screen printing suitable for large or small quantities?
Really, screen printing can be used for both. As the tools and "ingredients" are quite cheap it can be a cost-effective option for both small and large quantities of prints. However, the screen printing method can be labour intensive, making large batches hard work.
In conclusion, if you're after a cheap way of printing a basic design then screen printing may be an idea to consider (if you don't mind getting your hands dirty). However, if you need a lot of products and don't have much printing expertise you might be better off letting Total Merchandise handle your branded goods!