Due to low prices and high return on investment, online advertising is massively increasing in popularity. Online advertising can be targeted, meaning that you're advert goes exclusively to your main target demographics. This makes online advertising fairly cheap and highly rewarding. On the other hand traditional media is falling out of favour. The high prices demanded for newspaper advertising, TV advertising and even billboards make these methods uncompetitive.
Have you ever visited a website and looked at a certain item, then left the website and realised that adverts are appearing for the very same item? It seems like a big coincidence, however it's actually an advertising service from Google which analyses your browsing habits and shows ads accordingly. While some find this creepy and others find it interesting, nobody would imagine that this type of targeted advertising could be used on a billboard, right?
Well, we wouldn't have either until we saw an advertising campaign from Chevrolet in the US. This campaign uses electronic billboards and a camera further down the road to target people driving their competitors cars. This means that drivers of the Hyundai Sonata will see a message saying that the Chevrolet Malibu has "more available safety features than your Hyundai Sonata."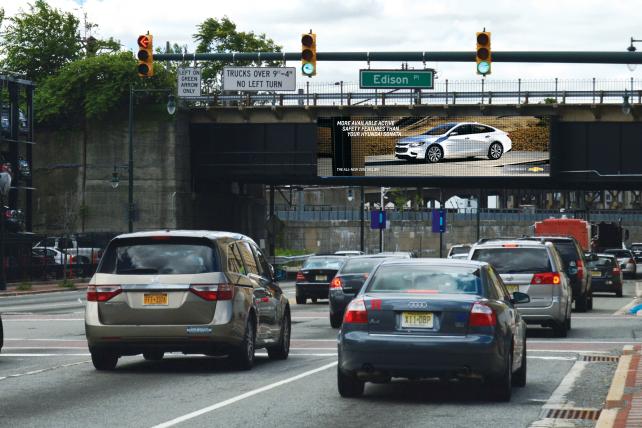 A Chevrolet Malibu billboard seen in New Jersey, USA. Credit: Lamar Advertising.
So how does this work? It's pretty clever, the cameras further up the road take photos cars that go past. These images are then sent on to a computer which will analyse the grill of each car to determine if it is one of their competitor's cars and if so, which of these cars it is. It will then work out how fast the traffic is travelling so that it can show the targeted ad on the billboard at just the right time.
Of course this isn't the first innovative use of out of home advertising. In the past we've seen clever adverts which make you think, as well as a billboard from McDonald's which featured a functional clock and highlighted their 24 hour opening times.
Chevrolet's technologically advanced use of a billboard could mark the start of a revival of out of home advertising on roads around the world.